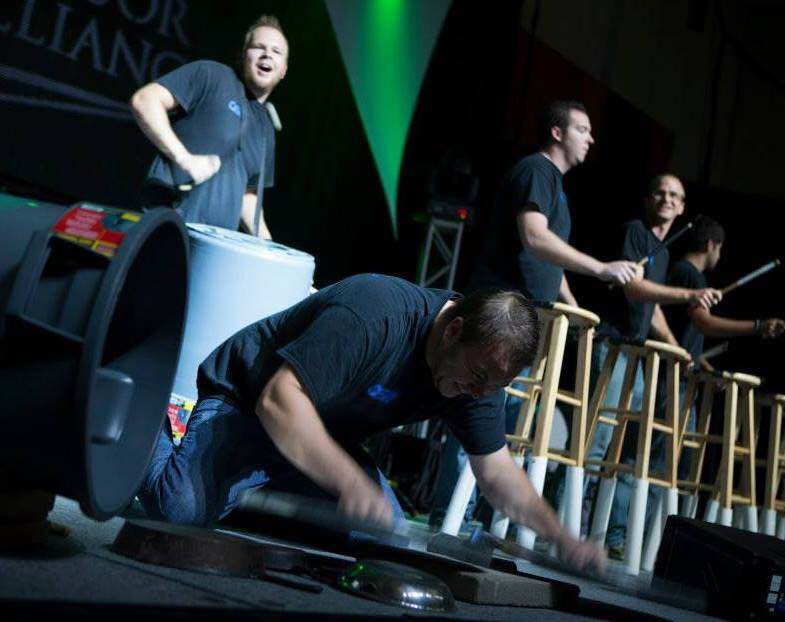 Banging on pots and pans is not just for kids anymore. Omaha Street Percussion has brought a concept to the Metro that both kids and adults can enjoy. The group, started three years ago, has found quick and immediate success with their Broadway-inspired music created with regular, everyday objects. The group was originally started to raise money for band member Jeff Babcock, who wanted to adopt a child from South Korea. As a way to earn extra money to cover the adoption fees, Justin Fisher, the group's director decided to drum in the Old Market using buckets and other items. After the success of their first performance, they decided to do it again. The rest was history, as drumming with ordinary items became a weekly occurrence. Omaha Street Percussion currently consists of seven members: Fisher and Babcock along with Chris Sikkema, Tony Lever, Josh Meyer, Henry Fernandez and Dakarai White.
The group was inspired by STOMP a Broadway production that does drumming and dancing in their performances, with some of the same ordinary items as Omaha Street Percussion uses. "We saw them do it, I thought it was really cool, let's do something like that," Fisher said. "It's unique, you don't see it a lot, and it's really cheap to come up with all of the instruments." People were intrigued by the idea according to Fisher, and the sound of trash cans and other things as instruments.
With most musical groups who are just starting, it can be a struggle to find gigs and places to perform. As for Omaha Street Percussion, it was quite the opposite. The group developed quickly enough that the instant growth was inevitable. "We had people coming up asking us for business cards before we even had a name," Fisher said. "We didn't have any struggles at the beginning. We found out that people like it and people want to see it. We were not prepared for it." What was originally an activity that was done for fun has turned into a full-time commitment for Fisher and the group.
Omaha Street Percussion has played at many different venues, from the Henry Doorly Zoo to Vala's Pumpkin Patch to even the Omaha Marathon. One of their favorite events was performing at Purple Feather Day at Omaha Central High School last year. It happened to be the group's first high school performance. "It was a new territory for us," Fisher said. "There was an energy [at Central] that you don't find at many venues." The group has also played over one hundred school performances, mostly on the elementary and middle school levels.
Education and community are some of the group's biggest ideals. When they created the group, each member had some sort of experience in teaching drums already, so they had a motive to teach through some of the workshops Omaha Street Percussion organizes. In fact, Fisher used to teach Central's drumline years ago. As with some of their performances, schools began contacting them asking if they would ever run any classes to teach drumming. Instead of using regular percussion instruments, they use street percussion instruments to teach kids teamwork and creative expression.
Why do those workshops work? Fisher feels that someone picking up a pair of drumsticks and hitting a bucket is something anyone can grasp, regardless of age or skill level. "When you pick up a trumpet, you can't just start playing. But with street percussion, it's cool because you can start teaching rhythms even if you have never been in percussion or sang in choir or played in orchestra," Fisher said. Their goal with some of their school workshops is to encourage kids to get into orchestra when they are in middle school or high school and they continue in music because their workshops motivated a child to keep going.
While it is quite obvious that not everyone drums on buckets and trash cans, Fisher feels like there is more that separates Omaha Street Percussion from a normal band. People can feel more energy compared to a normal band, as well as people feel a part of the show when they see Omaha Street Percussion play. "We engage with the crowd a lot," Fisher said. "Simple things such as eye contact, going out into the crowd, giving someone a bucket, something to get the crowd into the show. It's an experience." Those connections with the audience can happen in some of the most interesting of venues, and it's usually a pleasant surprise for the group.
One of the special things for Fisher is when people tell him that the group's performance was able to change their mood. When Omaha Street Percussion played for some special needs children at the Munroe-Meyer Institute, one child in particular stood out. "One of them came up to me and said it was one of the most incredible things he has ever seen. That's what makes it worth what we are doing," Fisher said. "That is going to stick with me for years."
Fisher cites times when people were unsure of having a street drumming group playing at a certain event like a company fundraiser, but after the performance people were completely into it. "We did one show in the middle of Iowa where I don't think there was a single person under the age of fifty-five," Fisher said. "We were walking around before the show and [everyone] is looking at you wondering what you're doing. But, people stayed for the entire performance and we had people telling us it was the best show they have ever seen."
Even though the group has had a short and prosperous history, their future looks just as bright. Just recently, the group decided that they would audition for the talent show America's Got Talent. The group had been asked by countless friends and family about auditioning for the show. The main reason why the group had not tried out for the show is due to time constraints and expenses. This year, America's Got Talent is coming to Kansas City, and Fisher felt it was the perfect time to show what Omaha Street Percussion has to offer. "We have evolved as a group into something we think America's Got Talent would appreciate," Fisher said. "We are not just guys who drum. We entertain." The group is ramping up for the audition with a specific set list that they have never performed before, along with some other new instruments and moves that they have not done before.
The group's ultimate goal is to gain exposure from the auditions. Even if the group doesn't make it any further than the audition, Fisher believes that trying out will have been completely worth it. After three years, they now feel that their skills are good enough to showcase their talents on a national stage. As Omaha Street Percussion has shown, anyone can pick up a set of drumsticks and make something magical.