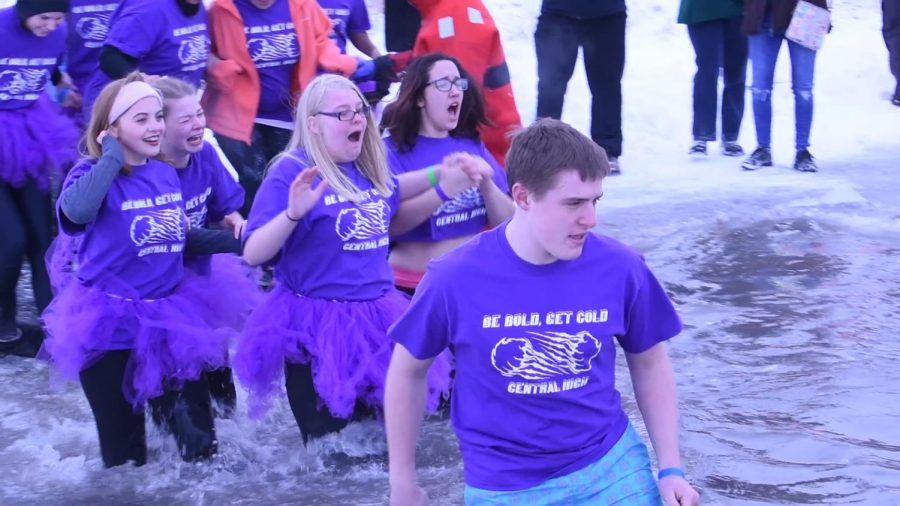 It takes intestinal fortitude to run into freezing cold water on a Saturday where temperatures creeped into the single digits.
Members of the CHS Polar Plunge Club tried to find that strength as they waded through the waters of Lake Cunningham, all to help raise money for Special Olympics Nebraska. The group's adult supervisor, Carrie Joseph, took her first plunge with the team. Her daughter, Charlie, has Down Syndrome and benefits from the program. She will participate in Special Olympics bowling and swimming this year.
Joseph found it to be a no-brainer to participate in the event. "This is the first year [Charlie] is in the Special Olympics, and she's really enjoying it," Joseph said. "For me, why wouldn't I do it?"
English teachers Molly Mahannah and Jared Ganley joined Joseph along with other Central students. Mahannah was a little reserved but excited before the big moment. "I think I'm regretting my choices," she said with a laugh. "But I'm excited to see what the kids do."
Cassandra Willey, who plunged for her third year, was the team captain. This experience was unique compared to the times she plunged in middle school, besides the fact it was extremely cold. "The main thing that was different is doing it with a team that you know," Willey said. "I got to know a lot of the teammates in it."
As Joseph and the team made it down the hill, the nerves started to set in. Joseph was trying not to focus on the fact she was going to jump into a lake that required a piece of the thick cover of ice to be cut out. "If I think about it, I'm going to go home. I'm just going to run in the water as fast as I can, then run out," Joseph said.
After lots of groups with crazy costumes plunged — some chose not to wear shirts — the team quickly ran through the water to touch a mannequin, held by a member of the Yutan Fire Department. That made the plunge "official." Some members of the CHS team screamed, others were calm, cool and collected.
Joseph enjoyed the plunge, and surprisingly did not think it was that excruciating. "It was so cold, I felt nothing." She hopes the team can raise even more than the $3,000 they did for Special Olympics Nebraska this year.
Willey had one simple piece of advice for those wanting to try the feat next year. "It's cold, so be prepared for that," Willey said. "It's open to everyone and there are no exclusions."
Along the same lines, Joseph advised people to "just do it." Quickly after she said that, Joseph and the team hurried back to the warmth of their cars. They got cold and were bold enough for one day.