Former Central Star Ready for NCAA Push
Hang on for a minute...we're trying to find some more stories you might like.
"It was crazy coming within one shot," recalled Tre'shawn Thurman of Nebraska Omaha's heartbreaking 79-77 loss to South Dakota State in the 2017 Summit League Tournament final. A win would have allowed the Mavericks to qualify for the 2017 NCAA Tournament. Now, the former Central and UNO basketball star is thriving out west in his final year playing college basketball. 
When Thurman came to Central in the fall of 2010, he probably could not have imagined what his career as an Eagle would hold. In his time at Central, Thurman won three state titles in four years and won first team all-state honors in his senior season. He said, "The number one thing (I remember) is the championships we won." The four-year varsity player also recalled, "everybody had different personalities and we were a close team."  
After graduating Central in 2014, Thurman went to the University of Nebraska-Omaha to continue his basketball career. He was reunited with Tra-Deon Hollins who he played with for three years at Central. Together the two of them helped UNO basketball adjust to its new home in the Summit League, and in Division I. The Mavericks had made the jump from Division II in 2011. In 2014-15, Thurman averaged 9.5 points per game, but his team struggled going 12-17. It was his sophomore season in 2015-16 where Thurman and Hollins presence began to emerge, leading their team to an 18-14 record, including a 10-6 mark in league play. UNO earned a 3 seed in the Summitt League Tournament but were upset in the first round. The following year was Hollins's senior year, and Thurman's junior year. Their team went 9-7 in the Summitt League, and once again earned a 3 seed in Sioux Falls. After surviving Fort Wayne, and demolishing IUPUI, the Mavericks were about to play for a spot in the NCAA Tournament. 
That game pitted Hollins and Thurman against another Nebraska kid, Mike Daum of South Dakota State. It was an entertaining game from start to finish and ended when Hollins game winning three clanged off the iron as the horn sounded. It was the last ever second the two of them would stand together on a basketball court. Thurman recalled, "It was pretty hard (to recover) but also at the same time you got to understood how hard it was to even get there." 
After Hollins graduated, Thurman still had one year of eligibility left, so he took his talents to Reno, NV to play for the Nevada Wolfpack. In 2017-18, Thurman had to sit out a year due to the NCAA's transfer rules. However, his team did quite well, and reached the Sweet Sixteen of the NCAA Tournament. He said, "it was great experience because I got to see everything happening right before my eyes. I got to see what kind of team these guys are and I got to see what the fan base is like." More importantly, throughout the whole year, he, "got to understand how Coach Muss (Musselman) is, and how I can adjust to how he coaches." 
The season on the bench seems to be paying its dividends thus far for Thurman. Through February 5 he averaged 24.7 minutes a game playing for the #6 ranked team in the country. Nevada started the 2018-19 campaign 21-1, and Thurman averaged 7 points per game in that stretch. He said he enjoys, "competing at a high level every single game with my teammates. I love playing with these guys and I love being on the court every single game with these guys because I understand how we all have similar mind sets on how we approach the game."  
As Selection Sunday comes closer and closer, Thurman's collegiate career is winding down. He said, "we try to get better and better each game. I think we're doing a pretty good job of that right now but we just have to keep going and improving." One thing is for sure, he certainly has improved vastly from when he walked into Central for the first time back in 2010. 

About the Writer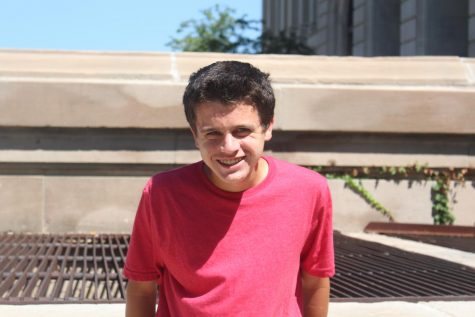 Ari Saltzman, Staff Writer
My name is Ari and this is my second year on The Register. I am a huge sports fan, especially of the Nebraska Huskers.