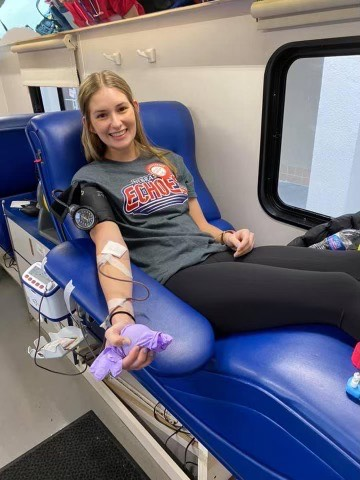 Avenlea White
The Covid-19 virus is one of the worst to sweep across the planet and people in America and many other places all over the world are feeling the dreadfulness of the virus' attack. From quarantine lockdowns to the depletion of millions of jobs, America specifically is in turmoil.
Through all the turmoil there are positives to be noticed and looked upon. Volunteering is now more important than ever and while it may seem counter intuitive to volunteer and further risk coming down with the virus, there are many safe ways to volunteer safely in a Pandemic like the one of 2020.
Senior Avenlea White has been volunteering and helping others in a variety of different ways since the very beginning of the pandemic.
"Even before the pandemic I have always enjoyed volunteering," White said. "I was in the child life unit at Nebraska Medicine before the hospital stopped accepting volunteers into the facility due to Covid."
The volunteering roles that students take on are usually enjoyable to them and are worth the hours. Seniors especially appreciate taking the time to help out as college scholarship deadlines approach. This year's pandemic has been full of opportunities to volunteer and gather up hours.
"I currently volunteer as a bell ringer for the Salvation Army," White said. "You get to meet new people and most importantly gain lots of hours to put on a college resume. It is well worth the time"
According to the CDC website, masks are to be worn around others at all times – especially when volunteering in this case – and it is advised that if a person has any kind of symptoms that they stay home and recover before seeing others. This information is vital to volunteering as many times, people must gather in small groups in order to volunteer. However, some volunteer opportunities almost welcome people who have recovered from the virus specifically.
"I was tested positive for Covid-19 just a few weeks ago," White said. "It was a scary time as even when I had moderate symptoms, I still felt terrible. After I got over the virus, I went back to donating blood at the Red Cross and since I had the antibodies to fight off the virus, my blood could potentially save the lives of others."
The CDC says that when a person has the antibodies to fight of Covid-19, they have partial protection against the virus. Scientists are unsure of exactly how much protection those antibodies provide so it is still worth a lot to keep yourself and others protected. Nonetheless, donating blood is a fast and easy way to volunteer. Whether giving the blood or helping the Red Cross collect it, there are many hours to be had.
Another senior, Frances Gray, is a part of the National Honors Society (NHS) and loves volunteering as well.
"There are tons of ways to volunteer right now," Gray said. "As a member of the National Honors Society we have to gather 50 hours total throughout the year … it can be difficult to gather those hours but, there are still plenty of places that need help right now."
Gray is an animal person and has many pets of her own but, loves to help others care for there's as well. There is no shortage of help needed at the Humane Society in Omaha.
"Every Friday or so I volunteer with a partner of the Humane Society helping tend and care for their horses," Gray said. "It is tons of fun for me and it is an easy hour per week to help add to my total."
Also as an NHS member, Gray gets to help out the school with general activities like yard sign collection and distribution as well as help the school organize different documents.
"I have helped Central organize packets before school started," Gray said. "And I collected another easy hour placing yard signs around neighborhoods of Omaha."
No matter what the activity, there is always something to volunteer for. Whether it be the Humane Society or the Red Cross, these are just a few of the activities that require volunteers – especially in a Pandemic.
Although the current times call for seemingly total disconnection from others, the CDC does provide ways to be around people and still not contract the Covid-19 virus. Their guidelines include wearing a mask, social distancing, and small group gatherings. Even through the guidelines, it is still possible to volunteer safely and gather hours for college resumes and help others in need in this time of uncertainty.