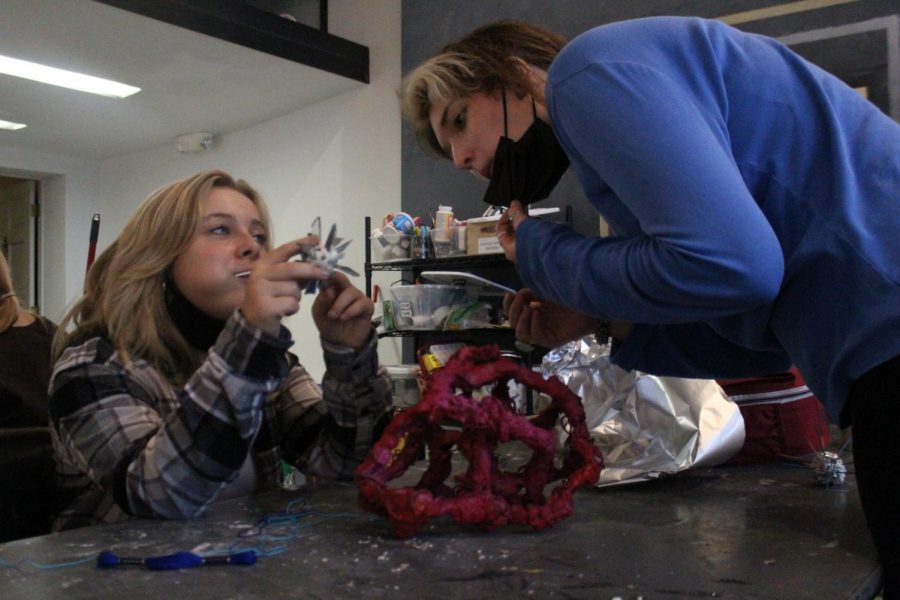 Cecil Zahm
Ever since it was established in 2014, the Joslyn Museum's Kent Bellows Mentoring Program (KBMP) has been a safe haven for high school artists. The program is a place where students from all over the metro can work with the help of mentors to create art in a studio environment. 
Out of the about 50 teens in the program, several each year are Central students.  
Each student in the program is assigned a mentor, who is a practicing professional artist. Mentors are there to give feedback and show different techniques to students, which allows teens to take their art to a higher level. Additionally, mentors also give students an example of what a future career in art might look like. 
The program takes place at in a two-story building at 33rd and Leavenworth, which once served as the studio for the late Kent Bellows. Bellows, who the program is named for, was an Omaha artist who created hyper realist artworks. After his death in 2005, the studio was slowly transformed into what it is today: a program inspiring young artist and preserving Bellows' legacy.  
The programs at Kent Bellows include painting, print making, digital animation, photography, music production and sculpture, to name a few. The wide variety of programs allows student artists to explore their interests in a way that isn't usually available at school. 
Teens making art in the Kent Bellows studio attend two times a week after school. They each put high effort into creating one to three pieces that will then be displayed in a show at the studio come the end of the semester.  
Even just walking into the building, it's clear that the KBMP studio is a highly creative space. Art pieces and photographs line the walls, and teen artists can each be seen deeply immersed in creating their pieces. There's a room for producing music, a room where the 3-D art program works, and even a space filled with computers for digital artists.  
"Just being in the space itself is powerful," said Francis Hoover, a junior who's been involved in KBMP for two years. 
One thing that makes KBMP so special is the freedom given to students. "The structure here is less rigid than at school. There are adults, but they aren't teachers," said Hoover. "The mentors don't restrict you. In a school space you have to be 'school appropriate', but here you can be yourself. If you want to swear or show the body in your art, you can." 
This alternative atmosphere is part of what's made the KBMP so successful with students. Having a space where they can be themselves and create art is important to teens, and that's really the experience that students take away from this program. 
For sophomore Hunter Stoffel, KBMP has allowed her to create art more freely. "When I'm at Central, the majority of the art that I do is just drawing on my school assignments," said Hunter. But at the studio, she's able to put more focus and time into making art.  
KBMP is also unique because it provides access to mediums and materials student normally wouldn't get to try out. Both Hoover and Senior Sonia Ramiraz are currently using woodworking, a medium unavailable to them at Central, to make their pieces. "Right now, I'm creating a giant wooden ship. It's something so out of my comfort zone, but here I can explore that," said Ramiraz.  
"I've always known that I wanted to be part of this community," said Hoover. "I think of Kent Bellows' studio as a place you can make lifelong friends, create beautiful art, and just have a safe artistic place."