Central powerlifter anticipating upcoming powerlifting season
Sophomore Ke'ljha Hadley may have had a record-breaking first season last year on Central's powerlifting team, but she isn't resting on her laurels. Her hopes for the upcoming powerlifting season are even higher. "I definitely think I can bench more because I have yet to break the high school bench record. I'm just getting started. I'm not done yet." Hadley initially became interested in powerlifting after she joined a Big Kent's Strength and Fitness Gym in preparation for an upcoming Volleyball season. "He had me deadlift the first day I was there, and I pulled 275, and he said, 'You're going to do powerlifting' and I started doing powerlifting from there." She subsequently has experienced outstanding success as a weightlifter thus far. She has broken three the squat, deadlift, and total powerlifting records for Central High school, the squat, bench, and deadlift powerlifting records for the state of Nebraska, and even the United States Powerlifting Association national squat, bench, and deadlift powerlifting records. Beyond the sheer achievement of breaking records, Hadley is quick to attest that powerlifting has benefited her life in many ways. "When I first started the sport my mental health was not the best, but the sport taught me confidence and helped me with my mental health an anxiety."
As the new season approaches, Hadley is hard at work, training to get better and better, "I would say I am constantly improving, there are setbacks like sometimes with a squat or a bench, your numbers won't go up, but as long as you keep showing up that's an achievement." Hadley also believes that the entire team is improving and that they are likely have a winning season ahead, saying "I'm really looking forward to taking our state title back because last year we did have a setback and was runner up to Papillion South coming off of a very long streak of Central Girls winning in the past, but this year if we all come together I think we can definitely win state again."
She also emphasizes the importance of the psychological dimension of the sport, and the importance of encouragement in powerlifting, "I think it's definitely more mental than physical, it's like you know you can get it, but if you're not surrounded by people encouraging you it definitely is harder." Hadley says she has benefited from receiving just this kind of support in her time as a powerlifter, "I think that everyone there supports me in any way, but I definitely think Baker is there, and I have friends like my friend Bella, who are there encouraging me through every lift." Elaborating on the support is provided to her by Powerlifting Head Coach Dennis Baker, she said, "I really love him. He is a bit strict, like you've gotta get good grades and go to class, but he really wants the best for us. I can see, not only in practice but also at the meets, that he wants to win just as bad as we do. He's very good with technique and making sure we're mentally and physically okay and that our muscles aren't strained. He's really big on rest days too, that's why we don't lift every day of the week." When asked about what her advice to any students who might wish to join the powerlifting team next season, Hadley said, "It's not where you start it's where you finish. Even if you don't come in as strong as other people do, all that matters is where you end up from where you started so keep working."
Your donation will support the student journalists of Omaha Central High School. Your contribution will allow us to purchase equipment and cover our annual website hosting costs.
About the Writer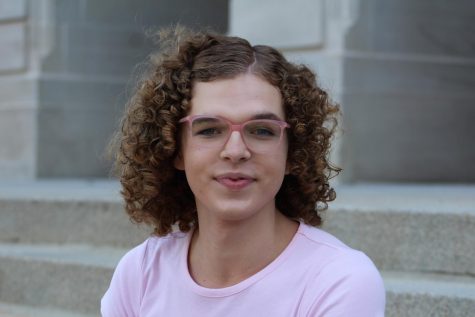 Jane McGill, Staff Writer
Opinions. Everyone has them, most are terrible. Personally, I've been expressing mine since the first time I saw someone trying to pull off socks and...