Varsity bowling inaugural season
This year will be the inaugural season for Central's varsity bowling squad. The squad is coached by Gerald Kreber, who started coaching bowling through the Unified Bowling Program. "How this all came about was, I helped sponsor the Unified Bowling team. I've done that for approximately five years. Mr. Locken then approached us about continuing our season from Unified all the way into this varsity season," Kreber said. 
Kreber explains that bowling has piqued quite an interest among the students at Central. "We have about nine boys and nine girls. This year, we are just varsity, but from the interest that we've received, next year we should be able to have a JV no problem," Kreber said. 
Kreber mentioned a bowler who he expects to perform quite well this year. "We have this Michael Roum, he's sort of the ace of the team, and then from there there's a group of kids that are all about the same. For the girls, they are about all the same."  
Brayden Simpson, a sophomore on the bowling team, spoke about how a usual practice is laid out. "A typical practice, we just kind of bowl, and the coaches watch. If they see anything they want to change or improve upon, they'll let you know and you adjust. It's just practicing, I don't think there are any bowling drills."
 
The team's first meet was Dec 2, against Gretna High School, where Simpson saids the boys team mercy ruled the Dragons. "We actually mercy ruled them, which was not a thing I knew you could do in bowling. I remember Michael bowled like a 249."  
Simpson said that there is a surprising amount of technique that goes into bowling. "I never really bowled before, so my technique at the start was just stand in the middle and try and make it go straight, which was ok, but because I'm built sort of lanky, it's easy for me to get off balance, so I started using a lighter ball and that helped it go where I wanted it to go and helped me get more pin action and knock more pins down. A lighter ball helps with balance especially." 
Simpson was initially pushed to start the sport because of baseball. "My baseball coach is also the bowling coach, so he was asking if a few of us wanted to join because people hadn't initially showed interest in the sport. About 12 showed up to tryouts." 
Simpson said that he really enjoys the social aspect of the sport. "It's really fun just because the way the practices are, you just go bowling for an hour with your friends. It's a fun time. It does feel a little more relaxed than another sports practice, but we do stretches beforehand and get warmed up. The coaches know what they're doing," Simpson says. 
Simpson never expected to be on his high school bowling team. "I mean a winter sport is something good for baseball that they keep track of, and you get a varsity letter for being on the team," he says. "This will be my first varsity letter, out of all things, it'll be bowling."  
Your donation will support the student journalists of Omaha Central High School. Your contribution will allow us to purchase equipment and cover our annual website hosting costs.
About the Writer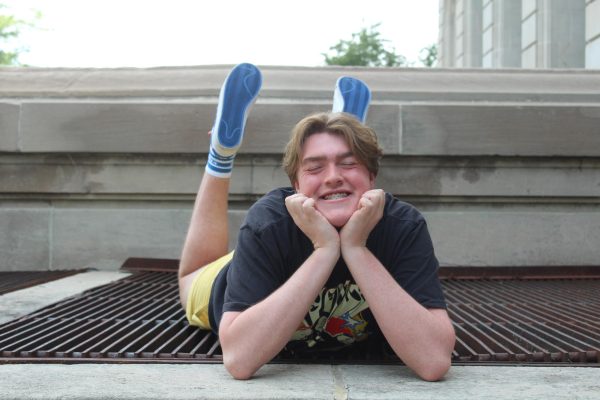 Charlie Yale, Co-Editor-in-Chief
Hi! My name is Charlie (he/him), and I'm a senior. This is my fourth (and final </3) year on staff, and I'm the Co-Editor-in-Chief. I was voted most...