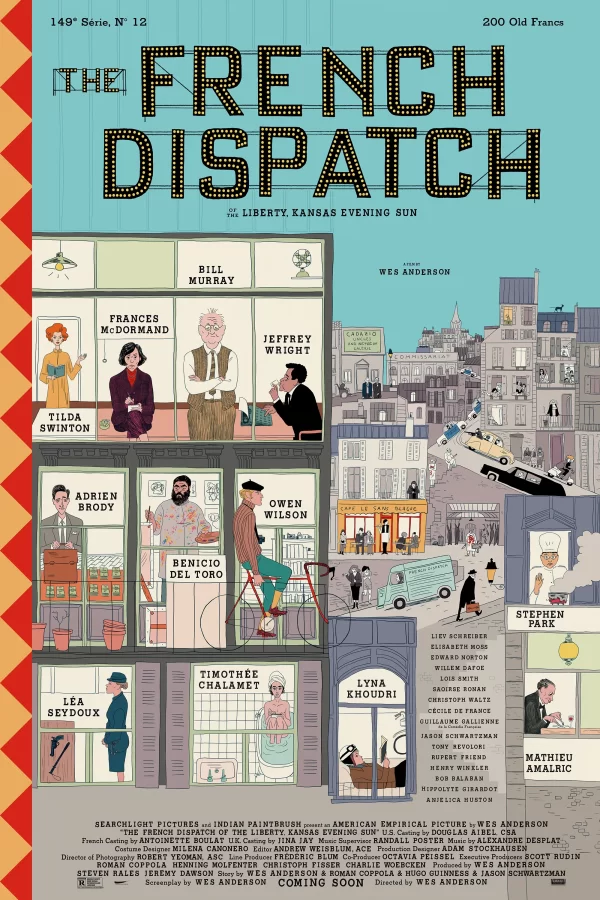 With countless accolades to his name, Wes Anderson is no stranger to film enthusiasts. His films The Grand Budapest Hotel and Moonrise Kingdom not only announced his triumphant entry into the film community but also went on to sweep a series of Academy Awards.
If I were to summarize my emotions on his newest release, The French Dispatch, in just one word, "mediocre" is the first to come to mind.
I love what Wes Anderson does. His approach to film is unlike any other I've seen before, but I was extremely disappointed after watching this movie.
Anderson's usual touch was gone in this recent effort, and his typical charm fades within the first half hour.
While the dialogue present in The French Dispatch was generally smooth and quirky, the pacing was extremely inconsistent. This not only made the film unpleasant to watch, but it was extremely hard to stay interested. The majority of the run time moved at an uncharacteristically slow pace for an Anderson film, but began to move rapidly in the beginning and end. Ironically, the film mirrored what I was feeling. I was captivated for the first thirty minutes, but when the movie continued, I was just waiting for it to end. As the end eventually did come around, I was ecstatic for it to finally be over.
Anderson is known for his unique visuals, but even these left me disappointed at times. Although I liked the continued use of different color palletes, it seemed like they were self-indulgent rather than carefully chosen elements of the movie. Sometimes these changes were used to convey a time shift, other times they were completely random, which left me confused and ultimately angry periodically through its duration.
The three stories in this anthology also were again, disappointing like the rest of the film. The first two were interesting but over-complicated and hard to follow along, and the third left me ready for the ending to come. The plot, if there even is one, was too confusing to pick up on, and did not add to the film in any way.
Wes Anderson films are their strongest when they stay grounded, and build absurdism on a foundation of the characters and plot. The French Dispatch showed brief flashes of this charm his movies are capable of, but there were few scattered throughout the film. There was really nothing to hold on to.
The only notable thing about this Anderson film was the casting, but even then, this was a hard film to sit through. I give the French Dispatch a D at best.