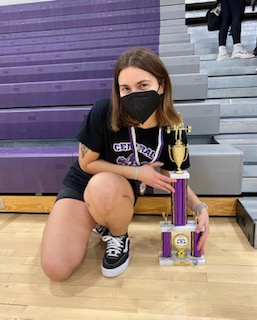 Courtesy of Ava Burk
Senior Ava Burk started powerlifting after a friendly suggestion. Now she's winning medals. Burk placed first at the Central-hosted powerlifting competition in January. 
"I started powerlifting because my friend, Adah Gibson, did it, and she said I would like it," Burk said. "I started lifting over the summer, and I loved it, so I decided to try it out."    Starting was anything but easy. "It was hard at first. It's not like it gets easier, but you get used to it. I'd never lifted over 200 on any of my lifts before and now both my squat and deadlift are well over 200. My bench started at 80 and I'm at over 100 now." 
The pressure didn't end at the physical level for towards the beginning either. "When I started I was nervous that I would be really bad because I was so new to lifting," Burk said. "Luckily, I had my friends there and the whole team is so encouraging. I immediately I felt accepted." 
 Team support has been a cornerstone to Burk's performance. Her team consists of around thirty girls and her coach, Coach Baker. 
"The coaches are always supportive, they are constantly pushing you and encouraging you to do more weight. Sometimes it can get frustrating, because it seems impossible. But ultimately it's good to have an outside person telling you how much you can lift, because the biggest hurdle of lifting competitively is the mental side," Burk said.  
 "You have to believe you can do it because most of the time, you can. When the coaches put on a weight that seems insane, they have a good idea of what you can do, and most of the time they're right."
Her victory took a whole week of preparation. "I got eight hours every night. I went to bed early and made sure I was eating right. The night before I think I went to bed at 8:30. I was nervous, so I had to take a lot of melatonin." 
Breakfast, coffee, two smoothies, fruit and an energy drink were her competition day fuel. That day, Burk secured first place and set a new personal record.  
"I was so nervous for my last deadlift. I had failed a 275 deadlift a week before the meet and my coaches put in that weight without my knowledge. I knew I just had to do it to take first, and I really wanted first. I ended up hitting a 275 deadlift, which got me first place."
Burk, despite her personal progress, didn't expect to take first before the meet. "I didn't even place in the first meet. I assumed I'd get second if anything. I just wanted to place honestly, but once the meet began and I realized that I was in the lead, I knew I could get first," Burk said. "That was my new goal. I wouldn't have been satisfied if I didn't take first, because I knew I could do it."
After this success, the sky is the limit for Ava Burk. 
"I think of this experience as like a starting point for me, I've only been lifting for about 8 months," Burk said. "I'm glad I'm doing powerlifting, because it feels so good to lift a weight you never thought you could do and have a whole team supporting you."