The musical madness of 'Cyrano'
Peter Dinklage shines in Joe Wright's sweeping cinematic retelling of a stage classic
For centuries, dramatists, authors, playwrights, and poets of all kinds have toiled away, each in their respective endeavor, to produce a narrative work that would withstand the cruel passage of time and endure as a genuinely timeless classic. And, once in a blue moon, one actually manages to do so. Amoung the oh-so exclusive group of storytellers to pull off this momentous feat is Edmond Rostand, who penned his play "Cyrano de Bergerac" in 1897. The narrative centers on French army cadet Cyrano de Bergerac as he pines for the affections of his lifelong friend Roxanne, who has fallen for a man named Christian de Neuvillette. Though Cyrano understands that his social status and physical appearance will forever keep him apart from his love, he offers his skills as a gifted poet to Christian in an effort to bring him and Roxanne together once and for all. It's a story so dramatically potent and universally appealing that it has been embraced by audiences the world over as it is told over and over again, including over a dozen film adaptations. Joe Wright's "Cyrano", the latest cinematic rendition of that classic tale, is an uneven yet endearingly grand affair that presents its own exuberant vision of romanticism with woeful sincerity and shameless theatricality.
As with all films based upon this tale, the lead actor must bear the tremendous weight of the narrative's dramatic significance, and Peter Dinklage rises to this challenge magnificently. In this iteration of the stage play, it is not an overlarge nose, but a short stature that causes Cyrano de Bergerac to believe that the object of his affections could never reciprocate his feelings. Dinklage brings just as much bravado to his poetic dialogue as he does to the hand-to-hand combat, resulting in a acerbic performance that is as imposing as it is poignant. Haley Bennet makes for a stirring Roxanne as well, conveying the character's charming air of unwieldy, lovesick innocence with graceful efficacy. Kelvin Harrison Junior, who displays some surprisingly impressive vocal chops when called upon, is another beguiling addition to the cast, with his "I want" song in the second act standing as perhaps the film's most triumphant sequence. Ben Mendelsohn, who portrays a French noble who is also infatuated with Roxanne, is doing his customary sadistic villain routine without ever quite reaching the same melodramatic wavelength the rest of the cast is operating at, resulting in a functional if unremarkable performance.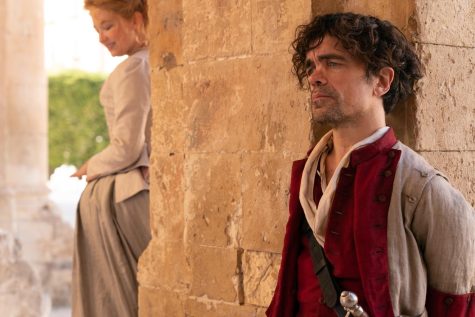 The common thread that connects all the films that Joe Wright has helmed throughout his remarkably varied career is the unbridled theatricality that he brings to everything he touches. Whether he's directing a drama based upon true events or a swashbuckling action-adventure epic, he is evidently unable or unwilling to resist succumbing to his own flare for the dramatic. This propensity for visual theatrics has frequently yielded inconsistent outcomes, as some of his past films doubtless would have benefited from a more grounded approach to the material, but it's ideal for a musical adaptation of a 19th century stage play preoccupied with poetic notions of love and honor. As the runtime lumbers on, I sat back and watched as Wright's directorial vision unfolded in all its splendor. Whether it's framing booming monologues as mundane exchanges of dialogue or shooting action in lengthy tracking shots, he brings a sense of grandeur that is sorely missing from the theaters at the moment. The cinematic sweep that the film's most memorable sequences exude owes an immense debt to the breathtakingly gorgeous Sicilian locales in which they were filmed. Furthermore, the extravagant costuming, the work of veteran designer Massimo Cantini, harkens back to the gaudy excesses of pre-revolutionary France. In doing so, the wardrobe of the characters aids in evoking the feelings of an era where the kind of lofty ideals that the narrative hinges upon were taken for granted.
Although it follows the dramatic beats of Rostand's original play closely, the architect of this retelling of the romantic follies of Cyrano de Bergerac is screenwriter Erica Schmidt, who adapted the play into a stage musical in 2018 upon which the film is directly based. The soundtrack, written by indie rock band The National, allows the film escape the feeling redundancy that plagues other recent silver screen adaptations of stage classics. The songs are the kind of sentimental ballads for which The National has become renowned, however these are far from the band's finest work. The soundtrack is overbearingly utilitarian, providing the film with songs that methodically advance the character arcs and highlight the underlying themes, but frequently lack the catharsis that makes for a truly memorable musical number. The semi-conversational style of the lyrics either comes as as delightfully melodramatic or painfully half-baked depending on which actor is singing them. As a film, it often falls short of the matching the breathless ambition that Wright so obviously approached it with. The predictability of its character arcs and the lack of a cohesive through-line to the stylistic flourishes of Wright's direction preclude it from achieving the kind of cinematic greatness it aspires to. Nevertheless, "Cyrano" aptly strikes the same universal note that all previous adaptations of the timeless tale do, the deeply poignant message that makes it resonate with anyone who has loved at all.
Your donation will support the student journalists of Omaha Central High School. Your contribution will allow us to purchase equipment and cover our annual website hosting costs.
About the Contributor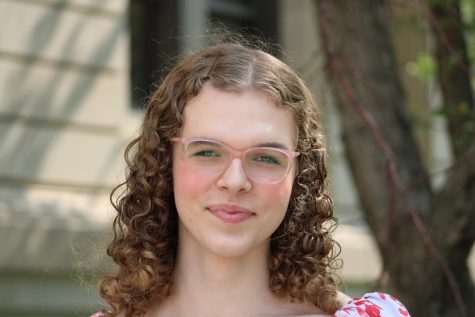 Jane McGill, Arts & Culture Section Editor
Hey everyone, I'm Jane McGill. It is my junior year at Central, my second year on the Register staff, and my first year as Arts & Culture Section...