Cornhusker Girls State teaches students about leadership, government
This June, many of the brightest young women in the state will descend upon the University of Nebraska-Lincoln to learn about government and responsible citizenship.
Cornhusker Girls State, an annual tradition dating back to 1939, is a week-long program in which girls hand-selected from schools all across Nebraska are taught about how city, county, and state government operates. But instead of learning by sitting through lectures all week, the girls learn about government and politics through first-hand experience. "It's like a government simulation," explains senior Ada White, who participated in the program last summer, "so you're put into these 'towns', which are groups of girls from different schools, and you run for different offices, I was a Supreme Court lawyer in a mock trial. You get all of these government experiences as you try to solve town problems and it really bonds you to all of these people that you would never expect to know."
The program stresses the importance of women in government, aiming to empower the participants to pursue careers in politics and law. Senior Anna Tiritilli, who intends on studying law in college, recalled the support she felt, saying "After I did Girls State, I definitely felt more encouraged to be a lawyer because there was such a high emphasis on women in government and political science. We heard a lot from women speakers and it made me more interested because I could hear what's going on in government right now and also what needs to be fixed in the government. It helps you hone in on what you want to focus on in law, so I saw that I wanted to focus in on race relations and gender studies because that's what I saw gaps in."
Echoing similar sentiments, senior Elena Elder said, "The ability to see other people's points of view is so important in politics. I am not the biggest fan of politicians who try to make their values more moderate to win more voters, but once you're in office you do need to be able to compromise and you do need to be able to achieve what you want, and you can only do that by listening to other people."
Senior Dina Salzman, who will be attending drama school next year, believes that the lessons the program teaches are important even to girls who do not intend on entering the political sphere. "I think that having future political aspirations doesn't necessarily have to mean getting a political science degree. I definitely want to make activism and leadership a part of my life. Because when you're in a film or if you're on stage, you have the rarest thing ever these days: a lot of people's undivided attention. What you convey through the art is something very powerful and as an artist, I feel a responsibility to try to make change and bring political activism into my work."
"Central has been very engaged in the program." said History teacher Scott Wilson, who is on the committee that selects participants. "We send girls every year, and we usually do very well down there. I think that the reason Central is successful is the exposure to different types of people with different backgrounds and ways of thinking that you naturally get when you're at Central and so you naturally learn to get along with students that are different than you. Even when they disagree with people significantly, the most successful students at this program find a way to build consensus and find compromises with others."
Juniors MacKenzie Altuzar and Maggie Ernst, have been selected to be Central's delegates to the Girls State program. "Leadership and communication skills are obviously applicable in so many professions, but I would love to get more involved in our government," said Altuzar, "I feel like there's definitely not enough women, especially colored women. The perspective of a colored female is something that I would love to bring to the table." Ernst, who decided to apply for the program under encouragement from Elder, said, "I'm hoping to run for a leadership position at Girls State. I think that organizing a campaign will take a lot of leadership, cooperation, and coordination, and I think that'll be a good thing for me to experience. Getting all of these girls from different backgrounds to work together for one goal will be a good experience in leadership and problem-solving."
Your donation will support the student journalists of Omaha Central High School. Your contribution will allow us to purchase equipment and cover our annual website hosting costs.
About the Writer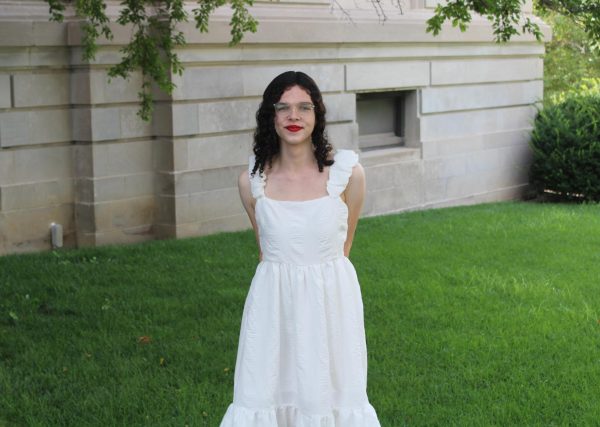 Jane McGill, Executive Editor
Hello Register readers! I am Jane McGill, endlessly inquisitive senior and Executive Editor of The Register. I oversee all aspects of The Register's...