Two school board members resign from superintendent search committee
Update: Board Vice President Smith responded to the Register's requests for comment after this article's publication. This article has been updated to include his response. 

Editor's Note: The following article is the first in a planned bimonthly series reporting on the Omaha Public Schools Board of Education, informing the Register's readers about the Board's decisions and how it impacts their lives.

Omaha Public Schools Board members Nick Thielen and Jane Erdenberger resigned from the Board's Accountability committee, which is responsible for overseeing the search for the district's new superintendent, during the Board's meeting on Monday. The resignations come as the district appears to have fallen behind on the schedule it presented for the superintendent search at its March 20 meeting.
At that meeting, GR Recruiting, the consulting firm hired to assist the district in its superintendent search, estimated it would take three weeks for the job application to be opened online. However, the firm has not yet listed the position as of Friday. Before the two resigned, the committee was comprised of Board Vice President Ricky Smith, who chairs the committee, Erdenberger, Thielen and Margo Juarez.
Thielen and Erdenberger told the Register that the committee had not met since March 10 when they chose GR Recruiting to assist the Board in its search for a new superintendent.
Erdenberger said that she resigned because Smith refused to return her calls and emails requesting the committee meet again. She alleged that Smith tried to prevent her from speaking at the committee's last meeting and refused to answer her requests that the committee have regularly scheduled meetings.
"It was keeping me awake at night because I know what we should be doing and we weren't doing it," Erdenberger said. "It was just irritating the [expletive] out of me and I thought, 'I can solve this problem by getting off the committee."'
Thielen declined to comment about his reasons for resigning from the committee.
Erdenberger questioned whether Smith was qualified to chair the committee given the importance of the superintendent search. "He's never chaired a committee before," she said. "He's notoriously bad at returning emails and coming to meetings on time."
Head appointed Board members Dr. Shavonna Holman and Tracy Casady to the Accountability committee following the resignations, thanking Thielen and Erdenberger for their service. "The nine of us on the board may have our disagreements from time to time," Head said, "but we all remain steadfast in our commitment to a smooth transition from [Superintendent] Dr. Logan to Mr. [Matt] Ray this summer and a successful search that results in the best leader for this district moving forward."
Smith said that serving students and staff is his highest priority, praising Head's appointments to replace Thielen and Erdenberger on the committee. "As a leader you must have integrity and I will never have mine be compromised by other people including board members," said Smith. "I am so glad that other Board members with integrity and experience have stepped up to help move the district forward. It's what our students, staff and parents deserve."
Head said that Erdenberger and Thielen's resignations will not affect the superintendent search.
During public comment, Omaha resident Jeffery Williams commended Logan on her leadership of the district. "It is said to give exceptional people your flowers while they are still in your presence,"  Williams said. "Your historic service, Dr. Logan, to the Omaha public schools as our first African American superintendent will not be forgotten."
The Board voted 8-0 to approve the consent agenda for the meeting, which included a $337,000 contract with Mindful Schools to provide social and emotional learning resources to teachers, an extension for the stipends paid to teachers who supervise student teachers until July 2026, and an agreement with the Omaha Education Association, the OPS teachers union, allowing the district to contract registered nurses without a Bachelor's degree to combat the school nursing shortage.
Juarez, who chairs the Board's Budget and Audit Committee, said that the district is under budget largely due to the teacher and bus driver shortage decreasing the number of staff on OPS' payroll. She said that the district will spend all Emergency and Secondary School Emergency Relief Fund I and II funds by 2023 and ESSR III funds used by 2024. ESSR is a federal government program that provides funds to assist school districts in recovering from the effects of the pandemic.
The Board voted 8-0 to approve an $8 million purchase of new physical and digital textbooks for K-12 students that will be used from the 2023-2024 through the 2029-2030 school years.
Dr. Anne MacFarland was appointed to be interim Secretary to the Board of Education, replacing Ray, who will be interim superintendent for the 2023-2024 school year. MacFarland has worked in OPS for over 20 years, where she is currently Executive Director of Student and Community Services.
Your donation will support the student journalists of Omaha Central High School. Your contribution will allow us to purchase equipment and cover our annual website hosting costs.
About the Writer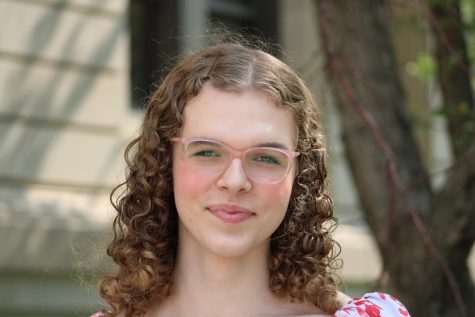 Jane McGill, Arts & Culture Section Editor
Hey everyone, I'm Jane McGill. It is my junior year at Central, my second year on the Register staff, and my first year as Arts & Culture Section...