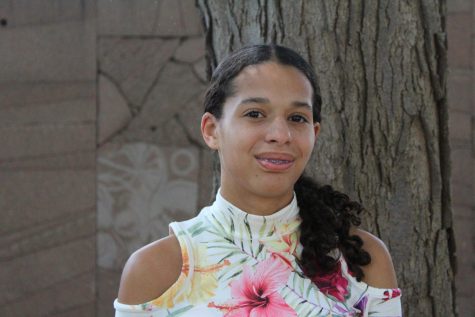 My name is Sydney Prescott, 
I 
am
 a 
sophomore
, and this is my first year on The Register 
staff
. I am passionate about running, music, books and Jesus. In the future I hope to get a full ride to a Nebraska college 
and find out what my career will be. On staff this year I hope to be better at writing nonfiction and making new friends.
Sydney Prescott, staff writer
May 10, 2018

'Giant Comix' depicts diverse, unique superheroes in comic stories

(Story)

May 10, 2018

Con: Draft opinion

(Story)

May 10, 2018

Top Five Summer Reads

(Story)

May 10, 2018

Top six reasons why you shouldn't date in high school

(Story)

Apr 11, 2018

Top four reasons not to date in high school

(Story)

Apr 09, 2018

Doubt in faith important for maturity but not necessary for belief

(Story)

Apr 09, 2018

New STEM club encourages career-mindedness, independence

(Story)

Apr 09, 2018

JROTC plans to win Central's first JLAB competition in D.C.

(Story)

Apr 05, 2018

Why read the newspaper?

(Story)

Feb 23, 2018

Five students commit to continue athletic careers in college

(Story)

Feb 22, 2018

North vs Central Open House

(Story)

Feb 22, 2018

Top four recipes to use during parties, easy to cook, tasty

(Story)

Feb 22, 2018

Literature, food among ways to celebrate black history month

(Story)

Dec 12, 2017

Library program for teens on second year

(Story)

Dec 12, 2017

Top ten reasons to thank your teachers

(Story)

Dec 12, 2017

Con: Sex work encourages male superiority, cycles of human trafficking

(Story)

Dec 12, 2017

New push for stricter tardy policy generated positive results

(Story)

Nov 15, 2017

ASVAB test cancelled due to low attendance

(Story)

Nov 15, 2017

Students should be able to grade their teachers

(Story)

Nov 15, 2017

Money invested in building addition should instead be spent on technology

(Story)

Oct 08, 2017

Virginity: A sacred bond

(Story)

Oct 06, 2017

3 Books sure to scare in October

(Story)

Oct 05, 2017

Award winning author, biologist speaks to honors, AP students

(Story)

Oct 05, 2017

Top 8 reasons people should run

(Story)

Nov 10, 2016