Student moves to Ohio, then returns
Few students have been born in a state, moved, and then returned to where they were born. Even fewer are the oldest with four younger sisters. Malik Abdessalam, sophomore, however is part of both of these select groups. Born in Omaha, Abdessalam moved to Columbia, Ohio, after only four months of his young life. There, he and his parents and later two sisters Safiyah and Nayera lived on the Ohio State University Campus. He said, "I grew up loving Ohio State athletics and still do to this day."
Shortly after his seventh birthday, Abdessalam and his family returned to Omaha because of his dad's job. He explained that it was hardest for his mom because of all the relationships she had formed in Ohio, and that Omaha was quite the change of pace. However, they moved into Dundee and easily assimilated. He said, "There were a ton of kids in the neighborhood, which I loved."
He attended Dundee Elementary for 2nd through 6th grade, where he made many friends, and said, "[it is] the best elementary school in the United States." From there, he went on to McMillan Magnet Center for junior high, describing it as a very different atmosphere. Even while running cross country and playing soccer, Abdessalam also participated in numerous extracurricular programs. He added, "Middle school flew by and before I knew it, I was at Central, the greatest high school in the country."
Freshman year he played tennis in the fall and golf in the spring. He noted that the culture shock was not as big as one might expect, and that you never really notice how many kids actually go there. He said, "Freshman year is mostly about trying to adapt with the surroundings and getting to know a good group of people that you will hopefully be friends with for the rest of your life. For me, freshman year was great; I built strong relationships with the students and the faculty. Before I knew it, it was finals week and boy did it go quick."
Taking advantage of the leisure that summer time affords, Abdessalam spent the days traveling the country and going from city to city on a family road trip. "It was a really great time and it made our family bond of five siblings and my mom and dad stronger," he said.
For him, sophomore year has been going even faster than his freshman experience. "I love all of my teachers and my classes were a great fit. I just hope this year can be as good as last year!"
About the Writer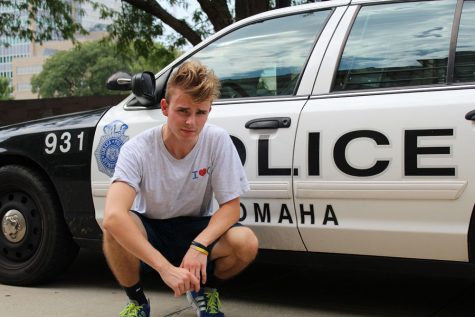 Choteau Kammel, co-editor-in-chief
Greetings! My name is Choteau Kammel and I have been on The Register for the last three years. After being an executive editor last year, I am now a Co-Editor-in-Chief...