Computer technology teacher, anything but Common
Brown is the sixth most common surname in the United States. However, Jodi Brown, computer technology teacher at Omaha Central High School, is anything but common. Brown's father was a teacher and although she was born in North Platte, Neb., she moved five times before she entered preschool. Her family settled in Kennard, Neb., with her father teaching in Fort Calhoun and herself attending Arlington Public Schools. After graduating from Arlington High School where she played volleyball, basketball, and track, Brown enrolled in the University of Nebraska at Lincoln (UNL). Brown said college choice really depends on your personal views and that she chose UNL because having grown up in small towns she wanted the big college experience.
With a father who was an educator, one might assume that was Brown's career choice from the start. In actuality, it is quite the contrary. She recalled, "I fought it". At UNL Brown changed her major three times before choosing special education. Brown said the reasons she ultimately decided on teaching was because she had enjoyed high school and really liked the kids and activities. Her first teaching job was in Crete, Neb. She taught special education there for two years and also was an assistant volleyball coach. Now, she said, "I'm an Excretion!" (Excretion is the process of discharging bodily waste, and Crete is where Brown taught for her first two years.)
Brown's quest for a head volleyball coach position eventually led her to Omaha's Central High School. On her first interview, Brown stated, "I didn't know which door to go in." Shortly after the interview, Brown received the position at Central. One of the first emotions she felt was culture shock. The town of Kennard, where she grew up, had a population of 371 people, now she was in a school of 2,500 people. Eventually though, she said, "I got over it." Currently in her 16th year at Central, Brown was a special education teacher for her first six years. During that time she acquired her master's degree in technology education from the University of Nebraska at Omaha (UNO). Due to this qualification, Brown transferred to computer technology teacher.
Brown shares an office with Jodi Nielsen, web design and digital media teacher. According to Nielsen, pranking goes on in the confines of the office. One of the more notable ones she said dealt with Brown's dislike of stickers. Nielsen recounted the prank, "Mrs. Renshaw and I made up a bunch of roller derby names and put them on stickers and put them all over her [Brown's] clothes. Inside, outside, everywhere." Nielsen then added, "She loved it." Brown, who is not a poor sport, said, "I appreciate a good prank."
Another humorous anecdote, although not a prank, occurred three years ago on a staircase before the school day had started. Brown and Nielsen were heading up the stairs. Brown, who had been drinking a protein shake, tripped up the stairs and sent a mass of gelatinous goo soaring into her hair and onto her clothes. Brown recalled, "A big glob of protein shake landed in my hair, my sweater, and on my pants, it was so crusty."  A final piece of humor was given by English teacher Jessica Renshaw, who said Brown has a really weird habit of matching everything, from hair bands and rings to socks even when she is wearing pants. Brown simply replied, "I like to match, and I have a ring obsession. The bigger, the sparklier, the better."
As evidenced by Brown's title, Mrs., she is married. She met her husband Scott Brown at The Ranch Bowl, a bowling alley and beach volleyball court, formally on 72nd Street, now the location of a Wal-Mart. Scott had moved to Omaha from Minnesota for a job from U.S. West. He is currently employed as a software technician for Northrop Grumman. The couple dated for two years before Scott popped the question "Will you marry me?" The engagement lasted one year and then they were married.
When not in the classroom, Brown stays active. She coaches Central's varsity volleyball team and has orchestrated several charitable drives for the team, including raising money for brain cancer. Out of school she also coaches a club team. At home she enjoys running, working out, and playing beach volleyball. Every morning she goes running with the younger of her and her husband's Doberman Pincers, Zoe. After school, Brown goes on a walk with both Zoe and the elder Doberman, Logan. She also enjoys traveling and often abroad. Her favorite trip she says was Australia. She had gone with her volleyball team for the Down Under Games. She explained why she enjoyed Australia when she said, "They have kangaroos and koalas."
Brown is currently working on her second master's degree from UNO. This one is in education administration. Although this is usually a stepping stone to an administration role, Brown says she is on the fence about being an administrator in the future, but if it happens, it happens. In life, Brown has two pieces of advice, "work hard play hard and YOLO" (you only live once).
About the Writer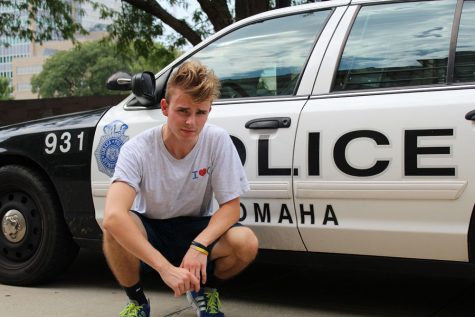 Choteau Kammel, co-editor-in-chief
Greetings! My name is Choteau Kammel and I have been on The Register for the last three years. After being an executive editor last year, I am now a Co-Editor-in-Chief...