Concert fanatic travels to see favorite bands, gets tattoos in their honor
Most can agree that live concerts provide an exhilarating, carefree atmosphere. The rush of seeing a national artist can attract thousands to a single arena. Junior Nikole Gatzemeyer has made concert chasing her ultimate passion.
As a travel enthusiast, Gatzemeyer craves the experience of being in a fresh, unfamiliar environment.
She claims that this is a major reason why her uncommon hobby manages to stay interesting. "I love traveling, just seeing new places and meeting new people that you wouldn't always see," she said.
Very few national artists make their way into Nebraska's venues, which is why Gatzemeyer makes fairly regular commutes to larger cities, such as Kansas City and Minneapolis. "I go to Chicago a lot, but I think the farthest I drove this summer was Texas," she said. Though some of these destinations are relatively close by, she occasionally finds herself in the car for hours on end to get to a show.
Despite the numerous risks involved in driving to other states as a teenager, Gatzemeyer's parents are somewhat supportive of her exploits. "My mom's all for it. My dad, he gets nervous, just because I go with friends…he worries, but my mom thinks it's pretty cool," she said. Her genuine love for music has definitely influenced her parents' decision to allow her to partake in concert chasing.
It's no mystery that attending any type of live performance can be costly. Gatzemeyer dedicates a lot of time and effort to ensure that she is able to see her favorite acts.
"I work a lot, but also a lot of my concerts I get into for free, because I meet the artists…it just kinda comes up in the conversation," she said.
Constant travelling and shadowing bands on tour opens many opportunities to meet new acquaintances with similar interests. Gatzemeyer makes it a point to meet with these familiar faces whenever she goes to a show. Around six "regulars"typically join her at the events. "You meet really great people through concerts," she said. She appreciates the importance of connecting with people through music. With each venue she visits, a new bond is formed.
Gatzemeyer's adoration of music expands even to a physical level. Recently, she got a tattoo in honor of one of her favorite bands, 5 Seconds of Summer. The tattoo on her wrist is of the band's logo, which has since been changed.
Though it may seem quite spontaneous to some, she said, "People probably think I'm crazy… but I don't know… I think it's cool. I don't think I'll ever regret it." She expresses a deep connection with the lyrics written by artists such as Paramore, All Time Low, One Direction and Halsey.
After high school, Gatzemeyer intends to immerse herself in the field of music production and management. She has also taken a significant interest in cosmetology, which she hopes to expand upon.
Whether it's coordinating a tour, or fixing a band member's hair before a set, she is adamant about being involved in the music industry in some way.
College is just around the corner for Gatzemeyer. She anticipates a busy schedule, however, her beloved hobby will not dwindle. Whenever she has time, a concert with her circle of fellow music lovers will definitely be on the calendar, and she aims to go to just as many, if not more, shows this summer.
About the Writer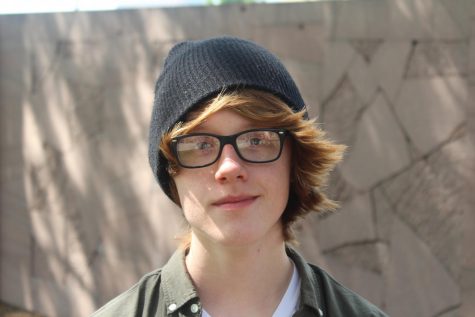 Julian Hock-Beaty, graphics editor
My name is Julian Hock-Beaty, and I've been a part of Central High's journalism team for three years (going on my fourth). I took journalism as a freshman,...