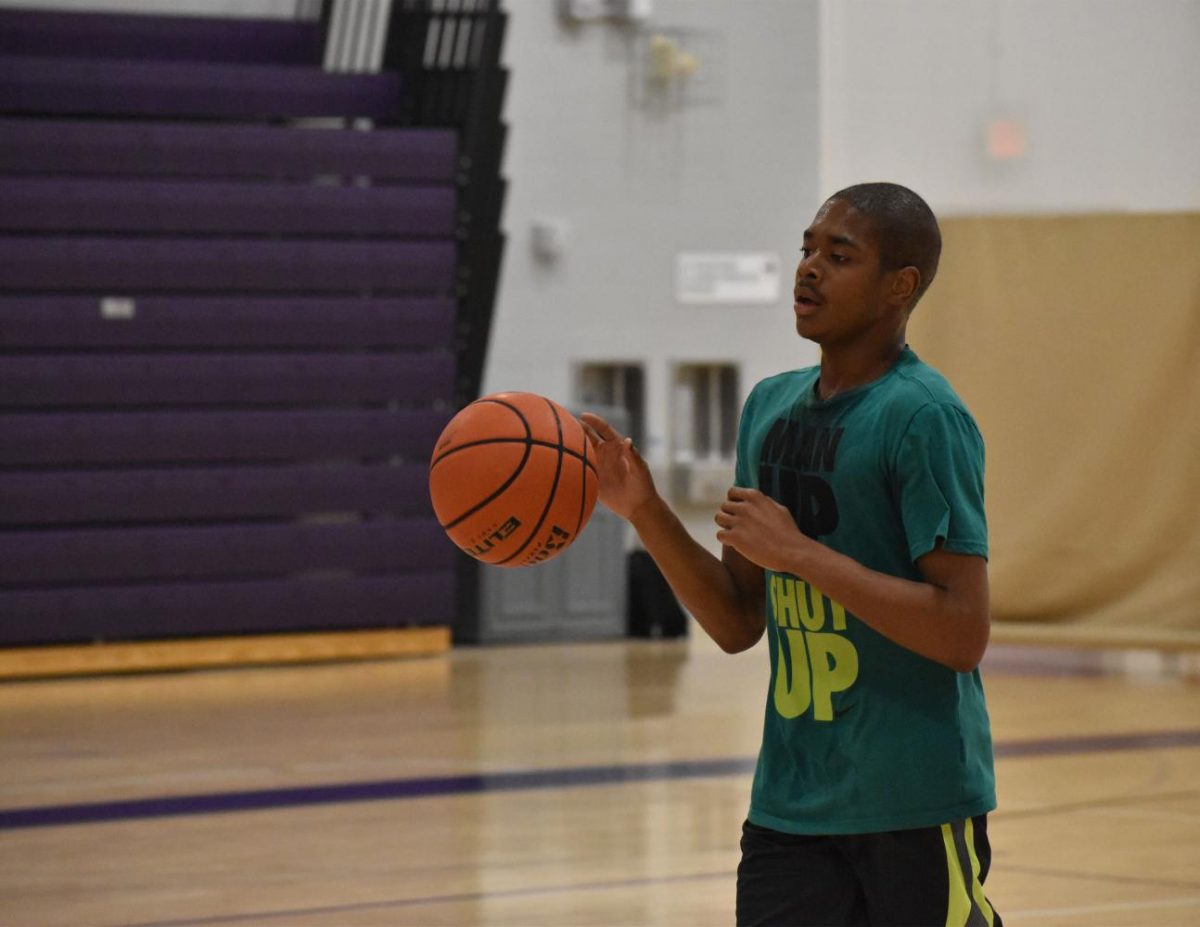 His toughest game yet
Sophomore overcomes cancer, looks forward to basketball season
October 5, 2017
Sophomore Maxwell Polk regularly battles opponents on the hardwood as a part of Omaha Central boys basketball and the Omaha Sports Academy 15U team. However, this summer, he faced an opponent unlike any other, in a setting that was foreign and daunting to him.
In June, Polk was going in for a surgery to remove his appendix due to previous stomach pain. What doctors found was something he never considered to be a possibility.
It was cancer; specifically, Burkitt lymphoma.
According to the Lymphoma Research Foundation, this type of lymphoma, a cancer of cells in the immune system, can be "rare but highly aggressive." It normally requires intensive chemotherapy in order to treat and cure.
All of this was completely new and frightening to Polk. "When you hear the word cancer, one of the first things you think is death, and that's one of my biggest fears," Polk said. "Fighting for [my] life is something I've never faced before."
Suddenly, Polk went from shooting three-pointers and driving through the lane to over a month and a half of chemotherapy in two rounds. He could feel most of what was being put into him to fight, and it was not comfortable. "It was draining, mostly. I lost probably 18 pounds," Polk said.   "I felt weak and I was just throwing up most of the time. It was the toughest period of my life."
He remembered nights where he would go home and cry himself to sleep, wondering why this disease happened to him and why right now. Polk rarely went out into public during June, and had to wear a mask when he did due to his weakened immune system.
Without basketball, he had to find other things to occupy his time. One of those things was reading more, since extensive physical activity was not possible.
In July, good news came from the doctors; everything checked out.
Polk was cancer free.
While he may have lost his hair, he did not permanently lose the thing that helps cure other problems in his life. "Basketball is always been the thing I do to keep my mind off things and when I try to let go of stuff and keep my mind blank, I go to basketball. But then I didn't have that," Polk said. "It was extremely tough."
He appreciated the many people around the city who supported him through that period, including his family and his brother, Marcus. Marcus is an alumnus and former Central basketball player, who graduated in 2015.
The t-shirt Marcus gave him summed up his journey of fighting cancer. It says, "Survived My Worst Days."
Polk returned to his OSA team with two weeks left in the season, and hit a game winning shot in late July. The feeling he experienced of stepping back out on the court again was euphoric. "It was the best feeling of my life. I've always loved basketball, but now I was thinking I was taking it for granted when I was playing," Polk said. "I could have got that snatched away from me and I had it snatched away from me for a month. Having it back, it was just amazing."
Now that the summer is gone, Polk is looking ahead to the upcoming high school season. He hopes to have an increased role on the team as a leader, and he wants to be more vocal out on the floor. Having gone what he went through, he expects to play with more passion and even more heart. Polk has been in the gym, four times a week, trying to regain some of the muscle he lost during chemotherapy.
His piece of advice for those going through the same battle: "Keep pushing, be patient, God always has a plan. You might not know why it happened to you now, but you'll find out soon. And just pray."
Polk has "survived his worst days," and strives to make his future days on the court and in life his best.