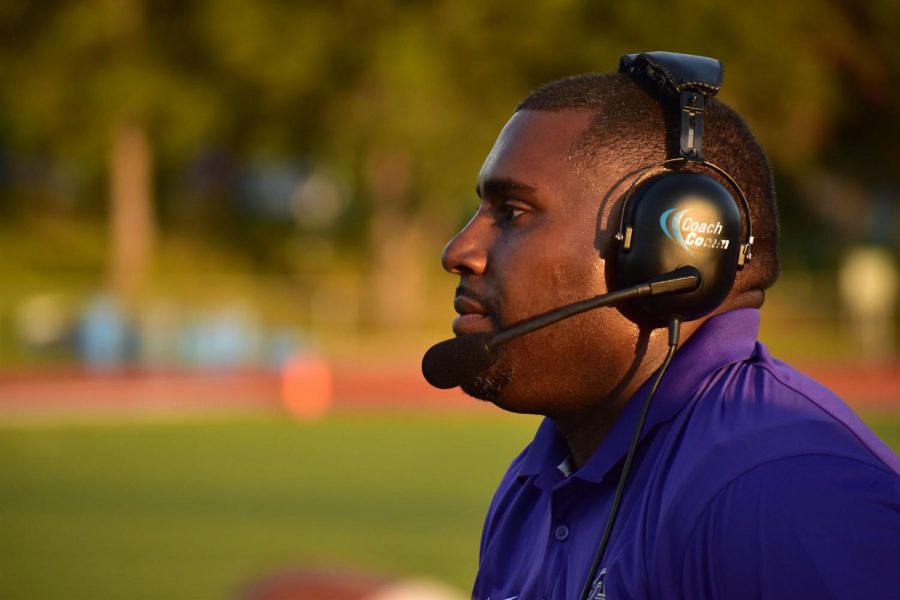 Central football looks for new head coach, leader to shift program's culture
December 18, 2017
The Eagles are looking for new leadership in the football program after a disappointing winless season.
Coach Lance Griffin, who took over for Jay Ball after his retirement from OPS, agreed to part ways from the Central football program in November. Griffin was an assistant under Ball and a Central alumnus. During his one season as head coach, the Eagles posted an 0-9 record, which was the first winless season for the program since 1975.
Athletic director Luke Dillon confirmed the decision at the beginning of November. While he did not specifically comment on the specifics of Griffin's departure, he did note some general trends during the season. "Sometimes I think in life or in general you start heading one direction and when your viewpoints don't necessarily align with others, you agree to disagree," Dillon said. "In order to have a climate and culture that is going to be suitable for the kids to be successful, we all have to be on the same page."
Griffin was the head coach at Concordia High before taking the Central head coaching job. Dillon believes that he did what he could to create an atmosphere of success. "I think he was trying to do the best he could do to what he knew and how he went about business," Dillon said. "Some things can work at certain schools but maybe at certain schools or certain time periods they don't. Perhaps at Central things just didn't work out."
This change in direction had to be communicated to parents, a group that Dillon kept in constant communication with for feedback. He did not tell parents exactly why he chose to move forward with a different coach, but he does take feedback into account. "Most of my decisions and the terminations I make are based off the feedback I get from students, parents and what I observe at practices," Dillon said. "I'm trying to get a lot of input from parents and kids to see exactly what they are looking for in the next head coach." He said that a lot of people are giving him names of potential candidates, but he is not interested in that. Dillon wants to know what attributes would make the perfect coach and what makes these proposed candidates so special.
One aspect that is core to the coaching search is finding an inside hire, someone who is in the building and accessible to students at all time. It is deeper than just accessibility; an inside hire would be ideal to create relationships with staff members and the Central community. "It helps build more of the culture that is sustainable," Dillon said. Other characteristics Dillon is looking for in a head coach is good organization, communication with parents, humility, adaptability and an understanding of the game that he feels can make people successful.
Class A champion Omaha North has built the model, according to Dillon, that he is trying to work off of. Dillon wants a coach that can delegate in order to handle the added responsibility of being a football coach in OPS, especially at Central. "Head coaching, not just in football but in any job here, is tough," Dillon said. "The demand for success, the tradition, the lore of working downtown at Central High School. You really have to understand and more so have the right types of experiences."
He cited North as an example because of their coaching staff. Dillon believes that a coach who can surround himself with assistants who make up for personal weaknesses can build a championship-caliber team. "Someone's got to start their coaching career somewhere. If we were to hire somebody, it's really about can they find the right people in place around them that they can build a successful program."
The decision also comes down to the system the next coach will implement. At times, this can directly affect recruiting and the achievement of a program. "I think kids today want to see a system that they can flourish in, whether that's the old 'I-Back High,' a spread or option game, depending on the skill position," Dillon said. "Ultimately though, I think kids just want to be successful. You have to have the structure in place that's going to allow kids to flourish within the system."
A new head coach has yet to be announced as of November 27, but even after a new coach is hired, Dillon knows the process of rebuilding will be a long and winding road.
"It's not going to be easy. It's going to take time."