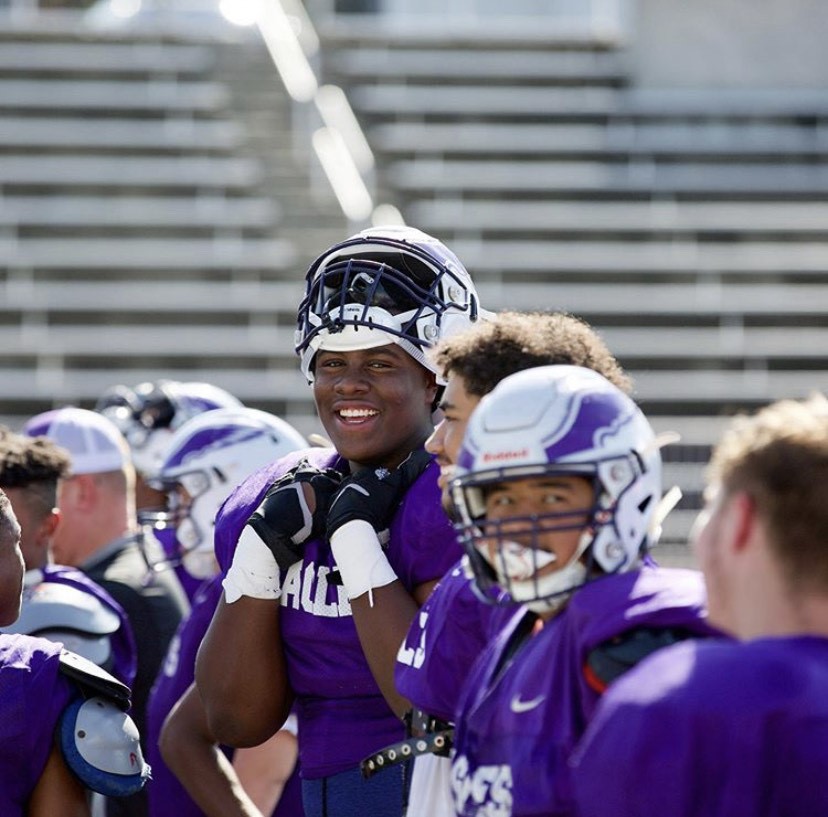 OL Deshawn Woods receives offers from 4 Power-5 schools
February 20, 2020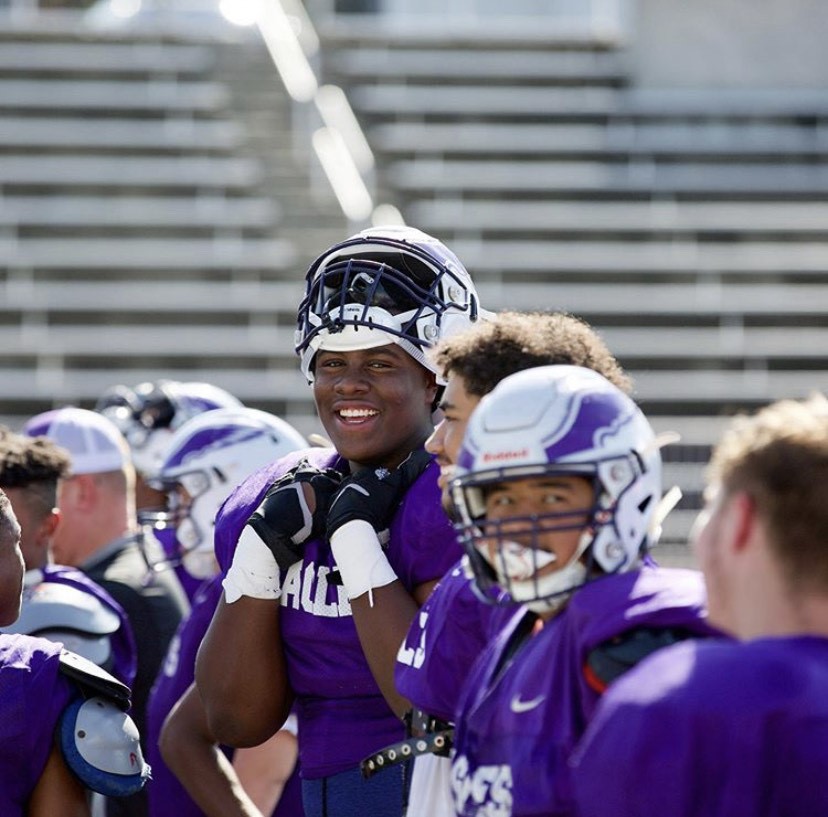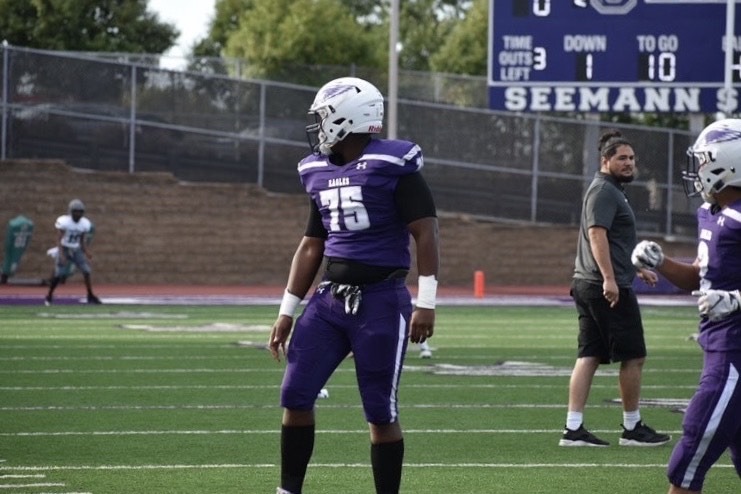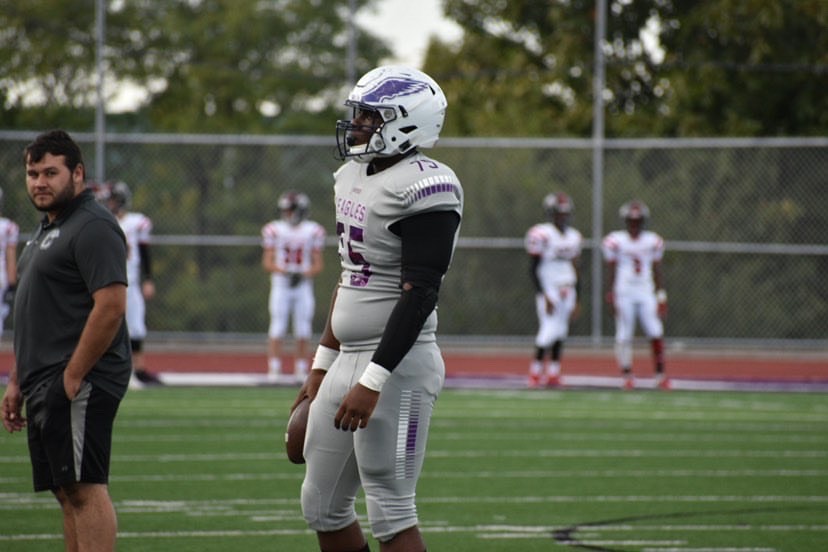 This past month, Central offensive lineman Deshawn Woods has seen his recruitment take off. The current sophomore has fielded scholarship offers from Nebraska, Iowa, Iowa State, and Missouri. He said, "it's actually really nice because I like to play sports." Woods is the first Power Five football recruit to play for the Eagles since Daishon Neal signed with Nebraska in 2015. 
Nebraska offered Woods when assistant coach Barrett Ruud visited Central on January 21. He became only the second in-state offer for the Huskers in the 2022 class, joining Omaha Burke OLB Devon Jackson. Woods said about his offer, "it's close to home close for me." Besides Ruud, Woods is also being recruited by Nebraska offensive line coach Greg Austin. Austin played offensive line at Nebraska from 2003-2006, and would be Wood's position coach at Nebraska. Woods said, "it's nice that my position coach actually played there and a lot of people that are like my mentors actually played there, so it's a big deal."  
A few hours after Ruud offered Woods, Iowa State head coach Matt Campbell visited Central. During his visit he let Woods know that the Cyclones were also offering him a scholarship. A week later Iowa head coach Kirk Ferentz visited Central and also offered Woods. Missouri did the same thing two days later. Barring anything unforeseen, Woods will be defiantly be playing power five football, and he said he looks forward to playing football at a higher level. 
Central head coach Jay Landstrom can see why Woods is receiving Power Five interest. He said, "he does a lot of things you can't coach right now. He's just big and powerful for his size and is highly coachable." Landstrom said what makes him so highly coachable is that he is a "tireless worker in the weight room. He loves to lift, he loves to get stronger, and he's not afraid to put in the extra work." He also mentioned that Woods work in the classroom as another reason for his recruitment picking up. He said, "he's a smart kid both on the field and his grades are good and that's the first thing they (college coaches) ask for is how are their grades and he's doing well."  
Even though the 2022 recruiting class is currently not rated by 247 Sports Composite, it is not hard to see him be a highly rated recruit nationally. One reason is that he can fit in multiple different offensive systems, proved by the fact that he has been offered by Nebraska and Iowa. Scott Frost runs a high-tempo spread offense at Nebraska, the complete opposite of the grind it out power football style of offense that Ferentz uses in Iowa City. Landstrom can see why two schools with different offensive philosophies want Woods to be on their offensive line. He said, "he fits in both because he is a really good run blocker. He's dominant. He gets after people." Woods led an offensive line this season that allowed the Eagles to run for 158.1 yards a game, including 5.7 yards per rush. About Wood's pass protection he said, "he has long arms, he has good feet. He can move his feet and, be able to take on a defensive end and keep him off the quarterback." 
The fact that Woods is only a sophomore means his recruitment could continue to garner national interest. In terms of development over the next few years, Landstrom said, "it starts in the classroom and getting that stuff squared away." He mentioned Woods needs to "keep working hard and don't settle, don't be satisfied. Continue to get bigger, faster and stronger. Continue to be a leader on the field and off the field." 
The Central coach also mentioned that the increased attention on Woods would help the football program as a whole. Landstrom said, "I think it's great. I think it's great for us. It's great for the school. It brings a lot of excitement. I tell our other players that their time is coming too." With all sorts of Power Five coaches watching Woods' film, it gives other players the opportunity to show themselves on tape. It is a motivational tool that Landstrom can use with his team. He said college coaches are "also gonna be able to see you (other players on Central's football team) playing. And so you have an opportunity to stand out and you have an opportunity to get in the eyes of these college coaches." Landstrom also mentioned that this proves to his younger players and potential players that it is possible to get noticed at Central. 
As far as Woods himself, he said his future goals in football are, "Just keep dominating the old ones."