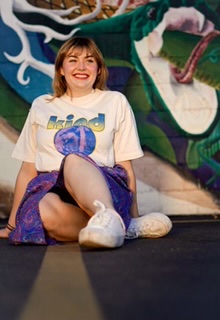 The Class of 2020's Senior Class President
December 11, 2020
The 2020 senior class president is Willa Rauch. She is not only the senior class president, but she is also the president of the Tri-M music society, Historian for the drama club, and heavily involved in the art department.  
Rauch wanted to become senior class president to uphold her strong beliefs in kindness and general empathy.  
"I came into high school wishing I had the confidence to go right out and make friends, wishing I was able to talk to the people I admired. I want every student at Central to feel like they have a friend in me, because that's what I wanted out of my student leadership," Rauch says.  
With the title of senior class president Rauch has a goal to create an environment that feels more open at Central. She has remained informed about the current events and movements that have occurred this year and wants students to be able to talk about them.  
"I want Central's dialogue to be more open. Having conversations about Black Lives Matter, the climate, the pandemic, and more that will eventually extend to other OPS and Metro schools. Basically, uniting us, I guess," she said.  
Being senior class president has its challenges, but this year Rauch and her fellow class officers have a unique challenge. The student body is divided with some students at home and others at Central. Rauch still wants to give online students the opportunity to remain involved with school activities.  
"Students online are still our peers! We are thinking up some ideas about how to maintain connections with students in person. For instance, we're figuring out how a school wide buddy or group system that pairs online and in person students could work," she explained. "And we are going to make any future 'events' accessible to online students in any way we can."  
Although she may have some new challenges, she knows what responsibilities come with the job.  
"I am responsible- alongside the other senior class officers- for planning events for our class, leading welcoming activities and assemblies, doing announcements, lots of fun stuff and some not so fun stuff like meetings and logistics at times," she said.