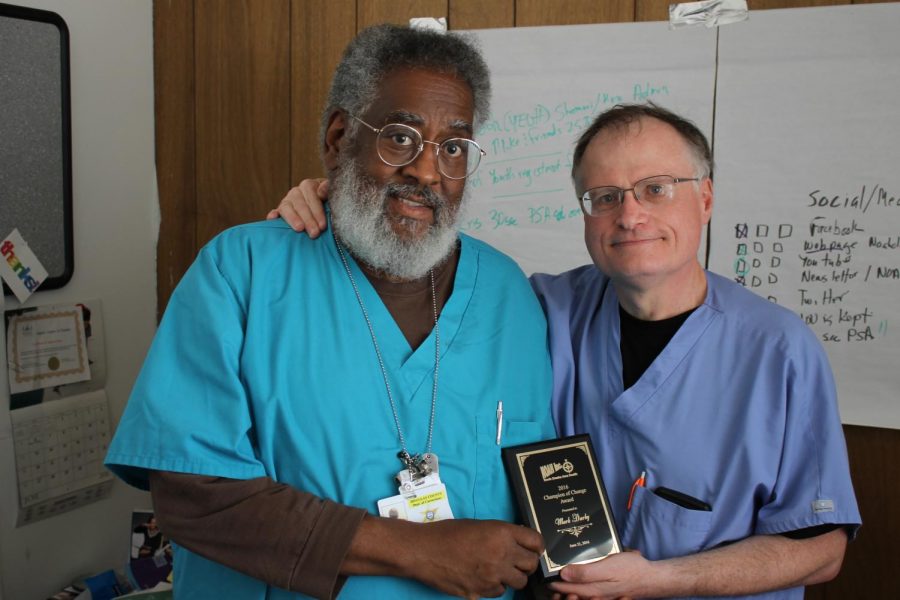 Free health clinic in North Omaha provides care for community
February 5, 2021
North Omaha Area Health, NOAH, is a free health clinic that provides care for people who are unable to pay for health care.
NOAH was started in the late nineties by founder and director Ira Combs. He created different types of health education programs within the North Omaha community, including health fairs and a summer intern program. For the next decade, he did so operating out of his office or his car. Then, in 2012, he was given a permanent space at 56th and Ames where he was able to open up a clinic with office hours.
The goal of this clinic is to provide care in the community it serves, a community that does not have a lot of other options.
"In terms of people being able to find care here in this area, there's Charles Drew, there's a UNMC place, and then there's us," Clinic Director Mark Darby said.
Last year, the clinic served about 2,200 people, but in these last few months, their numbers have increased about thirty or forty percent- to the point where they might reach 3,000 people this year. They have twelve full-time employees, and they regularly have anywhere from fifteen to twenty volunteers.
About two-thirds of the clinic's patients are African-American, and, separate from that, two-thirds of the clinic's patients don't have health insurance. They'll see anyone from anywhere, free of charge, but most of their clientele comes from within walking distance. Darby says this is because although NOAH doesn't have the facilities that a larger hospital might have, it is less foreboding and much easier to get to.
"Our place is just home, our place is just a typical building," he said. "We may not be fancy, but we're accessible."
NOAH's location is also relatively discreet, tucked away in a strip mall behind a gas station on Ames Street. This is important because a large part of the care that NOAH provides is STD testing, and, for many, going to get tested for an STD can be an embarrassing thing.
"You don't want your neighbor to know you have an STD," Darby said, "In the young adult population, many people will have sexual encounters, and in some ways that's acceptable, but when you have an STD, it sounds like you did something dirty. It's almost like you can have sex and not get an STD and be all right, but if you get an STD, people think that you sleep around too much, when in actuality, it takes one sexual encounter, and you can get an STD."
Providing STD testing is something Darby says is especially important in this city.
"The bottom line is that Omaha has one of the highest rates of STDs for people age fifteen to twenty-four, for any city in the country," he said. "It's a danger for people that young to have an untreated STD. So, anything we can do to prevent that is helpful."
Other than testing, the most important way NOAH feels it can prevent STDs is through education.
"The rest of what we do is just built on that," he said. "Other than that, there's nothing special about us."
Sex education is something that NOAH feels is lacking in North Omaha right now, especially when it comes to safe sex practices.
"We believe that condom use is a public health priority, and there are many people of different religious backgrounds who disagree with that, and that's fine, and we respect that," Darby said. "I think that sex education should recognize that discussions of sex should be frank and factual and not imply any kind of encouragement. Knowledge does not hurt people."
At the same time, though, Darby points out that this is a complex issue, and there might not be an easy answer.
"The fact that we're not discussing how to have safe sex is an inadequacy," he said, "I also think that, on the other side, to teach people not to have sex if they don't want to. There are many young people who don't want to have sex—and there's a tremendous pressure to have sex. There has to be a balance, and to do that in a large public school system, to balance all those competing interests, is hard."
Although STD testing is an important thing that NOAH does, it's not all they do. They also offer primary care, mental health counseling, and diabetes education, and if they can't provide the care a client needs, they'll do whatever they can to find another way to get that client care.
Darby gave an example of diabetes care, which has two broad classes of medication. One is cheap, costing about four dollars a month, but if that doesn't work, a patient has to use the second type, which could cost anywhere from two to three hundred dollars a month.
"So, imagine making a decision, literally, between rent and diabetic medication," Darby said. "And if you're a single parent, is it rent and my children's food too? Those are realistic decisions that people make every day. If we can somehow manage that as best we can, if we can help connect them to resources where they can get the care they need, and free up that much money for them, that's great."
Darby also says that if they can do something to prevent a patient from getting diabetes in the first place—like helping them lose weight—that's even better, because it will save them even more money in the long run.
Darby points out that this isn't a new form of care. Doctors have known how to treat diabetes for years, but the difference is that they haven't provided that treatment to this group of patients in North Omaha, or to other minorities living in poverty around the country.
Throughout his years at NOAH, Darby says he's seen this kind of care have a direct impact on people's lives.
"There's a patient we see," he said, "When he came to us, his blood pressure was skyrocketing, he was overweight, he was drinking a lot of alcohol—a case of beer a day sometimes—and he was smoking a lot of marijuana. He was depressed and couldn't hold down a job."
NOAH worked with him over the next two years, helping him to get healthy. And now, Darby says, the patient has really taken control over his life.
"He hasn't had a drink in the last six months, his blood pressure's under control, he's exercising, he's lost weight, he's holding down a job, and he's re-engaged with his family," Darby said. "Now, I would say that ninety percent of that is him, but if you asked him, he would say that ninety percent of that is us. But we became a place where he could learn what to do, and then come to us and try to get an update on what was going on. And we have cases like those all the time."
Darby says there's still more that NOAH could do, especially if they had a bigger budget. At the moment, they're open twenty-five hours a week, but they'd like to be open full-time. They'd also like to hire more people in the community, who could do some outreach for them.
"There needs to be some door-to-door health programs, which are done very well in other countries," Darby said. "Like in South America, there are members of the community who are trained to go door-to-door and educate people on very specific things."
The value of this is that it gives people an easy way to reach out to a health professional who can provide them with some simple care without an appointment.
"You might be more likely to go to them as opposed to, say, a physician," Darby said. "I do a lot of care myself by just walking up and down the hallways. People see me and they can ask me questions. Having people who are accessible really makes it easy to get that kind of care."
This would be a great way to provide healthcare in the future, but these are more long-term goals that will be approached later on with more funding.
"We can always do more," Darby said. "But our philosophy has always been: focus on what you can do, not on what you can't. We just want to make our little corner of the world healthy."