Should 9 or 10 win seasons be an expectation rather than an exception?
The Nebraska Cornhuskers' stunning senior day loss to Minnesota 28-24 on Saturday has not only put an end to any hope of them winning a Big Ten Championship, it has also posed a question to the loyal fans of Husker Nation. Should we now expect them to be a consistently "decent" team and not take the next step to becoming a team in the national spotlight?
Everything looked fine for the Cornhuskers before their game against Wisconsin. They only had one loss to a very impressive Michigan State. There was a chance to go to the Big Ten Championship, a healthy and Heisman-contending Ameer Abdullah, a defensive monster athlete in DE Randy Gregory and a team that could have been by the end of the season a national title contender. Now, there is none of that. The Huskers have three losses, two of those from Wisconsin and Minnesota, an injured offense and a team that has almost no possible chance to make it to the Big Ten Championship game. Husker fans seem to be always singing the same tune.
In the six seasons that Bo Pelini has coached Nebraska (not including the current one), he has led them to at least nine wins and to a bowl game every year. The only other coach that has led their team to nine wins for every season since 2008 (Pelini's first year) is Nick Saban of Alabama. To most programs around the country, that sounds like success. But, the fans of Nebraska continue to become restless.
Nebraska is a "decent" football team. A "decent" football does not win national championships anymore, with the increasing talent of the SEC and the other conferences that make up the Power Five. Since 2006, at least one SEC team has made it to the national championship game. The Big Ten is not a very strong conference this year, and with the new playoff system, it would be hard to expect them to match up to the other teams in the national spotlight. They don't have the opponents or the consistency to take the next step to becoming a championship. That is what the issue for the Huskers boils down to: consistency.
They continually seem to screw up when they need to play their best. This season could be the "exhibit A" of this statement. Nebraska was in a prime position to accomplish what they needed to, win when it mattered. It was close during the Michigan State game then the Spartans ran away with it. Paralleling what happened to them in 2012, Wisconsin rolled over Nebraska in another disappointing reflection of the football team on the national stage. And then there was Minnesota. Mark Pelini was out for the game on the first play for Nebraska, Kenny Bell was injured for the game after a touchdown play and other Huskers were banged up throughout the game, which could have led to their ultimate demise. Seemingly, Nebraska cannot win a conference title or a game with major implications to save their life.
For Nebraska fans here and around the world, unfortunately, we may have to accept that this may be as good at this team becomes for now. Nine win seasons, and a lot of disappointment in the pivotal games may just be what Husker fans and the university should expect. One can take those results for only so long; until it isn't enough to appease a difficult program under constant criticism.
About the Writer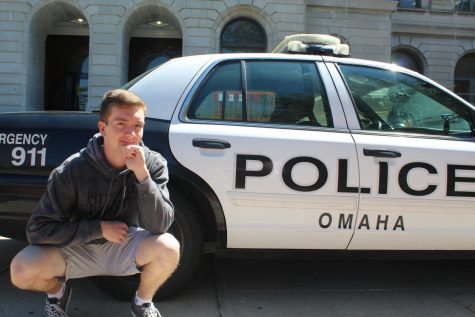 Alec Rome, staff writer
Alec is a senior at Omaha Central, and writes for the fourth year on the staff of The Register. He has written on a variety of topics during his time in...