English teacher dedicates spare time to perform at local music venues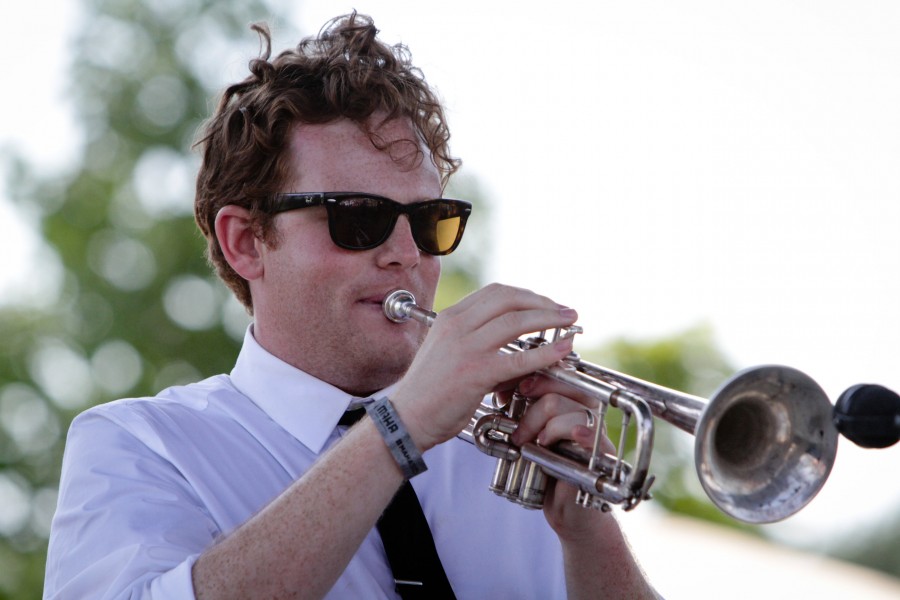 A teacher who doubles as a musician-it may seem like too much to handle, but IB English teacher Jonathan Flanagan balances his teaching job and his musical ambitions every day. On Aug. 15 he performed at the MAHA music festival, as part of the doo wop/soul band, "All Young Girls Are Machine Guns." In front of thousands, Flanagan played alongside plenty of other talented local acts.
According to Flanagan, his summer has been a whirlwind. Only a few days after being asked to join the band he learned they were going to perform at the MAHA music festival. "Always knowing that MAHA was coming really motivated me to learn the parts," he said. "It's been hard to practice every day for a few hours, trying to make the trumpet parts good."
However, Flanagan had plenty of opportunities to practice for the upcoming event through the many performances he had done prior to MAHA. "Some shows we would play in front of only a few people. Other times, like Stransky Park in Lincoln, a bunch of people showed up. There were probably around 1,000 people there," Flanagan said. "We have played everything in between. There were bars that were packed and bars that were pretty much empty. It was nothing as big as that. So when MAHA came, we kind of just went on autopilot."
Though most events are enjoyable, Flanagan and his band have had their share of poor experiences. "We played a sweatshop gallery in Benson one night. It was an old garage attached to a building. But, there was no air conditioning, and it was one of the hottest days of the summer. It was humid and just super nasty outside. It was miserable," said Flanagan.The day of the performance was not very surreal for Flanagan despite the crowd size. "It was a huge amount of people. I tried to not let it freak me out and just do my job," Flanagan said. "I went up there and the band went into the set as usual and I focused on what we were doing. It was hard because there were a bunch of Central students waving at me." None of his students have approached him on his performance, but they were enthusiastic. "It's that weirdness where they see me and then they act like it didn't happen. Twitter was receptive, and some of them tweeted about it, saying it was good. I think we sold some t-shirts too," he said.
However, there was a moment where Flanagan was hit with the realization that he was about to perform on a big stage. "When I first walked up, I saw all of Modest Mouse's gear, which was very sizable, with his logo spray painted on black cases. It was like, 'Wow, we're playing on Modest Mouse's stuff. This is a big deal," he said.
Since school has now started, it has become more difficult for Flanagan to balance job and his ambitions, but he finds a way to make it work and to stay sharp. "We really lucked out that MAHA was just right at the beginning of our school year, so I was still able to focus because we really had not gotten back into the swing of things," Flanagan said. "But now it's getting tougher because I'm grading and planning again. I have a lot less energy and time for playing trumpet."
After MAHA, Flanagan feels like the band can perform to any crowd size. He said, "There were so many people there from every stage of my life, it would be hard to imagine another show where I would feel more pressure."
About the Writer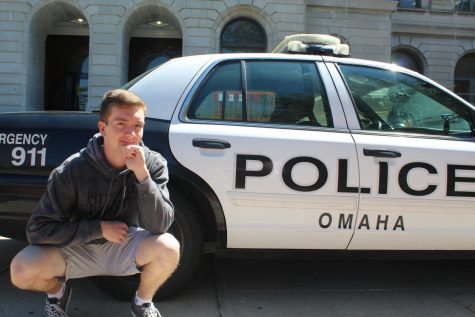 Alec Rome, staff writer
Alec is a senior at Omaha Central, and writes for the fourth year on the staff of The Register. He has written on a variety of topics during his time in...