A Talented DepARTment
Outside of the core curriculum, many Central students apply their talents to the visual arts, utilizing unique means to make thoughts come to life.
October 6, 2016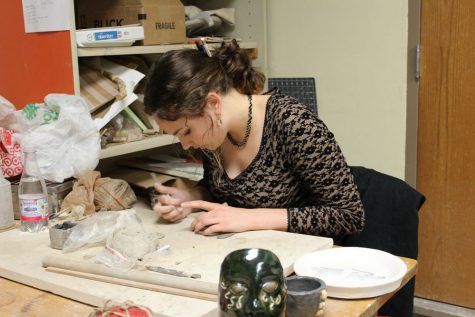 SENIOR OLIVIA LARSON
Children have interesting ways in which they delve into art. Senior Olivia Larson's interest in art started just a little differently than most. Her parents tell the notorious story of when she was four and her father had asked her, "Do you want to be an artist when you grow up?" Naturally, in her sassy persona she had during that time, she replied, "Dad, I already am an artist." Now, Larson follows that passion in a much different and less snarky way.
One of the reasons why Larson loves making art is self expression. It allows her to "talk" without needing other people to listen. While it is difficult to decide, her favorite project was some clay portraits she made last year. "I got to work with people's faces," she said.
She took plenty of pictures of her friends and made clay heads of each person. The heads also had wires and glass sticking out of the back, along with patterns to clash with the calmness of each person. Larson differentiated between the types of glaze and other techniques to accurately represent what each person truly looked like. "I really like perception versus reality," she said. "I really want people to be challenged when they look at my stuff, and I think I achieved that the best in that work out of everything I have done."
Using clay sparks the same love of getting messy and dirty as the finger painting did when she was four years old. She said she loves the versatility of clay and how it can fit the wide range of ideas she has for pieces. However, she is branching out with wood and wire to create other three dimensional pieces.
Some of Larson's future projects include creating a castle out of aluminum cans, making a woman's face out of wood and using pearls costume jewelry to recreate an old phrase, "fair for the ferryman," and other adventurous projects including found objects. "I'm realizing you don't have to just use paint and a canvas to express yourself," Larson said.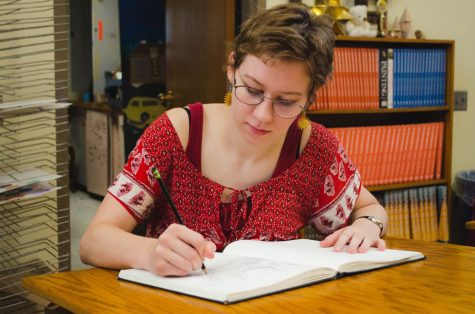 SENIOR MADDIE BADURA
Senior Maddie Badura has always been drawing in some form or fashion, ever since she could hold a crayon. She has always loved coloring and rendering things as realistic as possible. Through all of her experience drawing, her skills kept improving. "[Art] is one of those things that if you're good at it, you enjoy doing it," Badura said. "It's not really work. I like to try and recreate the beauty of things I see in life." She also loves art because it is like life; incredibly versatile.
She said does not have a favorite piece of hers that comes to mind, but she loves drawing people. According to Badura, her portraits are usually the ones that end up coming out the best. Her materials when making art are fairly simple; colored pencil, graphite and paint. "Anything that portrays the mood or the tone that I sense in a subject."
There are of course challenges when it comes to drawing people. She finds it tough to recreate emotion, because while one can make people recognizable in terms of facial features, making the emotions the subject feels in a certain situation is a much tougher ask. "The corner of a mouth or eyes can change the whole mood [of a piece]," Badura said.
Even though Badura may not pursue art in postsecondary education, she will continue to make art in her spare time. She has done contests and competitions before and has actually sold a few pieces, mainly through school. "People are just so nice," Badura said. "They're always telling me how good my work is. I think it's really important for an artist to hear. It has an effect on how often I do my art, and I think it matters."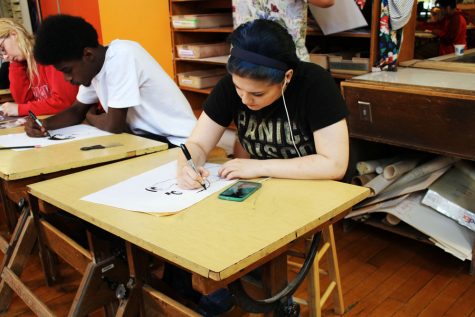 JUNIOR ASHLEIGH SAMPSON
Junior Ashleigh Sampson had her interest in art passed down through the family; her father was an art major in college. She grew up with him always drawing, and that turned her into what she describes as a "left brain kid." Later, her sister started watching anime, and her love for art began to increase from there. She started taking art classes in middle school and high school, and her passion for it has not halted since.
Asking her to pick her favorite piece of art she has completed is like asking a mother which child she loves the most. However, one comes to mind recently that has a fond place in her art portfolio. She did a scratchboard piece over the summer, for Mothers' Day for her sister. It was a family portrait of all of her sister's children. The portrait was quite the undertaking; two months of hard work to make a very large piece, a piece so big she cannot even remember the dimensions of it. She said she considers it one of her personal favorite because of the family attachment and how much she cares for her sister and the kids.
Sampson loves the fun of art, but realizes that with the fun comes the opposite side of the spectrum: tedious work. "I'm a perfectionist," she said. "I'm very big on doing itty bitty little lines. It does get boring sometimes and since it's delicate art, you have to be very careful."
Scratchboard is among her favorite types of art; using an exacto knife to make small scratches and indentations in a board, but she's also fond of graphite and ink pieces. "I really like the shading and the negative look," Sampson said. "They're very contrasting looks." On the other hand, she is not big into three dimensional pieces or pieces involving paint or pastel.
Selling pieces of art can be tough for some artists, but Sampson seems to have found the formula to success. She now commissions pieces regularly, and has around seven customers she sells her art to. Her future projects grow in size and in detail and she is trying to get some apprenticeships. To anyone looking to delve into the arts. Sampson said, "Art is 99 percent hard work and 1 percent talent."