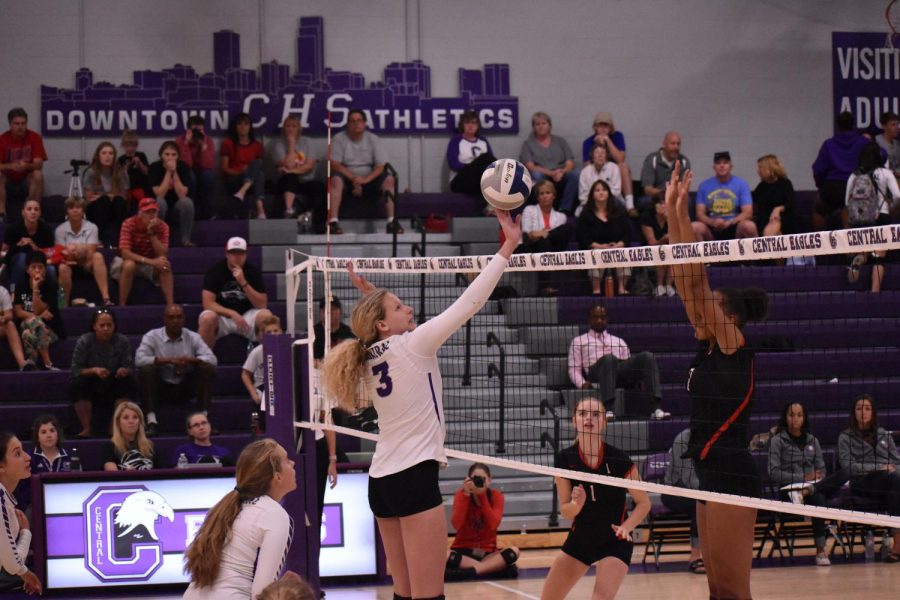 Senior focuses in volleyball and in-camera
October 9, 2017
Senior Becky Johnson started playing volleyball at the age of six, and she believes her height destined her to play the game from the middle blocker position.
Initially, friends Annaliese Sailors and Taylor Anderson inspired Johnson to join a YMCA volleyball team. The rest is history, except for how she became a threat in the middle for Central varsity volleyball. "When I started [playing volleyball,] my coaches told me to use my height to my advantage," Johnson said.
However, Johnson did not begin to play from the middle until middle school, where she learned exactly how demanding the position and the sport can be. "It is so hard. This is my last season playing and I'm still not perfect on getting the block closed and releasing," Johnson said. While the team does not tailor their conditioning strictly to each individual position, there are drills that help when playing middle blocker. Agility and footwork is a critical component for success, as having to react to specific offenses requires quick decisions and efficient fast-twitch muscles.
Another aspect of the game is mental, because volleyball can be a chess match of maneuvers that can catch an opponent off guard. Johnson said that with some teams, they have to think ahead of the setter, as the setter can tip off the defense as to what the opposing team plans to do. Fakes are a commonality of the sport, which results in a combination of skills being put together at once.
What Johnson enjoys most about the sport has nothing to do with volleyball specifically, but rather the teammates she plays with. "When we're all working as a team, together, it's exciting and fun," Johnson said. "Even if we're losing, we're having fun, and that's the best part. Especially if someone is having a bad day or a bad game and they get a kill, that's [always] super awesome."
When she is not closing the block or flying above the net to make kills, Johnson is taking photos nearly everywhere she goes. Her interest in photography started after she got a flip phone for Christmas and decided to take photos of her father in different poses.
A few years later, and Johnson began taking photography classes at the OPS Career Center. Those courses helped her hone skills that allowed her to enjoy the field even more. She loves working with portrait photography and working with people, because "they're just more interesting than grass." She uses a more professional camera that her dad gave her, and she hopes to continue learning about photography in college and beyond.
While volleyball and photography are two very separate topics, Johnson said that both require focus, whether figurative or literal. As for what she looks forward to for the rest of the year, Johnson wants to finish strong and enjoy the sport of volleyball while she can. "It's kind of a wrap up for my volleyball career," Johnson said. "I'm not excited to be done with it, but I'm excited [to say] I did it and accomplished a lot."