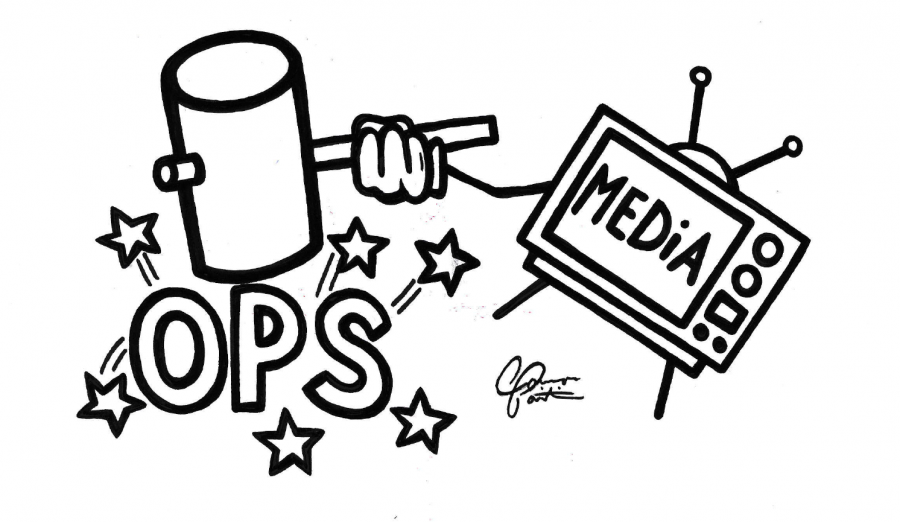 Local news media unfair, slanted against OPS
Outlets seem to look for problems in the school district instead of reporting on them.
October 9, 2017
Omaha Public Schools has had its shares of gaffes and sources of public outcry recently. Examples include the superintendent search, busing miscues, and sex education curriculum. In reality, while problems inside and outside of the TAC building exist, some news outlets in the area blow things out of proportion and create issues out of nothing.
WOWT seems to be a prime offender of this. A quick search of the term "OPS" brings up multiple negative stories about the district on the first page, including a story about a substitute bus driver allegedly looking up a girl's skirt, and "lunch trouble" at Benson High when ovens stopped working and students were fed cheese sandwiches.
The first aforementioned story was an incident that occurred at the end of August and was reported on by WOWT two weeks after, on September 13th. Already, this incident was two weeks old and was already being taken care of by school and district officials. Even if the claims were to be true, the story seems too dated to be relevant. Included with the fact that the story only impacts a few people and only seems to stoke fear instead of report on actual widespread problems, it does not seem to impact a large base of students.
How about the "lunch crisis" at Benson? Why this appeared on WOWT's program was a real head scratcher, as the other two local outlets did not report on this topic. At Benson, one of the lunch hours had cheese sandwiches due to a mix-up. The story was painted by parents on social media in an outcry over a cold cheese sandwich being the only option for their children. One woman went so far as to say that it was disappointing that kids were "going hungry" and losing out on their education.
That argument is completely full of fallacies. First, the picture distributed on social media showed a plate with only the sandwich and a carton of milk. High school students can choose vegetables and fruit as they please, and it is the fault of the parents that their son or daughter chooses not to eat the healthy food. Also, no normal parent has not given his or her child a grilled cheese sandwich and called it a meal.
In the package, WOWT mentioned the important fact that lunch was back to normal the next day, and the issue was a one-time affair. The quotes and how the story was presented made it seem that the school was starving its students on a daily basis.
The only reason why a news outlet would want to run a story with little news value like that is to make a statement, one that is inaccurate to the great things that do happen in this district.
Fear mongering is a common sight in news, especially with 24-hour news cycles. Fear can influence our actions and opinions, and it seems that WOWT has brought up incidents with little news value to change public opinion on the district. They have also done continuations on stories involving the busing systems as they continue to remind the public of the district's "meltdown" blunders that are now a year old.
Other local news outlets are guilty; KETV ran a story on a fight at Omaha Central back in 2015. The fight included a girl whose mother claimed was attacked; she used Facebook messages and her honors classes as defense of her daughter. Again, her argument could completely be valid. However, a fight involving two or three students that did not include serious bodily injury does not deserve to be a legitimate story next to other news that impacts more Omahans.
Budget and bond issues impact taxpayers across the city, and must be among the top stories on a newscast, as they normally are for the local outlets.
The moral of the story: stick to relevant stories and what is going right with students in OPS. Incidents that are daily happenings of any school district in the county do not deserve to share time with real news stories.