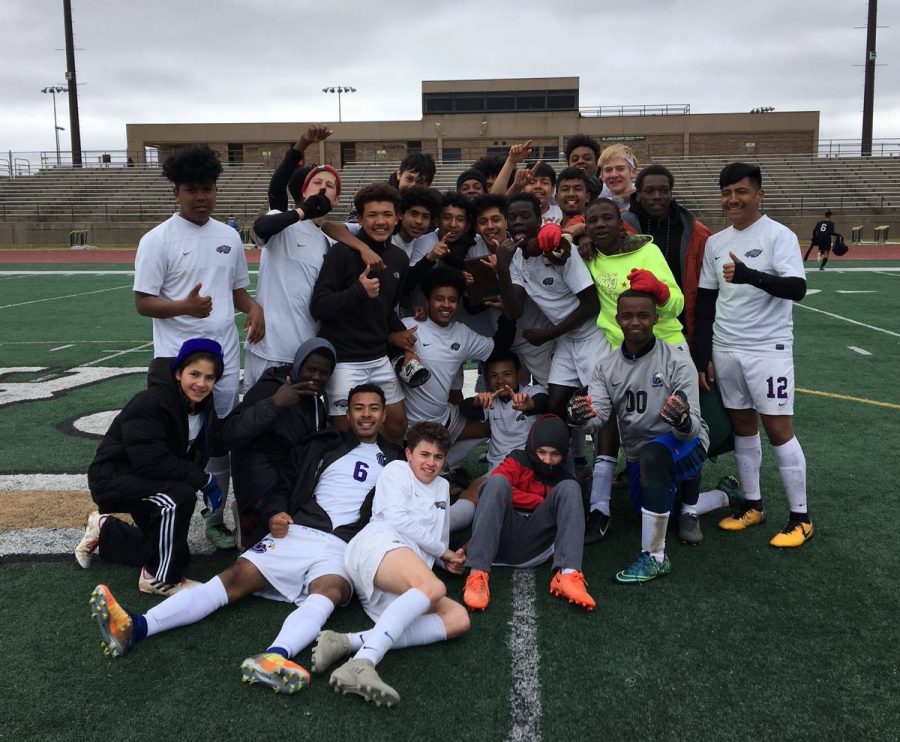 Freshman soccer player looks to live up to the Mahoney name
April 26, 2018
Freshmen athletes that come to Central hope to make a name for themselves immediately in whatever sport they play. Connor Mahoney, a freshman soccer player, is no different.
He tried out for the soccer team this year and got a chance to start as a defender on the JV squad. While he only started playing the backline last year for his club team, soccer has been in his life since the age of four. "It's been ten years of my life just devoted to soccer, and I've developed a lot," Mahoney said.
When he was younger, soccer was not originally the sport he was attracted to. He played baseball and football for a while, but said that he never felt real passionate about either sport. Along came soccer, and his attraction began to grow. It allows him to "release energy from being bored in school" and some of his natural craziness.
Mahoney played for select teams, starting with Elite Boys Academy three years ago (he does not count his club teams when he was little). He played with them for two years before moving onto Metro Wolves last year. This fall, he played with Nitro, and now is fully focused on playing as an Eagle.
According to Mahoney, there is an apparent difference between the style and intensity of playing for Central this year and playing for select teams. "The competition when you go to tournament is way harder to play and it's better if you want to become a better soccer player," Mahoney said. He has also noticed that his opponents in select have a lot more knowledge about the sport. When his Nitro team played against some of the best teams in the nation down in Kansas City, he took note of players that had "a quicker mindset, more [skills], amazing touches, and a good first pass."
Now, he hopes to improve in the right and left back positions on the JV team, although he prefers the left back slightly more.
His goal next year is to make it onto the varsity squad, and by the middle of the season, become a starting defender. One of his select coaches gave him good advice that he hopes to implement to improve his chances. "Know your coaches. You get a good bond with your club coaches and your school coaches, then get a good bond with the varsity players," Mahoney said. "Soon enough, they'll look at you more, you can tryout and maybe make varsity that year."
While doing that, Mahoney tries to focus and excel on his schoolwork. He felt that he did not focus as much as he wanted to on academics during his last semester, and has tried to improve this semester. "I realized that getting 2.5s and 2s aren't good. This [semester] I have cared a lot more about academics and studying and it's carried me farther in school," Mahoney said.
This comes along with the high expectations placed upon him by Marcella Mahoney, Central teacher who he calls the hardest English teacher in the school. "If you think you're a good writer, you're not once you take her class," Mahoney said. Having a parent as a Central teacher has its perks and its burdens, as he not only gains more bonds with other teachers but has to hear about the difficulty of her English class from his peers.
Looking far into the future, Mahoney hopes to play at Bellevue University, as his cousin is a freshman on the girls team. But, he knows he still has a long way to go and it starts with building upon his soccer skill set within the narrow sidelines of the downtown.