OPS Budget Cuts
Over $26 million in budget cuts have been recommended by a budget advisory committee for Omaha Public Schools. The need for these cuts have been caused by two things according to school board member Lou Ann Goding, the primary being the OPS retirement system, which has been not been managed as effectively as expected and OPS will need to ensure a payment of $18.9 million to the system next year, the other cause is the state budget shortfall which is expected to result in $12.5 million less in state funding next year. The pension problem has been caused by a recently enacted requirement from the Legislature to fund the OPS retirement fund by 101 percent, which, according to OPS school board President Marque Snow, "no other public pension plan nationally is 100 percent funded, let alone 101 percent funded. The average is around 80 percent funded," he also clarified that, "Being at 101 percent funding assumes that everyone will retire all at the same time," and, he said, "80 percent funding is where you should be and 80 percent could save the district $20 million." Another cause is a cut in TEEOSA funding from the state, Snow said.
Though no specific cuts have been approved or confirmed, the budget advisory committee, which is composed of around 45 members, and is primarily made up of people from around the district, such as principals and a few board members, with an additional 10 community members, has suggested several areas to be cut. One of the primary areas being considered is employee repurposing which could potentially affect an extremely high number of individuals, with many employees receiving the legally mandated notice of the potential for an assignment change, though according to Snow repurposing will likely only have the potential affect around "56 individuals of certificated staff total." The repurposed staff will primarily be Assistant Principals at Elementary schools who are no longer needed at the school they are currently serving at due to change in enrollment at said school and teachers working at the Teacher Administration Center (TAC) being moved back to the classroom as teachers in the classroom retire and the only change that the employee would see is, as Snow put it, "workload change and salary change, but not nearly as significant as being unemployed or furloughed." According to Goding, other proposed cost saving measures include reducing professional development travel and postponing textbook adoption. The postponement of textbook adoptions would primarily affect Elementary School language arts. The centralization of Elementary summer school has also been a topic of discussion according to Goding, with a goal of reducing the number of students attending Elementary summer school by 75 percent. Another area is gradual spending cuts to specific areas in the district.
An area that has been heavily reported on in the past is the potential of busing cuts. The Omaha World Herald specifically has been covering this topic quite heavily, with one of is articles having Former Central principal Keith Bigsby came out strongly against any proposed busing cuts, saying that it would effectively re-segregate urban and suburban high schools. Such cuts are not going to happen, however, according to Goding, "Busing will not rank high in priority for any board member," and that the likelihood of cutting busing is almost zero, as "60 percent of students attend high school other than their home attendance area high school." Snow also stated that cutting busing would defeat one of the board's goals of keeping the effects of cuts out of the "core of the onion," the core being a metaphor for the classroom. The rumors of cuts to busing came as part of a list compiled of potential cuts to the general budget created by the Superintendent, which, according to Snow equaled about $60 million of potential areas that could be cut. Areas that will not and cannot be cut are areas that are payed for by federal funding and grants.
The board will vote on the Budget Committee's proposals in June. Snow stated that he will support whatever the committee recommends, so long as it meets the aforementioned parameters of keeping out of the "core of the onion." Goding said that the board will vote on the cuts they can coalesce around so long as they are out of the classroom.
OPS also has an upcoming bond issue for $409.9 million bond issue to provide funding for new schools, but the OPS budget cuts are unlikely to affect this bond issue, as, according to Goding, the district would not have to pay for the schools until two years after each building is completed. Concerns of a need for increased funding for staffing at the new schools is also negated by the fact that "Staffing will move with students to new buildings." According to Snow, concerns that "OPS has been an irresponsible steward of your taxpayer dollars," are unfounded because of the fact that little to none of the issue resides with OPS' management of schools and money, but because of the recently passed requirements for the OPS pension system and the cuts to OPS' funding due to the state's budget shortfall. Snow said that "anyone who opposes the Bond issue has not been to South Omaha." In addition, Snow believes that in the future, the legislature will "own up and recognize that this is not an OPS problem, this is a state of Nebraska problem," referring specifically the 101 percent requirement on the OPS pension and he believes that the State Senator Brett Lindstrom's LB548 which attempted to infuse $300 million in loans to the OPS retirement fund will be passed in the next session. "What we could do with the legislature is have a Senator put up a bill and say 'let's take that 101 percent fully funded down to 80 percent,' and ask how much that could that save us." Between board infusion and pushing the requirement down could save the district $15 million, Snow said and then proceeded, saying that after this, they could pass a levy override and basically make this problem go away. He wants these things to happen so that they don't have to come back next year and "remove another layer of the onion."
In regards to the effects of the budget cuts on Central High, effects will be unknown until the school board votes on the budget in June, with Principal Ed Bennett saying that, "At this point, I don't want to speculate on budget cuts because the school board is still taking recommendations."
About the Writer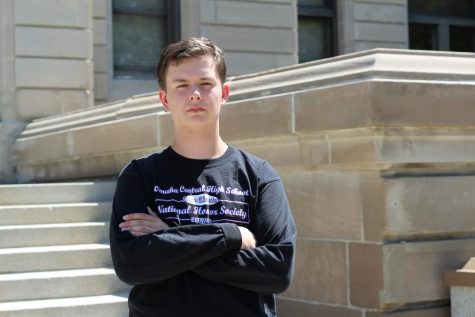 Malcolm Durfee O'Brien, Editor in Chief
Editor in chief. I like politics.