New dance team coach sets to improve team
Hang on for a minute...we're trying to find some more stories you might like.
For a team to be successful there needs to be a strong leader behind it, that believes in what the team is capable of and what the team could turn into. The Central Dance Team believes that that motivating and hardworking leader is math teacher Lauren Beitel.
The dance team recently lost a coach last season and was very grateful to have seen Ms. Beitel in a new way. "When they asked me to take the position I knew I could bring my experience to the team, and I love teaching dance at the studio I work at. This gave me the opportunity to work with Central students in something that I love, which is dance," Beitel said. She definitely showed the team what a little sweat and hard work can become when everyone works together.
Being able to teach the girls and grow their strengths has come naturally to Beitel, for she has much experience with dance herself. She started dance at the age of six and grew up on a competitive studio team in Lincoln, and won regionals with her high school dance team.
Beitel then went on to college at the University of Nebraska-Lincoln and was on the Scarlets dance team for four years, being the captain her senior year. After graduating she taught at local dance studios, which she still does today. Ms. Beitel works to show her dedication to the sport and art of dance in her teaching.
When bringing in a new coach to any team, understanding their goals and experience is a large factor in how the team will be affected. "I can bring my expertise in technique to the team, because I grew up doing a lot of ballet. I can also bring the dance team technique that I've learned from my different dance teams. I can help to improve technique and the dedication to becoming better individually and as a whole," Beitel said.
Although there are some difficulties along the way with any new job, Beitel has realized how to handle those occurrences. "Learning all the behind-the-scenes stuff has been a challenge. It is not new for me working with dancers; cleaning dances, teaching dances, but figuring out what forms to fill out, who to go to, how to fundraise, and coordinating with the dancers and parents," Beitel said.
Having a committed coach like Ms. Beitel has shown the members of the team what is needed to become connected as a unit. "People that know me well know I'm not a morning person, but I've had to adjust to be a school at 6:30 every morning. I went to some of the sporting games last year but I am now dedicated to going to all of the Central High Varsity home football and basketball games," Beitel said.
Beitel has definitely gotten a closer look at all the the dancers, their skills, and how the work together to create dances. "They have already improved so much but I can't wait to see them improve more. We have two routines we are working really hard on, a jazz and a pom, that they have and will perform at various showcases and competitions. This will allow them to bond as a team and grow even more as individual dancers," Beitel said.
Beitel's mission to make a positive change on the team has definitely been reciprocated by the girls. "Ms. Beitel has really shown me what I can achieve as well as work on as a dancer, which has helped me in and out of dance team. It is great being able to learn from her," Sophomore Shay Frost said.
It is very evident how much Beitel wants the dance team to succeed and strive in the world of dance. Beitel said, "Anyone that dances knows that is it the best feeling to perform while dancing, and now I get to share that with the girls."

About the Writer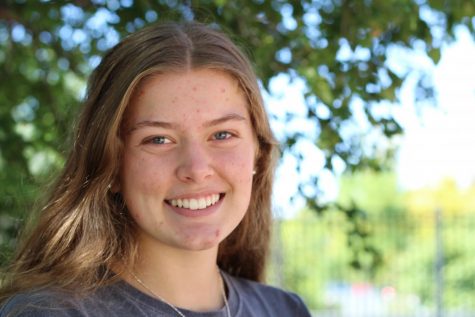 Mackenzie Coughlin, Staff Writer
Hello! My name's Mackenzie and this is my second year as a staff writer for The Register. For my junior year, I am looking forward to writing many interesting...