Dance team captain reflects on time at Central
Hang on for a minute...we're trying to find some more stories you might like.
The way one views their high school experience can affect their attitude and success in further life. Senior Rylee Bonafilia has made the most out of her four years at Central and reflects on the exciting time.
While spending so much time at Central and being around such a large group of people, many lessons are learned.
"High school has taught me that doing what you want to do will ultimately make you more happy than trying to please others. It doesn't matter what other people think of you," Bonafilia said. This is a lifelong mentality that any will strongly benefit with.
As a student at Central, Bonafilia sees first-hand the everyday workings of the school. She sees the acceptance towards everyone and the value of difference and diversity. This allows her to be herself and of who she is.
Bonafilia has learned much more than just the standard classroom teaching.
"One of my favorite memories from Central was the walkout for gun control. I loved how we came together and protested peacefully for something that we all believed in. That is definitely a proud moment I'll remember forever," Bonafilia said. She and the rest of the school learned what they can do to better the world they live in.
Bonafilia is involved in the school through the dance as well as powerlifting team.
"Both of these activities have taught me to be more of a team player and to value and appreciate your teammates. It's important to encourage others and to help them when they need it most," Bonafilia said. This shows her commitment and dedication to Central and her peers.
After her senior year, Bonafilia plans on going to the University of Nebraska-Lincoln and majoring in pre-criminology.
"As much as I'll miss Central, I am excited to leave high school and begin college. I'm excited to pick my schedule and times for classes, to meet a lot of new people and experience campus life," Bonafilia said.
Having a good education foundation can be greatly helpful when it comes to college level courses.
"Writing themes has definitely prepared me for college, but also having teachers that expect a lot from you and want you to do your best no matter what the assignment is very motivating," Bonafilia said.
Rylee, along with the rest of the 2019 senior class, can take away something from their time at Central that they will keep with them forever.
"Central has impacted me in many ways but I think what's impacted me the most is how much more open I am to change and difference," Bonafilia said. "No one has the same story and I think that's what makes each of us special."

About the Writer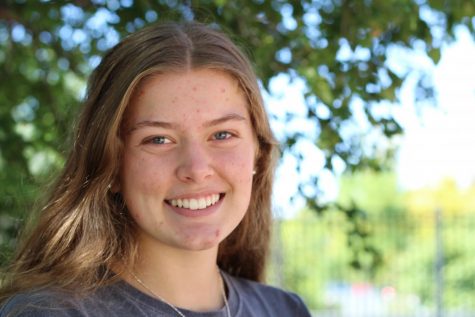 Mackenzie Coughlin, Staff Writer
Hello! My name's Mackenzie and this is my second year as a staff writer for The Register. For my junior year, I am looking forward to writing many interesting...