Omaha Central Marksmanship
February 15, 2019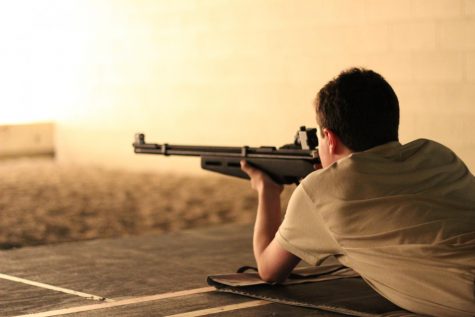 In the basement of Omaha's historical Central High School lies the often forgotten or mysterious JROTC marksmanship range. The course is offered at the two levels of beginner (junior varsity) and advanced (varsity). It is open to second-year cadets who will enter the class at the beginning level. There, they learn how to safely handle firearms and begin training on shooting precision. In order for a cadet to enter the range or even handle a firearm, they must first be instructed on basic safety in a classroom setting and must score 100% on a written safety test. 
"[Safety] is primarily what we are concerned about down here, marksmanship comes second," said the Marksmanship coach, retired Sergeant Major Dwaine Sutter.  
Sutter has been in his position since 2000. Prior to his teaching career, Sutter was an enlisted Army soldier and spent the first half of his life in the service. There, he was responsible for many things including the training of his battalion, their primary missile system and ensuring the battalion command structure was able to achieve their mission goals through proper communication, placement and firing of the patriot missile system. He retired from the Army at age 49.  He is enormously respected by his cadets. 
"Sergeant Major is on equal levels of a teacher and a mentor for me," said senior and JROTC staff officer Aidan Marhenke, "And like marksmanship, he's taught me that not every moment has to be spent thinking about the big picture so long as you don't neglect it." 
The range consists of nine firing lanes, each 33 feet long, where cadets attempt to score as high as possible on their targets. During the first half of the year, cadets participate in the citywide Pistol League Competition. This year, the JV team came in second place and the varsity team came in third.  
Although in the past cadets would shoot using 22 caliber rifles with live ammunition, the course now consists of instruction on the safer .177 pellet air rifles. Cadets shoot from the three positions of prone, or lying on their stomach, before kneeling and standing during the second semester. The 2018-2019 school year brought brand new air rifles to all OPS JROTC Marksmanship teams. This year, the city-wide Rifle League Competition begins on Feb. 19.  
"In a sense it feels like a class away from class… It's an hour where the rest of the day doesn't matter and you're allowed to have a bad day," Marhenke said.