Modern Love
February 15, 2019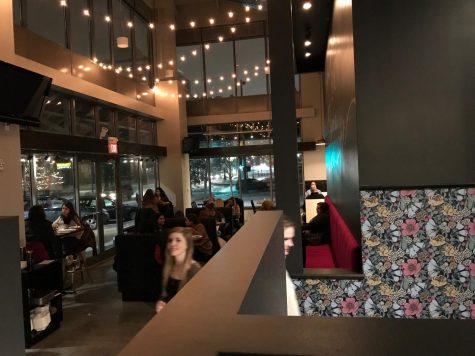 Re-emerging after its temporary closing for the sake of relocation, Modern Love, the completely vegan restaurant, has been brought into the light of the Omaha scene. Originally tucked away in a tiny, one-room space on 50th and Leavenworth, the new Modern Love can now be found on the main street of Omaha's widely known and sophisticated Midtown Crossings. 
The new space is defined by its high ceilings, tall windows and open layout. Unlike its previous location, the massive space efficiently uses several forms of seating, from tables and booths to high tops and beautiful bar seating without feeling cramped. The lighting and décor make for a nice, soothing, low-key environment. The restaurant takes a page out of the book of modern decorating trends by using stringed-lights that arch down from the ceilings, while adding its own unique pop by using totally bizarre wallpaper that seems to come straight out of Lewis Carol's "Alice in Wonderland" on an accent wall. Isa Chandre, world renowned vegan chef and owner of Modern Love, walks around the restaurant, sometimes even bringing people their food, always wanting to know how she can make your dining experience better.  
The food, while pricey, is phenomenal and as previously stated, the menu is entirely vegan.  You couldn't get anything with dairy, eggs or meat even if you asked- they simply don't have it in their kitchen. However, this hasn't impacted how much people like the food, vegan or not. My favorite item on the menu is their seitan buffalo wings. Spicy but delicious, the base meat substitute is called seitan, which is derived from wheat gluten. The wings, along with most other things on the menu, taste remarkably similar to traditional wings. It is important to remember that, although vegan cuisine is often named after traditionally non-vegan dishes, the taste is not supposed to be exactly that of what its non-vegan counterpart tastes like. When trying vegan food, it is important to appreciate the taste as it is, not as it could be. They also offer a variety of vegan shakes that come in a little mason jar, topped with vegan whip, a cherry and a paper straw. Although I have only tried the matcha and the vanilla flavors, they were arguably the best shakes I have ever had in my life.  
Modern Love is the perfect place to go if you are feeling adventurous and have some cash to spend. You could just as easily walk in with sweat pants on as you could a dress, as the atmosphere could be taken as either casual or upscale, depending on your mood!