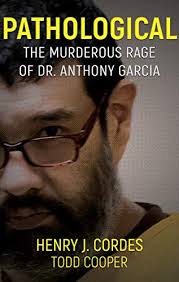 Omaha World Herald reporter releases book about local murders
February 22, 2019
In December, Henry Cordes, an Omaha World-Herald general assignment reporter of over 30 years and a Central alum, released his first true-crime novel, "Pathological: The Murderous Rage of Dr. Anthony Garcia."  
The novel is based entirely on true events, facts, interviews and evidence Cordes picked up while reporting on the murders and attending the trial of Anthony Garcia.  
"I certainly did not set out to write a book," Cordes said, explaining how he was first a reporter on the scene. "The first murders happened in Dundee at the Hunter house … and I was called in to help with the story. I worked on that case a little bit when it first happened and then I just went to doing other things." 
When the second set of murders occurred years after, Cordes was asked to help once again, being a Dundee native and familiar with the neighborhood. When Garcia was arrested, Cordes attended the press conference to write the breaking article for the next morning's paper. 
"In that very meeting, we said to (the chief of police), 'You know, we've got a long way to go on this case, but, assuming that this case goes to trial and this guy is convicted eventually, I would love to sit down with the detectives who cracked the case and talk to them about how the case was solved,'" Cordes said.  
After meeting with the detectives and interviewing them three years later when Garcia was convicted, Cordes realized he could not do the story justice in an eight-part serial in the paper like he had intended. He and his editor agreed the story would be best told in a book. He had previously written books about Nebraska football history, but "Pathological" would be his first book to be marketed nationally. 
While attending the trial to gain evidence for the book, one case detective stood out to him as being particularly important, Derek Mois. 
"Derek was fated to be the detective who cracks this case," Cordes said. "He seemed like a really interesting guy and he seemed like a really good detective. But, then, when I actually sat down and met him, he was just the coolest guy. He is not your typical cop at all. Derek was a Buddhist and he has tattoo sleeves going down both his arms. He's very non-conformist." 
Nick Herfordt is another key detective in the case. Coming into the force with a background in computer science, Herfordt became key to the Garcia murders through digital forensics. 
"Digital forensics becomes huge in the solving of this case," Cordes said. "It's fascinating, the information he's able to pull out of a cell phone and then how they were able to use that information to solve this crime. I didn't know anything about digital forensics, but I very quickly concluded that if you are a criminal and you carry a cell phone, you are really stupid because Nick Herfordt is going to take your phone and he's going to find all kinds of incriminating stuff on it." 
"Pathological" also delves deep into the lives of the victims. Cordes personally interviewed and got close to the families of the victims, including Bill Hunter, the father of the first victim and the first tie to the Creighton pathology department that would become the key link between the killings. In fact, the book was going to begin with Tom Hunter getting off his school bus on the day of the killing, allowing Cordes to introduce him and Shirlee Sherman, the first two victims, early. Cordes later decided to have the book begin with Detective Mois first entering the house after the murders, letting the scene of the crime draw in true-crime junkies. 
"If you're into true-crime, this story had everything you could possibly want," Cordes said. "It had a serial killer. It had some very compelling victims, including an innocent eleven-year-old boy. It had the horrific crimes… It had a case going cold. People are fascinated by cold cases. You have some very interesting detectives and a very interesting investigation that leads them to Garcia. You have a doctor as the killer and then you have a sensational trial at the end of it, the most sensational trial we've seen in Nebraska since Charles Starkweather." 
Cordes has another true-crime novel in the works about Leslie Arnold, a 16-year-old Central student who, in the late 1950s, killed his parents, buried them, continued to attend school for two weeks, was caught and was sent to prison, but escaped to Brazil. That book, according to Cordes, was mostly written at the time of the release of "Pathological" and will be released within the year. 
"I've certainly got an interest in writing books, but it's not my primary job. I've had people tell me with the Husker books I wrote, I've had people say, 'why don't you just write books?' And I'm like 'because I like having a paycheck. It's nice to have money show up in your bank account every two weeks. I like eating.'" 
Cordes graduated from Central in 1981 where he first began doing journalistic work on The Register. He is now an active member of the Alumni Foundation. His wife and two daughters are also Central grads. A copy of Pathological is now displayed in the courtyard, along with Cordes' other books. Pathological is for sale on Amazon, at the Omaha World-Herald office and at The Bookworm.