Omaha elects four new Senators
Hang on for a minute...we're trying to find some more stories you might like.
Four new senators for the Omaha area were elected in 2018. The new legislators are Machaela Cavanaugh in the sixth Legislative District, Megan Hunt in the eighth Legislative District, Wendy DeBoer in the tenth Legislative District and Steve Lathrop in the twelfth Legislative District. The new members were sworn in on the 9th of January.
These new Senators have a litany of policy goals and areas of interest. Senator Hunt, a small business owner who is the first LGBTQ person elected to the Nebraska Unicameral, succeeded the term limited incumbent Burke Harr. A major reason she ran was "to be proactive in addressing voter suppression and election integrity".
She plans to address this with her perch on the Government, Military and Veterans Affairs Committee, where she has already introduced LB163, which ensures that every county in the state has the ability to have vote-by-mail. "We know vote-by-mail is secure, low-cost and greatly increases voter turnout", says Hunt.
Hunt sees the most pressing issue in the Legislature as "the urgent need to replenish our badly depleted cash reserves," which she says significantly limits the ability of left-leaning legislators to support funding for various services and the ability of right-leaning legislators from passing relief for property taxes.
Senator DeBoer, an Omaha-area educator, was elected to succeed Democratic nominee for Governor Bob Krist. One of her main focuses is on education, specifically figuring out how to properly fund our schools.For this purpose, she has introduced LB679, which would establish the School Financing Review Commissions. DeBoer said she did this "look at the way we currently fund education, how other states differ, and any and all alternative options".
DeBoer sees funding of education as important to address other issues like property tax relief, saying, "We know the way we currently fund our schools is broken, increasing our property taxes and negatively impacting our kids' future."
DeBoer is also focused on combatting gerrymandering, saying, "We need to ensure that the redistricting process is as open, transparent, and fair as possible". She introduced LB261 for this purpose, the bill would "require the use of state issued software and equipment for creating our district maps."
Senator Lathrop, a personal injury attorney who also served between 2007 and 2015 in the Unicameral, said that his main goal was also education. Lathrop, who won the Friend of Education award from the Nebraska State Education Association for his effective support of education policy, is focused on trying to "ensure our local schools have the resources they need to continue providing the quality education they're known for, particularly schools in lower-income neighborhoods." He also stressed his concern with the overcrowding issue amongst other problems in the state prison system, saying, "I am also concerned about overcrowding and other ongoing problems in our state prison system, and am looking at ways to address those issues.
Two of the freshmen were assigned to the Judiciary Committee, DeBoer, and Lathrop. Lathrop was named chair of the committee. He said that the committee's main focus will be on prison overcrowding. "Like me, the committee is very focused on the Corrections system and making sure we balance safety and well being of inmates and the public", he explains.
DeBoer echoed this saying, "Simply put, we need to address corrections as the Judiciary Committee," referring to the current prison overcrowding issue. She is concerned with the potential of surpassing 140% capacity, which she said "would potentially result in paroling enough inmates to meet that 140% threshold," due to a 2015 bill which mandates the release of prisoners to meet the 140% mark.
"I want to see us as the Judiciary Committee work responsibly to find actual solutions that protect Nebraskans and fix our issues in Corrections", she stated.
Beyond this, Lathrop emphasized the sheer amount of bills the Judiciary Committee will be considering saying that it "handles more bills than any other committee in the Legislature, and those bills touch on a broad range of topics: criminal and civil law, guns, child welfare, abortion and human rights are just a few. We've already held hearings on hot-button topics such as medical marijuana and conversion therapy."
In their transition to office, DeBoer and Hunt, the only two pure freshmen legislators, have relied on a variety of people. Hunt said she has received heavy support from Senator Sarah Howard, who was the first person she met with about running for office, saying about her, "She answered all the questions I had about what day-to-day life as a senator was really like, and she introduced me to several other people who were elected officials, who had run for office, or who had worked on campaigns in the past who taught me more. I wanted to be as prepared as possible going into my first campaign, and the relationships I made since that initial meeting have been invaluable in gaining knowledge to be a great first-time legislator." DeBoer has received support from her family and veteran legislators as she campaigned for the legislative seat and as she transitioned to office, however, she singled out Senator John McCollister, saying, "Specifically I want to publicly thank Senator John McCollister of Omaha (Legislative District 20) for the mentorship he has provided. His advice, encouragement, and willingness to answer my questions has been critical in my ability to be ready to serve the great people of Legislative District 10."
All of the new Senators echoed their commitment to defending the Unicameral's nonpartisan nature, with Lathrop saying, "When people call our Legislature nonpartisan, that isn't just lip service — there are real, structural differences that allow the Nebraska Legislature to function so much better than Congress or legislatures in other states," he recognizes the importance of nonpartisan government to advancing certain issues, like K-12 funding, which he says "requires everyone to work together — especially rural and urban senators who care about the quality of our schools." Hunt said, regarding issues of partisanship, "What makes our Nebraska Legislature so great is the same thing that makes our entire state great: The high value we place on our independence, our ingenuity, and our willingness to look past what divides us in order to simply be a good neighbor." DeBoer also emphasized her commitment to the nonpartisan legislature, saying, "We all have a desire to work for Nebraska, not for political parties. Nebraska faces a variety pressing issues that our constituents want us to help with. Partisan bickering gets us nowhere and only harms those are supposed to represent."
One of the freshmen, Senator Machaela Cavanaugh of the 6th Legislative District, was tied up in several vital committee hearings and was, unfortunately, unable to respond to questions on this story.

About the Writer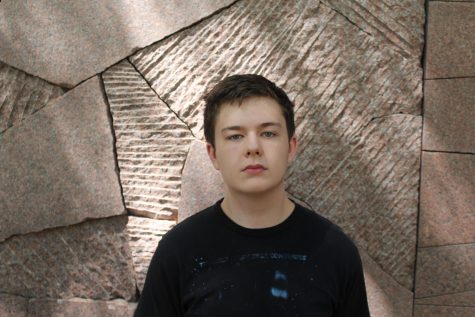 Malcolm Durfee O'Brien, Managing Editor
Were you aware that there is a verb for politics? Politicking is a real word and you should spread this information as far as possible.