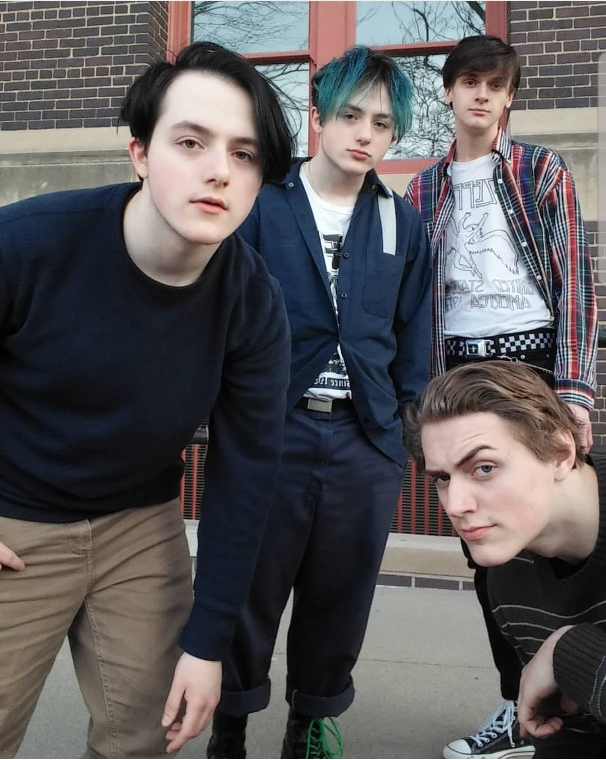 Death by Brutus
Punk stabs back
October 15, 2019
Death by Brutus is a rock band made up of Central seniors. Members Flynn Rickerl, Thomas Richardson and Dexter and Sinatra Skillestad formed the band after pursuing music in years prior. 
"During guitar sophomore year, I started talking to Dex and Sin and we started a little trio," Flynn said. "Around the end of junior year, I introduced them further [to Thomas] because I sat with Thomas at lunch. So, it all kind of came together," he said. 
Though lead guitarist Flynn, lead singer and rhythm guitarist Dexter and drummer Sinatra had been making music for years before the formation of Death by Brutus, bassist Thomas only got into music at the formation of the band. 
"I've only been playing for a year now," he said. 
The band members give a lot of credit to Brad Rauch, their guitar teacher, for encouraging their passions. 
"Before freshman year, I really only did guitar by myself," Flynn said, "I wasn't too good. And then I had Mr. Rauch's class and he taught me most of what I know about the chords and everything."  
Rauch has high hopes for the band members. 
"It's a great example for our beginning students: students just getting into music, just starting to learn the guitar," Rauch said, "It's really good for them to see older students following their passion and going beyond the curriculum. I can teach the tools … but it's hard to teach that drive and that passion." 
The band would generally describe their genre as being a twist on punk rock, but they don't feel the need to stick to one category of music. 
"Labels tell you what to do," Dexter said. 
The alternative message of traditional punk rock seems to resonate with the band members. 
"I feel like we all work together because we recognize the difficulty of appealing to social norms. We're kind of like 'it's funny that people think they should act this way,'" Sinatra said.  
Dexter describes this as a "new revolution," resembling the original punk bands using their music as a form of protest. Thomas, on the other hand, says he's more in the band for the music than the message. 
The band practices once or twice a week, typically, but their practices last all day. Before performances, they sometimes stay together for days perfecting their show.  
Death by Brutus's first performance was Girlapalooza, a charity event, and Flynn tries to keep that spirit alive in the band.  
"That was my main message always," he said. "I always wanted to help people with something I could do. I'm not the most talented person in the world, no one is, but the one thing I can do is play guitar and I like to make people happy." 
"We want to make the world better than the day before," Thomas said. 
Death by Brutus has played three shows then took a break to write original music. 
"All the venues came to us to play there and it was based on connections," Flynn said, "Now, for the first time, we have to go to them and ask to play." 
The band is planning on doing one show in the month of October and releasing an EP of five original songs by the end of the year. They've described the feel of the EP as being "spooky" and mostly horror music. They're taking inspiration from the 70s and 80s punk band, Misfits. 
Some of the band's favorite things about performing are the chemistry between them and the crowd, the inter-band sportsmanship and the outlet it gives them to portray themselves.  
"It's showing people what they don't see when they just look at you," Dexter said. "You can be yourself and show who you are without being held at face value, just being able to be yourself and show who you are to people who really don't get to see that side of you." 
The band members pride themselves on letting their personality come through during shows and not putting on a false mask for the audience. 
"We like to really just be ourselves, and if that's just goofing around and being kind of idiots, that's who we are and we like to show that and make people laugh," Dexter said.