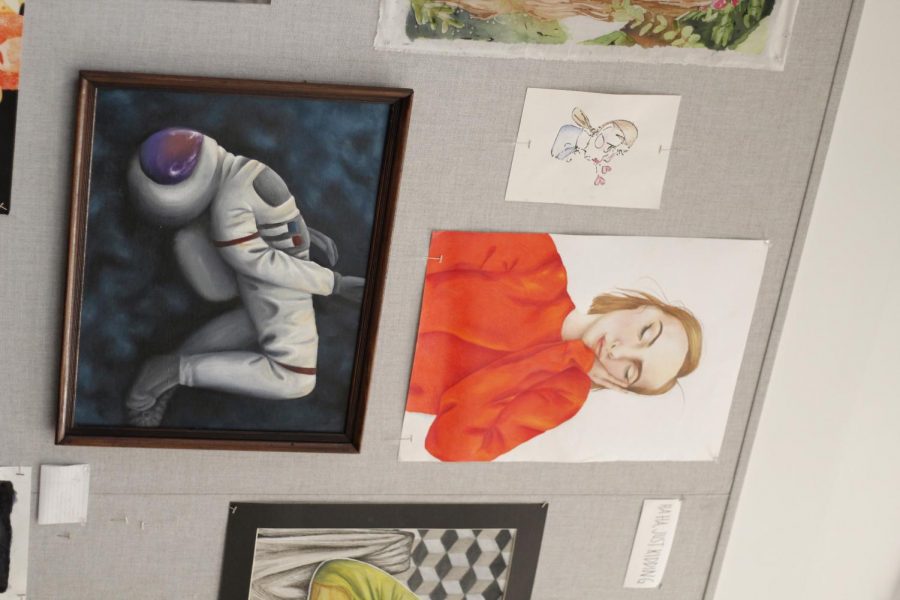 Dillon
AP Artist continuing to foster skill building
November 23, 2019
Senior Mia Dempsey is one of three students currently enrolled in AP Art.  
"I have been doing art as long as I can remember, but I started taking it seriously in seventh or eighth grade, building my skills until I was able to get to where I am now," she said. 
Those skills have been built through years of art classes, mentorships and personal practice. She's participated in Central art classes for four years and has been a Kent Bellows mentee since sophomore year. 
"I'm still planning to keep learning," Mia exclaimed. "I chose to move on to AP Art because it best suited my skills and had everything I wanted in an art class: full creative liberty with some structure and an adviser." 
AP Art classes require artists to choose a focus and create 15 works surrounding that focus to create a portfolio that will be judged by the College Board. Mia currently has about eight works finished that she deems ready for judgement. 
"My focus for this year has been on detachment and how it works physically and emotionally, and how that relates to myself and others," she explained. "I didn't really choose it, it was just a common theme in the work I was already making, and I decided to further delve into the concepts." 
Mia's skills don't limit themselves to Central's art classrooms. She's searched for ways to get her art out and into the world. 
"I have won multiple Scholastic Art awards as well as the Summer Arts Festival and have showed works in multiple exhibitions through Kent Bellows studio," she said. "I also participated in Hastings College's Open Space program for visual arts, a selective summer program where I showed multiple works and was able to learn new skills such as glassblowing. My proudest achievement, however, was my experience working at Metro Community College in their metal sculpture class because I proved to myself that I could weld, and take the metal and turn it into works of art." 
While Mia's art does bring in awards and, when her Kent Bellows pieces get sold, money, that's not what she creates for. 
"Every award I have had the privilege to win was because I worked for it, which brings me immense satisfaction," she said, "It's never about the medals, it's about my personal growth and artistic achievement." 
Though Mia doesn't plan to make a living off her art, it is something she hopes to continue creating after high school. 
"Art has allowed me to express things that I could never explain in words," she said. "Art has let me have a place to develop my technical and analytical skills. Art gave me confidence to speak on my feelings and it has allowed me so many friendships I would have never had otherwise."