Irishman review
Martin Scorsese is and always has been a master class of a director. His new Netflix-funded film "The Irishman" is yet another addition to his long list of successful, masterful films. However, "The Irishman" is far more mature than some of his others, like "Goodfellas" or "Taxi Driver." Where in those films violence is a glorious, bloody, somewhat beautiful affair, violence in this film is matter-of-fact, brutally honest, empty, the real effects of the violence are shown and the emotional vapid feeling brought on by living through violence is demonstrated. 
Every single shot in the film is drop-dead gorgeous. Again, Scorsese is a masterful director and the shots drip with style and meaning. The cinematography from Rodrigo Prieto adds depth to each shot and a kind of brutal reality that meshes perfectly with Scorsese's directing style. 
There was quite a bit of discussion prior to the film's release about the use of de-aging technology to make certain actors look younger. In the end, it neither adds nor detracts, it would have preferable to use makeup to make the actors look younger, but the technology doesn't do damage to the performances nor does it cause an uncanny valley situation which removes the viewer from the reality of the movie, it's just fine. 
Onto the performances. Robert De Niro is Robert De Niro. He's fantastic as the titular Irishman. He plays great with the masterful Al Pacino, whose performance as Jimmy Hoffa is his first great performance in years. Completing the all-star Scorsese mob cast is Joe Pesci, who also gives a great performance. And that really summarizes every performance in the film. It's one of the best directors of all time, if not the best director of all time, directing a cast with the best actors working today, of course every single performance is absolutely fantastic. 
"The Irishman," ironically, is comparable in some ways to the new Mr. Rogers biopic "A Beautiful day in the Neighborhood." Both have an interestingly similar message in the end, with both focusing on the harm of using violence over compassion and the dangers of toxic societal expectations, specifically toxic masculinity, hence the real-ness of the brutal violence in "The Irishman" and the empty ending to the film. 
Overall, "The Irishman" is the reason we all got Netflix, even if we didn't realize it at the time we got it. It is master-class cinema and offers a stark contrast to the empty, violence-glorifying action films in the Marvel films, which Scorsese was correct in saying they are "not cinema," because they are both shallow and dangerous. This movie tells us why violence is wrong, even if it doesn't explicitly come out and say it. I give "The Irishman" fifteen shady union/mob slush funds out of fifteen. 
About the Writer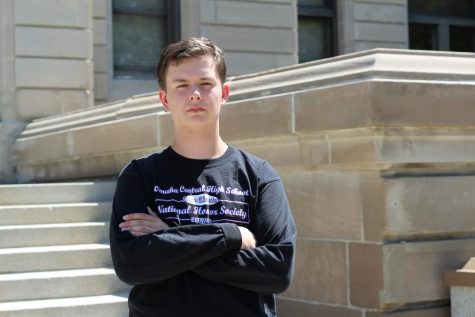 Malcolm Durfee O'Brien, Editor in Chief
Editor in chief. I like politics.