Debolt signing
Easton Debolt was signed by Nebraska Wesleyan University for his work as a left–handed pitcher for the Junior Varsity baseball team as well as several other teams, such as the Strike Zone Elite team and American Legion teams. 
Debolt plans to study sports management at Nebraska Wesleyan while he attends thanks to his signing. 
"I'm excited," he said, "I like the opportunity there, I like the coaches, I like the players, I know some of the players there." 
He also expressed excitement in developing a few new pitches in Nebraska Wesleyan University's baseball program.  
"I look forward to developing new pitches, new mechanics, just getting stronger," Debolt said. 
According to Central baseball head coach Gerald Kreber, the baseball program at Nebraska Wesleyan University is excellent at developing players further. 
"Their program continues to develop players, some colleges want players ready right now, but a program like Nebraska Wesleyan will give him room to grow, room to develop physically, room to develop new pitches," Kreber said. 
This is a continued theme for Debolt. According to Kreber and Debolt himself, he is committed to developing newer, better pitches, improving his play and ensuring he is a contributing force behind whatever team he is playing for. 
Kreber highlighted his work through the fall on the Strike Zone Elite team, an off–season baseball team aimed at keeping baseball players playing year-round. 
"He really gained an opportunity to continue improving over the fall in the Strike Zone Elite team," Kreber said, "and has worked hard at improving his play all year-round." 
Kreber also gave a speech at the signing ceremony highlighting some of Debolt's strengths that helped him in his selection by Nebraska Wesleyan University. Repeatedly, he emphasized Debolt's academic success as a vital piece to his athletic success. 
"His academic achievement really helped him gain an opportunity in athletic development and a lot of kids don't really see the value in that per say. This is important too," Kreber said. 
About the Writer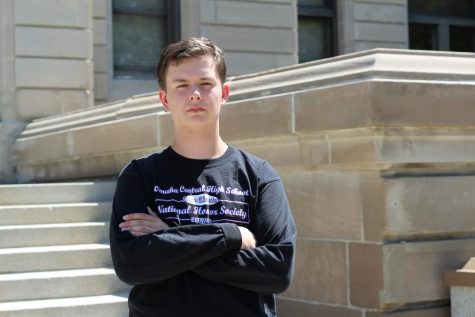 Malcolm Durfee O'Brien, Editor in Chief
Editor in chief. I like politics.