Inner Rail Food Hall
Aksarben Village has just opened a new food hall, Inner Rail. With nine different brick and mortar food venues that serve a range of culturally intriguing foods. This is the first food hall to open in Nebraska let alone Omaha. 
 Located in newly built site across the street from aksarben cinema. It was built by noddle companies and just next to the food court is the headquarters for HDR. The outside of the building adds a unique flare to the Aksarben community, with a more modernized architecture. Along the front of the building there is a colorful leaf sculpture. The artwork helps add to the mood of the season. On the inside each venue has a flare to its design.  
Inside the food court there is a 7000–square ft space with numerous amounts of seats. On a busy day customer would be lucky to find any seating. When I had gone on two weeks after it had opened it was still packed. Even though packed getting food was no issue about all the vendors got the food to customers in under five minutes.  
What really makes Inner Rail just so amazing is how culturally diverse the food venues are. Such as Maharani Indian kitchen, which serves kebabs, Biryani, curry, naan and their signature combo bowls. Pakora the perfect snack, just like fries but chickpeas and onions. 
The Banh mi shop is a Vietnamese sandwich that makes bubble tea. The owner Tran moved here in 2012 and this is her first brick and mortar shop. 
Looking for some juicy tacos or burritos then Alta Calidad Taqueria or ACTQ is the place. They offer a few different types of taco selections; one I would recommend the roasted turkey+ avocado taco. The taco has a spicy chipotle sauce to go with the turkey and topped off with a fresh avocado. Tacos and Burritos aren't the only thing they serve, people can also get a sweet churro snack. 
Say that you're not in the mood for some food you can always grab a coffee over at Briggs Bean. At Briggs Bean they freshly brew their coffee with their beans coming from across the country. Other than coffee they serve tea, nitro cold brew, and kombucha. 
Having the craving for something sweet, grab some ice cream at Ela's Creamery. They have two new flavors every week.  
If ice cream is too cold get a sweet crepe from Sofra Creperie. They also offer some savory crepes such as the Chicken Caesar and Mediterranean Crepe. What makes this Creperie so unique is the owners come all the way from Eastern Europe. 
Some of the venues are local to Omaha such as Kathmandu Momo Station and Noli's Pizza. Kathmandu Momo Station serves juicy dumplings hand made right in front of you. This dish is an authentic Nepalese meal. Noli's Pizza serves fresh pizza straight from a wood fired oven. They also have great garlic knots that provide a savory taste.  
Inner Rail was named after Aksarben's long history in horse racetrack racing. One of their sit-down bars, The Backstretch Bar gives a similar nod to the theme. 
B Squared Burgers might be just another American burger joint, but it still provides juicy taste with the beef coming from the local area. 
About the Writer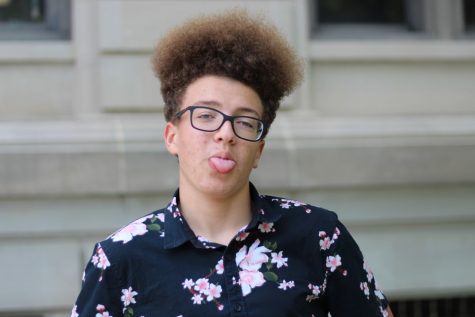 Dillon Galloway, staff writer
Howdy! This is my fourth but technically first year on newspaper. I love to take photos of people, animals, sports, the whole kit and caboodle. Along with...