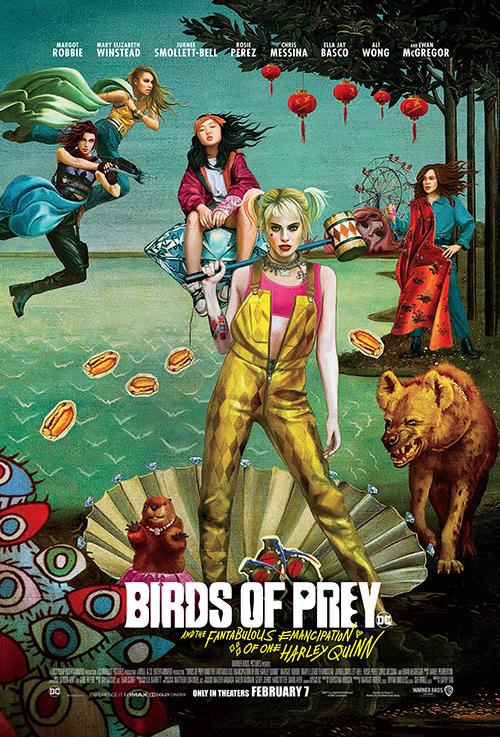 'Birds of Prey' a hit for DC despite criticism
February 19, 2020
DC Entertainment has once again created a female-filled masterpiece with Harley Quinn: Birds of Prey. Birds of Prey combines action, heartfelt warmth and hilarious comedy, and wraps it all into a pink and blue bow.  
Birds of Prey follows the newly single Harley Quinn (Margot Robbie) through her first independent mercenary act. After realizing that, without the Joker's protection, half of Gotham City is after her, Harley agrees to find a code-embedded diamond for Black Mask (Ewan McGregor), a villain who takes his pleasure by peeling off his victims' faces. The diamond is said to contain the details to the Bettinelli family trust, the money left behind after Gotham's biggest mob family was assassinated. Little does Harley know, all of Gotham City's mercenaries are after the same diamond and the little girl who has it.  
This story ties together four amazing DC women: Harley Quinn, Black Canary (Jurnee Smollett-Bell), Huntress (Mary Elizabeth Winstead) and Detective Renee Montoya (Rosie Perez). The way these women interacted was amazing, simultaneously joking and genuine. One of the more important plot points of the movie was Harley dealing with her break up, and, through this, the audience is able to see the duality of female friends. After the split, Harley's roller derby friends talk about her breakup behind her back. Later in the film, this scene is redone; this time, it's the three other women complementing each other on their fighting styles.  
Birds of Prey also made strides in the LGBT community. Detective Montoya's ex-girlfriend is in many scenes, and their relationship is talked about openly. In Harley Quinn's series of comic books, Harley is canonically bisexual, marrying villainess Poison Ivy after her breakup with the Joker. In the animated intro to Birds of Prey, Harley reminisces on her past breakups, one of which is with a woman. 
A large part of this is thanks to Margot Robbie. She has repeatedly pushed the idea that, in a future Gotham City Sirens movie, she wants Harley Quinn and Poison Ivy to have a romantic relationship accurate to that in the comics.  
Robbie's interpretation of Harley Quinn is incredibly accurate to the comic character. From the cheesy New York accent akin to Harley's accent in The Batman Animated Series, to the "crazy" behavior, to the subtle moments of vulnerability, Robbie nailed it. Her performance in Birds of Prey was much better than her performance in Suicide Squad, likely due to the focus being more on her character and less on her body. Yes, her outfits are still revealing, but, honestly, that's right in line with Harley's character, and watchers shouldn't worry about the sexualization; nearly since her creation, Harley Quinn has worn skimpy outfits. 
Birds of Prey has exceptional cinematography. Lighting is wonderful throughout, from the climactic shot on a foggy pier to Harley walking through a cloud of pink and blue smoke fired from her "Fun Gun". There was some use of slow-motion, but not too much. Often the slow-motion was to emphasize a comedic scene, like Harley's prized breakfast sandwich flying through the air in the middle of a fight. Also, Harley's doodles appeared all over the theater screen; diamonds, smiley faces and squiggled lines dotted the film at freeze frames. 
Despite these wonderful aspects of the film, it wasn't good enough for the critics. Originally titled Birds of Prey and the Fantabulous Emancipation of one Harley Quinn, the movie was renamed with hopes to draw in more theater tickets after an opening weekend that was less successful than DC had hoped for. 
I, personally, disagree. Birds of Prey is amazing. If I had the money, I would watch it ten more times. The dynamics between the characters is mind-blowing. The villain is likable, but obviously evil. The cinematography was beautiful, and the score was powerful. This is one of DC's best movies, and that's a hill I will die on.