Les Miserables Review
Omaha got its own taste of the "barricade of freedom" this week when the hit Broadway musical, Les Misérables, came into town. This show is considered an opera because, even though it is in the genre of musical theatre, every word is sung. Operatic musicals are typically very difficult to pull off, but the touring cast of Les Mis executed it beautifully.  
As a whole, the ensemble was so talented. Generally, I can usually pick out a few weak links in the chorus or those who have had fewer amounts of training. In this show, I could not find that person. The female chorus came in all shapes and sizes, which is a nice change from the typical thin and traditionally gorgeous professional performers. As a whole, the ensemble's harmonies were outstanding. It is not every day that a cast can blend their voices while still having the audience hear every voice part distinctively; that is special. 
The set and stage pictures were both sparse and elaborate. In certain scenes such as those involving a barricade during the war scenes, the sets were complicated and massive. The war fight scenes were choreographed so well. They had actors falling off a massive barricade acting as if they were dead on a scantily lit stage.  
 In contrast to that, there were some scenes where I personally would have liked to see a set present. Like during the song "Empty Chairs at Empty Tables," performed by the character of Marius (Joshua Grosso) there was a completely blank stage. I would have liked to see a few actual chairs and tables to drive the meaning of the song home a bit more. No matter what, the set design was one to be commended.  
Another technical element that I found shocking was the use of gunshot noises. There was no warning at the beginning of the show that there would be those noises. People around me winced and I wondered if anyone in the audience wondered if there was an active shooter in the theater. In the social climate of 21st century America, that felt wrong.  
There was a lot of faulty sound tech work. The orchestra was overpowering the singers in a lot of numbers and I could not make out the lyrics in quite a few songs. The microphones were not picking up any of the actors' low tones. I am unsure whether that was an issue of the performers or the technical team, but either way, I wish it could have been remedied.   
The actors blew me away. Jean Valjean, played by Patrick Dunn, had the most phenomenal voice I had ever heard on a male musical theatre actor, including Broadway itself. He grasped the idea of "acting the song" so nicely and married the idea of strong vocals and emotion. The same goes for both Cosette (Jillian Butler) and Éponine (Phoenix Best). Best had such a powerful, even-toned voice. My one critique of her performance was that during her death song, "A Little Fall of Rain," she was belting her little heart out, even as she was supposed to be dying. Maybe that was an artistic choice, but it didn't read well.  
The only pitfall in performance I saw was in Fantine played by Mary Kate Moore. Moore is a Lincoln native who graduated from Oklahoma City University. She just missed the mark on the role. I felt like her singing voice was not light enough for the helpless role and her acting did not feel motivated by anything. It seemed as though she was acting the way she did because her director told her to, not because the character was motivated to do so. 
Overall, the show was one of my favorites that Omaha Performing Arts has brought to Omaha. The actors and technical aspects drove home the theme that we are all stronger when we fight together. 
About the Writer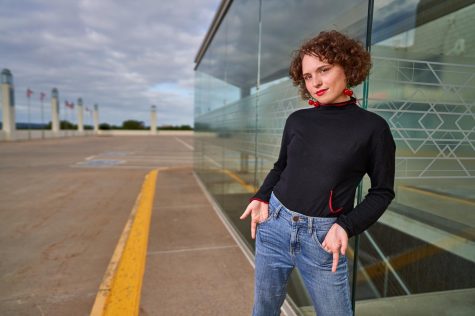 Daisy Friedman, Editor In Chief
Hey guys, my name is Daisy. I'm a senior, and I'm the EIC for The Register this year! This is my second year on staff at CHS and my fourth year in journalism....