As Omaha protests enter day two, violence escalates and national guard deployed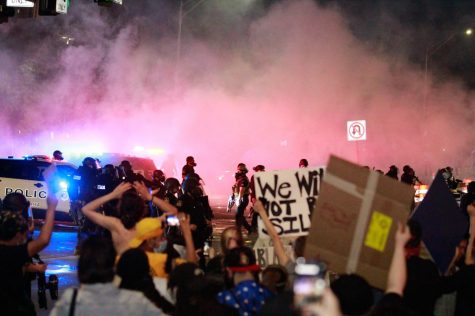 Omaha entered its second night of protests on Saturday following the death of George Floyd, the unarmed African-American man who was suffocated by a white police officer in Minneapolis, sparking nationwide protests over the ongoing national crisis of police brutality. 
Day two of the protests began peacefully at the corner of 72nd and Dodge, spilling over into the Target parking lot. Traffic was shut down to ensure the protest went as smoothly as possible. The intersections were blocked off by barricades to ensure protesters did not flood the intersection.
A sniper was spotted atop the Do Space building on the southwest corner of 72nd and Dodge, accompanied by a man in military fatigues. 
Protesters carried signs and chanted, some were waving American flags. Among the protesters was Central junior Joseph Warren-Pasley. 
"It's amazing to see so many people who have banded together to try to make the world a better place," Warren-Pasley said.
The Omaha Police Department used public buses to transport more officers to the protest as it continued. There were incidents of protesters throwing water bottles and eggs at officers, but it was more peaceful than the previous night. 
"I had a conversation with one of the cops who told me they support the protests, but have to serve their duty," Warren-Pasley said. "I truly hope this has a positive effect on us and makes the police more responsible and acknowledge their mistakes."
The protest was scheduled to end at 8 pm, and when it did not, pepper balls and tear gas were deployed into the Target parking lot.  
21 people were arrested, many for failure to disperse. 
By 10 pm, hundreds of protesters at 72nd and Dodge vacated, and the second wave began at the police headquarters downtown on 14th and Howard. Many people were smashing windows of surrounding businesses, and a troop of all-black-clad police once again marched down the street. 
At that point, many were still peacefully chanting, "No justice, no peace" and "I can't breathe" —referring to a fragment of George Floyd's final words— as police closed people off from the area around their headquarters. By 11 pm, a protester threw a Molotov cocktail towards 14th and Jackson. 
This only escalated the violence.
Just after 11 pm, Jake Gardner, owner of The Hive, a bar at 12th and Harney Street, shot 22-year old James Scurlock nearby. Witnesses say Gardner was walking through the crowd of protesters while shouting racial slurs and brandishing a gun. 
Scurlock was rushed to a nearby hospital and died later that evening. 
By midnight, protesters had flipped a car in front of the courthouse, set off fireworks, ran a car into a downtown building, and graffitied phrases like "f*ck OPD" and "rip the fallen, you are loved."
Protesters began to disperse around 1 am, but the police were still receiving reports of violence from all over Omaha.
Shots fired were reported throughout the night at 19th Ave and Ohio Street, 39th and Dodge Street, 33rd and Lincoln Boulevard. A shooting was reported at 73rd and Pacific Street. 
By the end of Saturday night, 51 arrests were made.
The Omaha police scanner stopped updating Twitter around 3 am. 
On Sunday morning, Mayor Jean Stothert declared a State of Emergency, and implemented an 8 pm to 6 am curfew for the next 72 hours. Gatherings of 25 or more people are prohibited, with a punishment of a $500 fine and up to six months in jail. 
Due to the violence of the last two nights, the National Guard will be deployed.