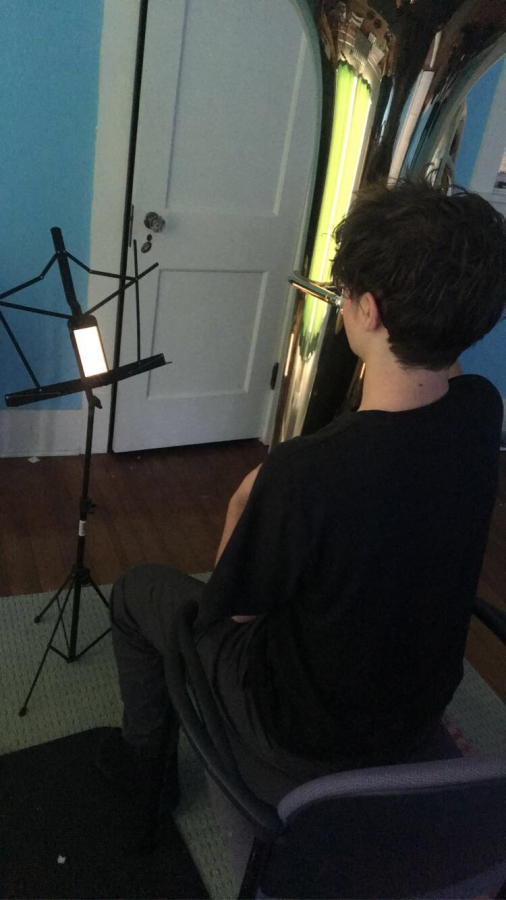 Band students adjust to remote learning
September 1, 2020
On Aug. 7, the news that school was going to be all online was released. The transition had its complications for teachers, but for some like band director Dr. Evan Lee, the switch provided some unique challenges. Lee has been at Central for three years and has had some experience with online class since he previously worked at a 1:1 school meaning both online and in person. Even with some previous experience, there are still challenges. "The most challenging thing about remote learning for us is trying to keep 98 students connected at the same time with our technology," Lee said. Band students picked up their instruments during student orientation and are still expected to practice while they are home. Lee is using Teams, Flipgrid, Office 365, and Sway to teach band. He misses being able to see students on a daily basis.
Lee explains, "We have made some changes to adapt our live performing groups to the virtual environment. With the current technology we are not able to play as a group, so we are trying to be creative in being able to share our sounds with each other." Liam Maher, a junior and Tuba player said, "We are not practicing for a concert and we are learning about music theory and expanding our knowledge on music concepts."
It is not only teachers that are having challenges with the change. Sophomore drumline member Holden Fershee says, "We can't play together and it's difficult to see each other's hands as well. Using platforms such as Flipgrid help, but are sometimes difficult and clunky." Additionally, Maher describes having less motivation for class while online.
Some students have different thoughts on online band. Junior clarinet player Elana Elder said, "I think the format of learning is good, however since we are online, we cannot play together which is difficult." Meanwhile, Maher believes "it's worse in every way." All three students agreed that remote band is harder. "Online band is more difficult to do things we normally would do, but the workload is about the same," Fershee adds.
Band students are expected to practice at home while learning online, which could cause additional challenges. Fershee explains, "Practicing on drums at home is loud for my family, but I practice during a lunch break when my sibling is also eating lunch and my parents aren't home. This works well for us and does not pose any issues." As for Elder, "I take lessons, so my family is used to me practicing in the house."
Online band does have some benefits. "About the only thing I can think of is this is allowing me more time to get to know the students individually, although not being able to see them is a drawback," Lee says. Elder believes, "I like remote because it gives more individual practice time and more theory."
"The expectations are very similar to what we hold to in a live setting…do the best you can with what you have, treat each other with respect and kindness," Lee states.