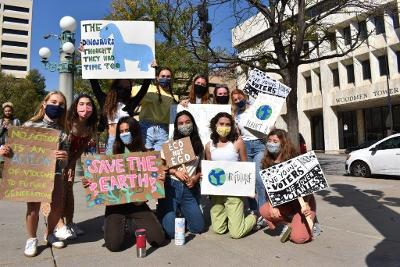 Student group organizes climate change protest
September 29, 2020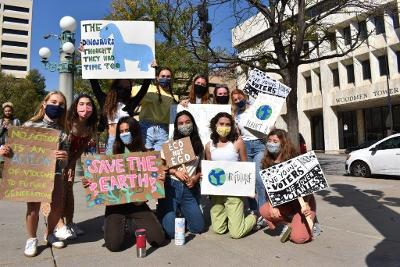 Students from all across Omaha came together at the city courthouse on Sept. 25 to protest climate change. The rally was organized by the environmental group Students For Sustainability and featured speakers from organizations across the city.
"We are the next generation, so if we want change, we had better start now." Westside senior Camille Beaulieu said. She is the president of Students For Sustainability. "For climate change specifically, we do not have time to waste."
Speakers at the event spoke about the different aspects of climate change. Bear Alexander from the racial justice organization ProBLAC spoke about how climate change disproportionately affects people of color. Brent Crampton from Hillside Solutions, a waste and composting company, talked about the importance of reducing waste and composting. Lastly, at the end of the event, there was space for students to speak about topics such as veganism, contacting representatives, and how to not get burnt out as a youth activist.
Beaulieu is happy with the turnout of the rally. "Our crowd was small but mighty and passionate," she said. "Everyone was very supportive." Students who were not able to come to the rally in person could post a photo of themselves and participate virtually. "It takes a village and we pulled it off," Beaulieu said.
Senior Willa Rauch enjoyed attending the rally. "It's important that students organize in order to set up a real future for the generations after us," she said. "Bonding together to let our voices be heard is a powerful thing."
Both Rauch and Beaulieu hope that city and state officials can pass legislation protecting the climate, such as a plastic bag ban. "Nebraska is a beautiful state that deserves to be preserved and protected," Rauch said.
"The older generations have already wasted the time we had," said Beaulieu. "If they aren't going to push for climate action, then that leaves us."