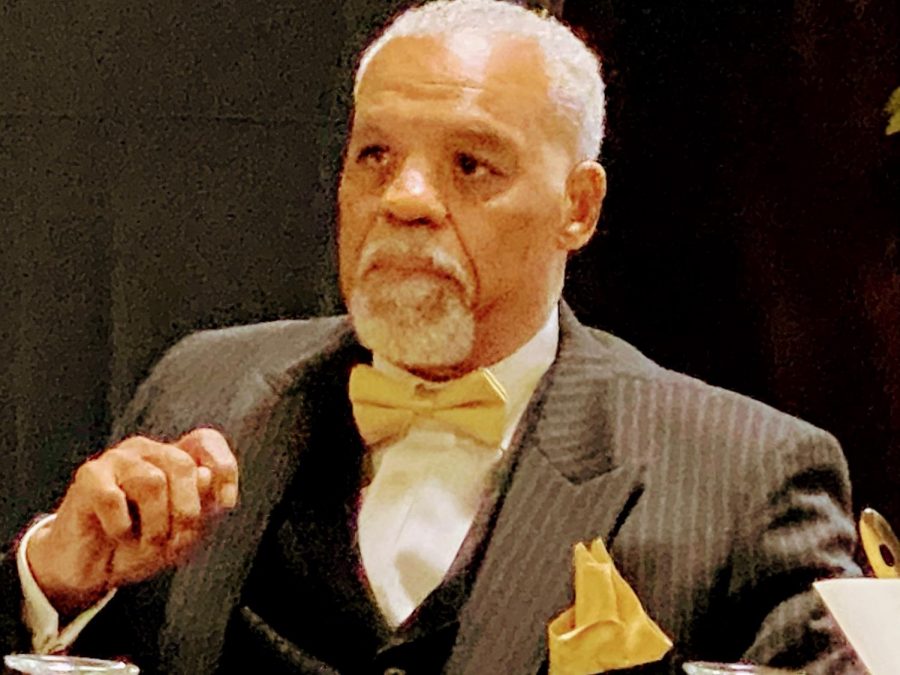 Preston Love Jr. announces write-in candidacy for U.S. Senate
October 17, 2020
Preston Love Jr. announced on Sept. 10 that he would be running for U.S. Senate as a write-in candidate, endorsed by the Nebraska Democratic Party, against the incumbent Republican Ben Sasse and the Democratic nominee, Chris Janicek.
Love's announcement came less than two months before the election, but there's good reason for that.
It all began back in May, when Janicek won the Nebraska Democratic Primary for the U.S. Senate seat with 30.7 percent of the vote over six other candidates including Angie Phillips (23.8%) and Alisha Shelton (22.4 percent), according to Politico.
Then, on June 4, Janicek texted a series of sexually explicit comments to staff members in a group chat directed at a young woman in that chat, according to the New York Times. The next day, the NDP received copies of the texts, and within the next week, they met with Janicek and asked him to drop out of the race. Janicek refused, so the party withdrew their support.
However, because Janicek won the primary, he was able to stay on the ballot as the Democratic candidate. This also meant that the person the NDP wanted to replace him with, Alisha Shelton, could not do so because state law prevents candidates who lost in the primary from running as a write-in in the general election.
But the NDP held out hope that Janicek would drop out all the way until Sept. 1, the deadline to replace him on the ballot. Then, the party began the search for a new candidate to support. They considered a few options—including Brad Ashford who declined after some consideration—and eventually landed on Love, who agreed to run.
Love grew up in Omaha and attended Tech High School and later UNL where he played football competing against Central's Gale Sayers who died recently.
"He was my dear friend and competitor for more than sixty years," Love said. "I mourn his death, and I would like to say congratulations to Central for nourishing him in his formative years. We were very dear friends, in spite of our rivalry in sports."
Now, Love is 78, an adjunct professor of Black Studies and Politics at UNO, a writer with five published books, a national lecturer, and is a fixture in his community as the founder and leader of the Black Votes Matter Institute and 4urban.org, and the leader of an annual Black history tour. Love also worked in politics for many years, most notably as Rev. Jesse Jackson's campaign manager in his 1984 presidential run.
With his recent campaign announcement, Love is the first Black candidate to be endorsed by a major political party in a general election in Nebraska. He said that makes him feel honored but that he also realizes just how serious this race is, and how his performance could help other candidates in the future.
"The fact that I've turned out to be a credible candidate who can stand and talk about the issues both domestically and globally and have thoughts about how to address some of the challenges that the nation has, will enhance the chances of the candidate that comes after me," Love said.
But Love is in a difficult spot in this race. He started his campaign with about fifty days until the election, with no meaningful campaign money, running against an incumbent, all as a write-in candidate. This makes Love uncertain about his chances of winning in November.
"I figured I'd have some support, but that it was a very long shot at victory," he said. "But it has turned out that I have received tremendous support all over the state, amazingly so, because I didn't think people would gravitate towards my campaign."
People have gravitated towards his campaign and continue to do so.
"At the time that we started the campaign, I knew that I didn't have enough time to create a classic campaign, with a manager, field support, and all things you need to have to run for United States Senate," Love said. "So, I didn't plan on even having yard signs; just word of mouth, social media, but people beat down my door asking for yard signs. So, I went out and bought some yard signs, and then I had to buy some more, and people are still coming by asking for signs."
Although a bit surprised, Love is well-equipped to handle such demand for his campaign.
"My nearly forty years of campaign experience has given me the long-term knowledge to know not to ego-trip, not to fantasize, but to know the elements of victory for a campaign and to realistically fashion a strategy," Love said.
Part of this long-term knowledge, he said, is realizing that he needs to explain the simple things, like how to vote for a write-in candidate.
"I had a lady today, a senior, who wanted to vote for me so bad, but she voted for someone else because she couldn't find my name," Love explained, "She didn't understand that I was a write-in candidate, and she needed to write-in my name. It seems so basic, but you have to understand to color in the bubble and write-in 'Love.'"
Now, he thinks he might just be able to pull this off.
"The chances are hard to fathom, but these past twenty days have opened my eyes that it is feasible," Love said.
If elected, Love's priorities would be restoring and improving the Affordable Healthcare Act, preserving Roe v. Wade, restoring the United States' footing on climate change and rejoining the Paris Climate Accord, and being an agent and leader in developing dialogue and programs for change and reform.
But winning the Senate seat isn't Love's main goal in this election. Instead, he's more concerned about helping other candidates.
"Because I'm from North Omaha, I will be one of the contributors to an increased turnout in North Omaha, which will increase the chances that Democrats running in Congressional District Two will win," he said. "So, that includes the congressional candidate Kara Eastman and the Presidential candidate Biden, and the fact that we could maybe win the Second Congressional electoral vote."
Love helped turn Nebraska's Second Congressional District blue back in 2008, but since then, he says, the district has been gerrymandered.
"The gerrymandering was significant," he said. "We gerrymandered in over four thousand votes from Sarpy County that were all pretty much Republican, and so, for a Democrat to win in the new district is a lot more difficult, it takes a bigger effort, and if we can do that again, that's saying something."
Love does think the Second Congressional District can turn blue this November, and he believes that Democrats can do well in Nebraska this year.
"That's why I cannot lose," Love said. "Because if all of that happens, but I did not win the Senate, I will feel like I did a great job."