What will Halloween look like this year?
Every Halloween, my family and I get out our fire pit and roast hot dogs and marshmallows as we hand out candy. As it seems with every event this year, we won't be doing things exactly the same when Oct. 31 rolls around. Instead, as we sit around the fire pit roasting hot dogs, we leave candy on a table at the end of our driveway for trick-or-treaters to take as they please. Unlike years past, we'll add a bottle of hand sanitizer so the kids can stay clean if they're not wearing gloves. 
My family is not the only one that loves Halloween. It's the second biggest holiday in the world, and we celebrate like it. Parties, parades, and (of course) trick-or-treating are all mainstays of the holiday, but as this pandemic looks down upon any of our puny "holidays," some of our favorite activities probably (most definitely) won't be staying for this year. That said, some could plausibly stay, and some could see some alterations for a safer, yet still enjoyable, experience. 
What's Staying 
Elaborate decorations 
There's always that one house in every neighborhood. Their lawn becomes a graveyard, their bushes become covered in cobwebs, and they let skeletons sit in their porch chairs. Those people that go all-out with the spooky decorations have no reason to not continue their tradition into 2020. 
This also takes house-decorating contests into account, as those are safe enough to still take place. Neighbors can vote online, and gift baskets filled with goodies donated from local businesses can be both a fun and safe way to participate in Halloween this year. 
What's Not Staying 
Parades 
We normally associate Thanksgiving with parades (mainly thanks to Macy's), but the biggest Halloween themed parade, the Greenwich Village Halloween Parade, was cancelled. More than 50,000 people watch the spectacle very year, and those numbers were a bit too concerning for the parade organizers. This would have been the 47th year of the parade. 
Luckily, Halloween fanatics in the New York area still have some exciting events to enjoy this year. "The First Ever Double Magnificent Intergalactic Miniature Halloween Parade" is a YouTube video anyone can watch right from home. It's a mini parade made by some of NYC's greatest artists. There's also Zohra Returns!, where Basil Twist's giant spider, Zohra, will be in Jefferson Market tower on Halloween night from 7 to 10 p.m. 
What's Seeing Some Changes 
Trick-or-Treating 
This greatly depends on where you live. In Los Angeles, trick-or-treating is heavily not recommended. So, for wherever you are, it's best to check with your local health officials on what they advise. For areas that will be allowing trick-or-treating such as Omaha, what should you do to keep yourself safe? 
Obviously, you should wear a mask. It doesn't matter if the mask clashes with your costume, it's more important to keep yourself safe. You should also bring a bottle of hand sanitizer. Keep your hands clean as you move from house to house. Finally, keep your distance from other trick-or-treaters. For families handing out candy this year who still want to see all the kid's different costumes, leave your candy in a bowl on your porch and pop out to say hi when kids come to your house. These precautions are simple ways to keep everyone safe. 
This Halloween is definitely going to be one for the books! 
About the Contributor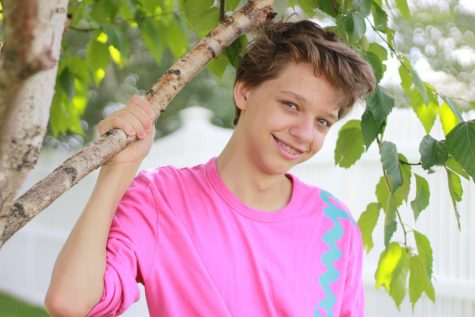 Jaden Cheloha, Staff Writer
Hello there! I'm a freshman, and this is my first year on staff. I try to make people laugh, because it feels a lot better than making people cry.