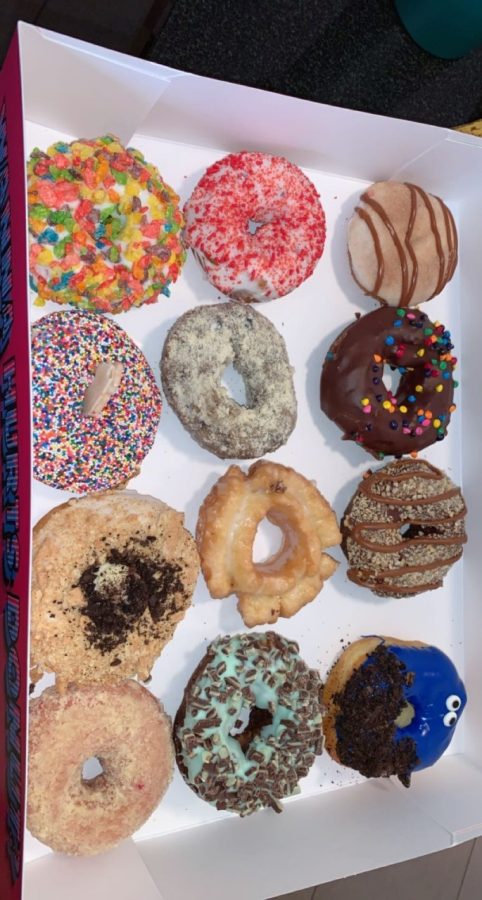 Hurts Donuts lives up to its hype
The donut shop has been open for less than a year
February 2, 2021
Everyone loves a good and fluffy donut, but what about the twists, such as loading it with cereal, Oreos, different fillings, etc.? Well, Kas Clegg's Hurts Donuts came to Omaha less than a year ago with their unique, crazy, and flavorful creations. Ever since the Donut Professor Shop closed, the city has lacked in the Donut realm, until now.
When first walking in, one is greeted with the super-cool interior décor including swings for seats, kitschy signs, a beautiful display of the donuts themselves, rustic looking tables, and most of all, the freezing-cold air conditioning. It is like stepping into a world of sweets: every little kid's dream (Which is nothing compared to the old and scrappy curb appeal it has from the outside strip mall).
Nonetheless, the inside is what counts, right? Plus, the cool air was just enough to waft the fresh smell of donuts right as the door opens. Next thing one can immediately notice is the menu. From ceiling to floor, old people (or just people in the extremely lengthy line) will never have a tough time reading the specials for that day.
The selections include a "Hurts Dozen," where the workers can choose any dozen of donuts to accurately display the versatility of their items. This was helpful when deciding the right ones to get out of the seemingly millions of donuts in the case, as to not get overwhelmed. Amazing idea!
When ordering the Hurts Dozen, varieties of cake donuts, fried donuts, filled ones, fruity ones, chocolate ones, and just about anything one could imagine was put into this box. Some favorites: the "Cookie Monter Donut," which lived up to its name, with the intense blue frosting and cookie crumbles, the Snickerdoodle, and Samoya Girl Scout. A+ for presentation.
Although it was nothing compared to a personal favorite, Voodoo Donut in Portland, Oregon, Hurts did set up some big competition for the locals.
Finally, the service. It was unbelievable the amount of patience behind the counter as customers, each one ruder than the last, approached. They stayed professional as people made snarky comments, cut entire lines, tried to take back already handled donuts, etc. Despite the horrendous manners of some of these people, the service was relatively fast. The option to pay online was a good way to get in and out quick, especially because of the pandemic.
Overall, Hurt's Donuts was a fun, cute, and creative donut shop that should not be overlooked. The varieties of flavors, cute interior, and respectful workers all work together to make it a relaxed environment.