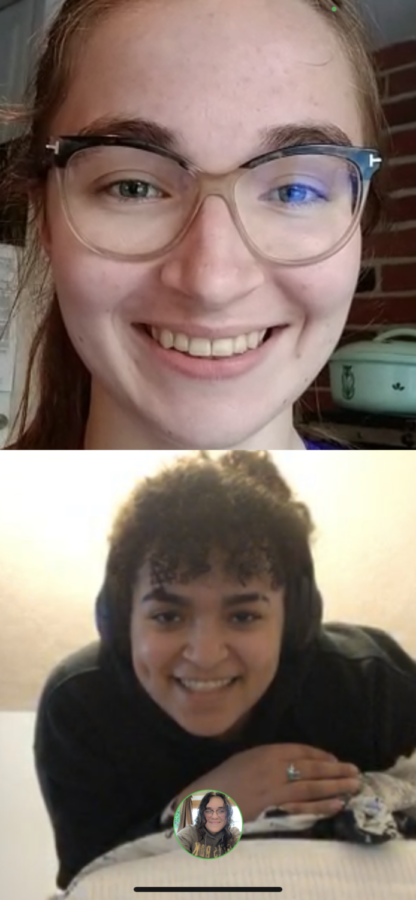 Friendship VS. Pandemic
April 29, 2021
With the school year coming to an end, I have started to reflect on how weird this year was. Being a fully remote student and following social distancing protocols, I never really saw my friends. To be exact, I only saw my two best friends, Izzi Bryant and Elana Elder, three times in person this whole year. For all those times, we were 6 feet apart and did not talk for very long. Looking back, I must wonder: How did our friendship survive a global pandemic? In the beginning, I was horrible at responding to texts and FaceTime calls and so was Elana. We barley talked and we never saw each other, but we all learned to adapt.  
I think one of the biggest factors was that my friends and I had an understanding that there were important reasons for not hanging out as we normally would. Most of my family is high risk and getting Covid would be extremely dangerous for them. Due to this, I take mask wearing and social distancing very seriously and so do my friends. Although we did not like the fact that we could not hang out, no one pressured one another or made each other feel bad about saying no. We also understood that we did not need to be in-person to make memories. Some of my favorite moments of our friendship happened on Snapchat.  
Another big factor was the amount of effort we all put into keeping in touch. I have never been a big fan of texting or FaceTime calls, but I got better at texting back and picking up the call because my friends were making an effort to reach out to me, and I knew I had to do the same. Besides texting and FaceTime, Snapchat became very important to me and my friends. It quickly became the fastest way to get in touch with both of my best friends. Elana, who was worse at responding than I was, also got better at it and now she can be involved in our conversations rather than responding several hours later. She still has days where she is bad at responding, but we know and appreciate that she is making an effort to get better. We also did small things for each other to make sure we all know that we care and are there for one another. I made a small care package for both my best friends with small gifts and their favorite candy and then dropped it off at their houses. Izzi randomly bought us donuts one day. These were small acts that were greatly appreciated.  
So, to answer my own question, our friendship survived because we made sure it did. Although we were never physically closer than six feet, this experience definitely brought us closer together.