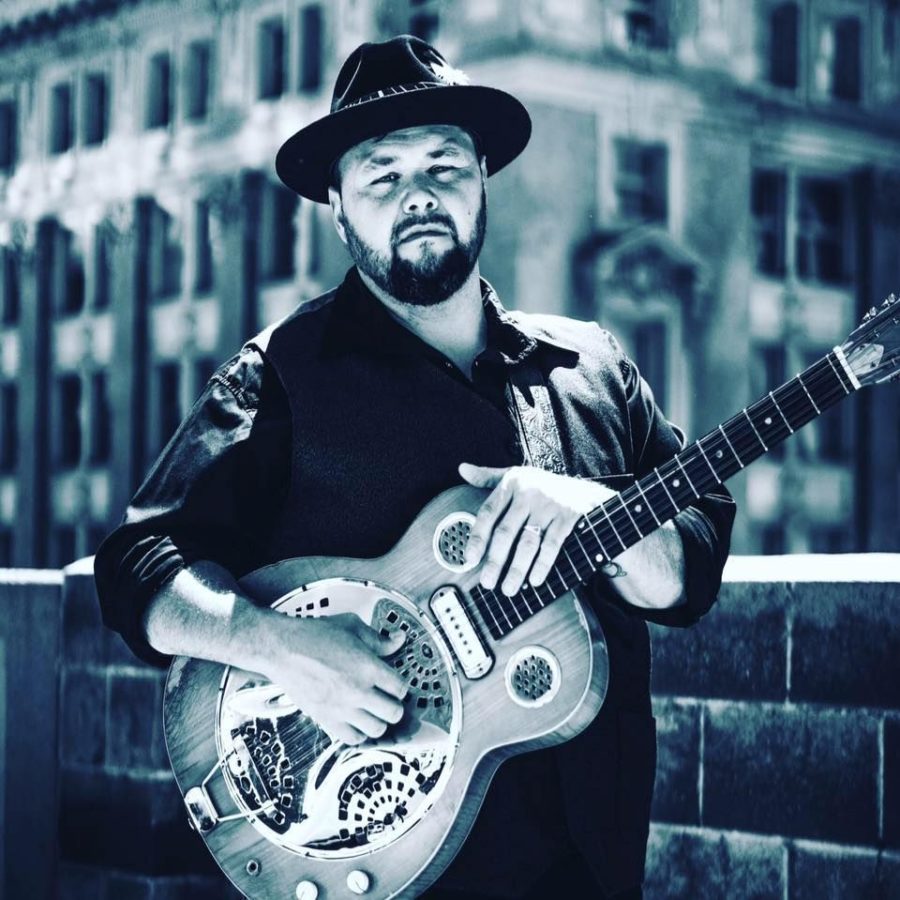 Omaha born musician wins International Blues Challenge
May 2, 2021
Guitarist Hector Anchondo is an up and coming blues artist born right here in Omaha, who successfully accomplished something most musicians wouldn't dare try: a genre change.  
Anchondo originally played in a rock band, but decided his heart wasn't in it. "I've always played blues and blues guitar leads in my music, but I switched to predominantly blues because it was my true calling," he said. 
In fact, Anchondo moved to Chicago, the old-school city of blues, in order to fully immerse himself in the style and become a better blues artist. "I thought, if I'm going to switch genres, I'm going to have to go above and beyond so that everyone takes it seriously and so that I sound legit." 
He also went even further, trying to continue to improve. "At least for a year, I listened to only blues," he said. "I didn't allow myself to listen to anything else." 
Lately, all the hard work has been paying off for Anchondo. In 2020, the musician won the International Blues Challenge. "Throughout my career, I've been grinding, and I feel like I've been largely underground," he said. "When it [my success] sunk in, it was a game changer." 
In addition to that prestigious award, Anchondo also won Best Blues Award with his band "five or six times". "It was really amazing, and I feel thankful for the Omaha scene, for supporting what I do," he said. He has also placed in the Nebraska Blues Challenge multiple times, as well as ranking in the International Blues Challenge before finally winning it last year. 
Unfortunately, his celebration of the win was cut short. "It was about a month after I won the International Blues Challenge when the [Covid-19] shutdowns started happening," he said. "I was like, 'Of course I finally get a big break and now everything is shutting down.'" 
And yet, Anchondo refused to let the impact of the corona virus affect him. "I didn't let it get me down," he said. Instead, he chose to look at it in a new lens, and approached it by asking, "How do I extract the most I can out of this with what I have to work with?" 
He cites the economic crash around 13 years ago as a true help with the arrival of covid. "I thought of 2008 and going through that economic downturn. How do you survive something like that when you're already living life on the edge financially?," he said. "I did a lot of thinking and asked myself, 'how do I withstand something like that in the future?', which has helped me a lot right now." 
However, that is not to say Anchondo and his family didn't need to adapt to their situation in order for him to continue pursuing his career in music. "We dropped our expenses down as low as possible…and live full time in an RV." 
In addition, Anchondo has turned to streaming online to further his career during covid. "I thought, 'I can still grow through this, and I don't have to be touring and be in a room full of people to grow,'" he said. "I've gained more progress [online] than I have in the past ten years." 
Even through all the changes, and ups and downs in the life of a musician, Anchondo wouldn't have it any other way. "I'm in love with music," he said. "It's like magic that you can hear, and the emotions that are in just a few notes…speak to me."
Fans can listen to his music and follow his Tiktok and other socials at @hectoranchondo.