My ranking of the 2021 best picture nominees
This past Sunday was the 93rd Academy Awards, and I was more invested in it than I ever had been. Unlike years past, I finally got into the headspace for watching Oscar-nominated movies, so personal enjoyment from seeing who won and who lost rose dramatically from other award seasons. For the first time, I watched every best picture nominee. I did as much research as I could to plan out the best possible prediction ballot. I kept track of my ratings and reviews for each movie through Letterboxd. Basically, my interest in the Oscars was at an all-time high. 
Of course, the biggest category from this year, along with any other year, was best picture. Eight films were up for the award, and frankly, I had heard about none of them before the nominees were released. But, as I watched each one, I got more and more used to the feel of each movie. Now that the Oscars are over, I feel that I understand each of these movies well enough to rank them in my own personal list. This isn't a list about which movie was most likely to win best picture, it's a ranking based on how much I got out of each film. 
8) Mank
To put in in simplest terms, I don't like Hollywood movies that pander to Hollywood. It also doesn't help that this movie is just incredibly boring. It slowly got more interesting as it went along, but the way the first act just threw you into what was happening didn't sit right with me. Plus, the rest of the movie just left me uninterested. The cinematography is quite a spectacle in this movie, and I can understand why it won the Oscar in that category.  
Gary Oldman also deserved the nomination for best actor, but as the Academy's choice showed, he wasn't good enough to win it. Same goes for Amanda Seyfried. Their performances weren't anything to gawk at, but they did at least add something more to this movie. Overall, I just had more issues with this film than any other nominee for best picture this year. I do know people who would really enjoy this movie if they watched it, though. 
7) Trial of the Chicago 7 
There are some good things about this movie. The editing is actually one of the best parts about it. The writing is witty and comical. That's actually about it, though. There is truly nothing else about this movie that makes me enjoy it any more than 7th place on my ranking. Sure, Sacha Baron Cohen gave a good performance, but it still didn't draw me in enough as some other performances from this year. Simply put, the bad parts of this movie are so much better at being bad than the good parts of this movie are at being good. 
One of the biggest gripes I have with this movie is its score. Now, a score shouldn't be a make-or-break part of a film, but it's just a perfect example of where this movie whiffed it for me. It's surprising how this film was in the mix for the Oscar for best score. The best part for me was Yahya Abdul-Mateen II as Bobby Seale. His performance sucked me in every time he was on screen and left me with the biggest impression, both on my first and second watch.  
6) Promising Young Woman 
This movie is one big pull out from under the rug. They cast comedians you feel like you should trust, but subvert your expectations by making them terrible people. Bo Burnham, Max Greenfield (Winston Schmidt from New Girl), and Christopher Mintz-Plasse (McLovin from Superbad) are all examples. This decision enhances director Emerald Fennel's goal to subvert expectations for this film. 
Frankly, my favorite part about this movie was their use of "Toxic" as part of the score. When it showed up around the beginning of the third act, it launched my attention levels right back up to when Bo Burnham first appeared on screen. Another bonus is Alfred Molina. Even though he was hardly in the film, his role was definitely a bright spot. I also feel obligated to mention the performance Carrey Mulligan gave. While I personally didn't enjoy it as much as others, it acted as the pillar for a movie that benefited from having that type of extra support. 
5) The Father 
The first time you watch this, it'll be one of the most confusing pieces of media you've ever consumed. However, it makes sense, as this film is supposed to (and is able to) make the audience feel the same feelings and think the same thoughts as a man slowly losing his grip on reality from dementia. Some of this comes from the film's writing and editing, which are both decent parts of the movie, but if there's one specific part of the film that carries the load more than anything else, it's Anthony Hopkins and his once-in-a-lifetime performance. 
His performance, paired very nicely with Olivia Coleman, made the film what it is. He was able to bring every bit of emotion, every bit of confusion, and every bit of horror one suffering from a disease like this would go through. It sounds like a lot of praise for a movie only ranked fifth, and the reason this film isn't ranked higher than others like Nomadland or Judas and the Black Messiah is because of the actual story itself. Sure, it's completely gut-wrenching, but it just doesn't enthrall me as much as those movies ranked higher. 
4) Nomadland 
On pretty much every level of filmmaking, this movie is a masterpiece. Is it entertaining to watch? That's definitely more of a debate. Even though it's not as tender of a movie as something like Minari, I completely understand why it won best picture. To start, this movie is a sight to behold. It completely deserved it's nomination for cinematography. The way it captures the ever-changing landscape of the United States is simply breathtaking. 
The movie also greatly benefits from being a film about people. It focuses on their highs, their lows, their relationships, their struggles, and their lives over anything else. That's why the concept of Frances McDormand being a Nomad fits so well. Why have the audience spend time thinking about the setting when it's the characters that deserve the attention? Also, speaking of Francis McDormand, I would simply like to say that her win for best actress solidified her position as one of the best actresses in recent memory (still thinking about Three Billboards Outside Ebbing, Missouri). 
3) Judas and the Black Messiah 
One of my only gripes with this movie is that the Academy put Daniel Kaluuya and LaKeith Stanfield in the same category because they both deserved to win. The only downside to the casting of these two was that they couldn't portray the age of Fed Hampton and Bill O'Neal when these events took place. It's devastating to know Hampton was killed at the age of 21, and O'Neal was just 20 years old. That is truly the single biggest weakness of the film. 
This is also a movie that was able to conceal the fact that it was biopic by providing the audience with a story that fit together so well. It was engaging, powerful, and heartbreaking all the way through. It embraces the story it's trying to tell, and does it a way that gets me on the edge of my seat every single time. The movie is filled with emotional scenes, but probably the saddest part is that it taught me more about the Black Panthers than I'll ever learn in school. 
2) Sound of Metal 
This is one of the most surprising films of the year for me. It was one of the only movies I had heard about before the list of nominees was released, but I didn't give it any attention. I just thought it was some random documentary about a rock band. What I didn't know is that when I finally did watch it, I would be taken on a journey unlike any other movie I saw this year. Obviously, the sound design is leagues above any of the competition it had this year. There was not a point in the movie where I wasn't thinking about what I was hearing. 
It teaches a lesson that I actually enjoyed learning by the end of the movie: the finality of change; to see what happens when a man is presented with change but doesn't accept. He does everything he can to either ignore it or reverse it, but in the end, he finally accepts and fully embraces it. This is conveyed beautifully by Riz Ahmed, whose performance is purely intoxicating throughout the whole film. It was a tight race for best actor this year, and even though he didn't win, Riz deserved every bit of praise he got. 
1) Minari 
This movie did absolutely everything right for me. It sucked me in to every minute of runtime and let me experience all of its greatness. To start, this movie is beautifully shot. It captures the landscape in a way the compliments the characters and the story in the best way possible. The score was also one of the best this year. It added to each scene, enhancing everything it touched. The acting, especially from Alan Kim and Youn Yuh-Jung, was top-notch.  
The story also kept me completely invested. It told a very specific narrative in a very specific way, leading to a movie that left me in all types of pieces by the end. Every part of the movie felt necessary, every landscape perfectly crafted, every character playing a role was important to how this movie portrayed assimilation in the United States. I also can't stress enough how adorably chaotic Alan Kim was, both in the movie and on the red carpet. This is as tender and as gorgeous as it gets for the 2021 Oscars, which is why it sits comfortably at the top of my ranking. 
About the Writer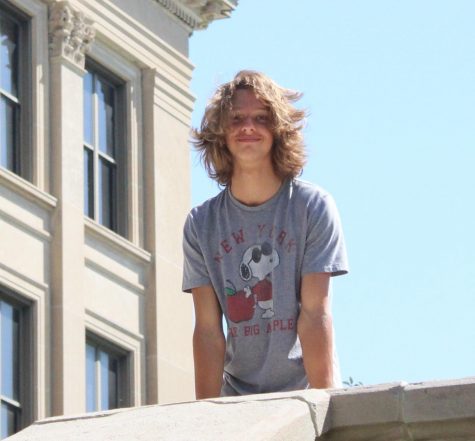 Jaden Cheloha, Staff Writer
Hello there! I'm a sophomore, and this is my second year on staff. I am also an avid Letterboxd user.